Adversity Quotient Dalam Al-Qur'an
Niila Khoiru Amaliya

Institut Agama Islam Sunan Giri (INSURI) Ponorogo
Keywords:
Adversity quotient, kesulitan, sabar
Abstract
WHO's data shows that suicide rates increase every year. In 2015, more than 800,000 people died caused by suicide. The average of suicide case in Indonesia is about 300.000 people each year. Depression, stress and inability to face life's challenges are considered as the trigger for more suicidal behaviour. By those phenomena, many efforts are needed to solve them. Paul G. Stolz (called as Stolz) states that one of important thing for human is Adversity Quotient (AQ) or intelligence to face problems. Based on Stolz, the one who has a high Adversity Quotient will not easy to give up when s/he faced difficulties. s/he will keep tough, tries to face many obstacles well.This paper will explore the concept of Adversity Quotient values in Qur'an since it is the source of life, rich of values of how to face and live the life. Thus thematic methodis chosen to analyse this paper. The result of this study shows that the intelligence to face the problems taught in Qur'an is like the concept of patient in the Qur'an. There is adimension of human spirituality, in which to face loads of problems, human is reminded to take in or receive (to be ridla, to be sincere, and to do maximum effort and to have spiritual element: to submit everything to Allah). Allah is with those who are patient. The result of this study is expected to construct human perspective and mentality in facing life problems, so as to have a high Adversity Quotient, thus human does not easily despair of his problems, keeps tough and does not easy to commit suicide.
Downloads
Download data is not yet available.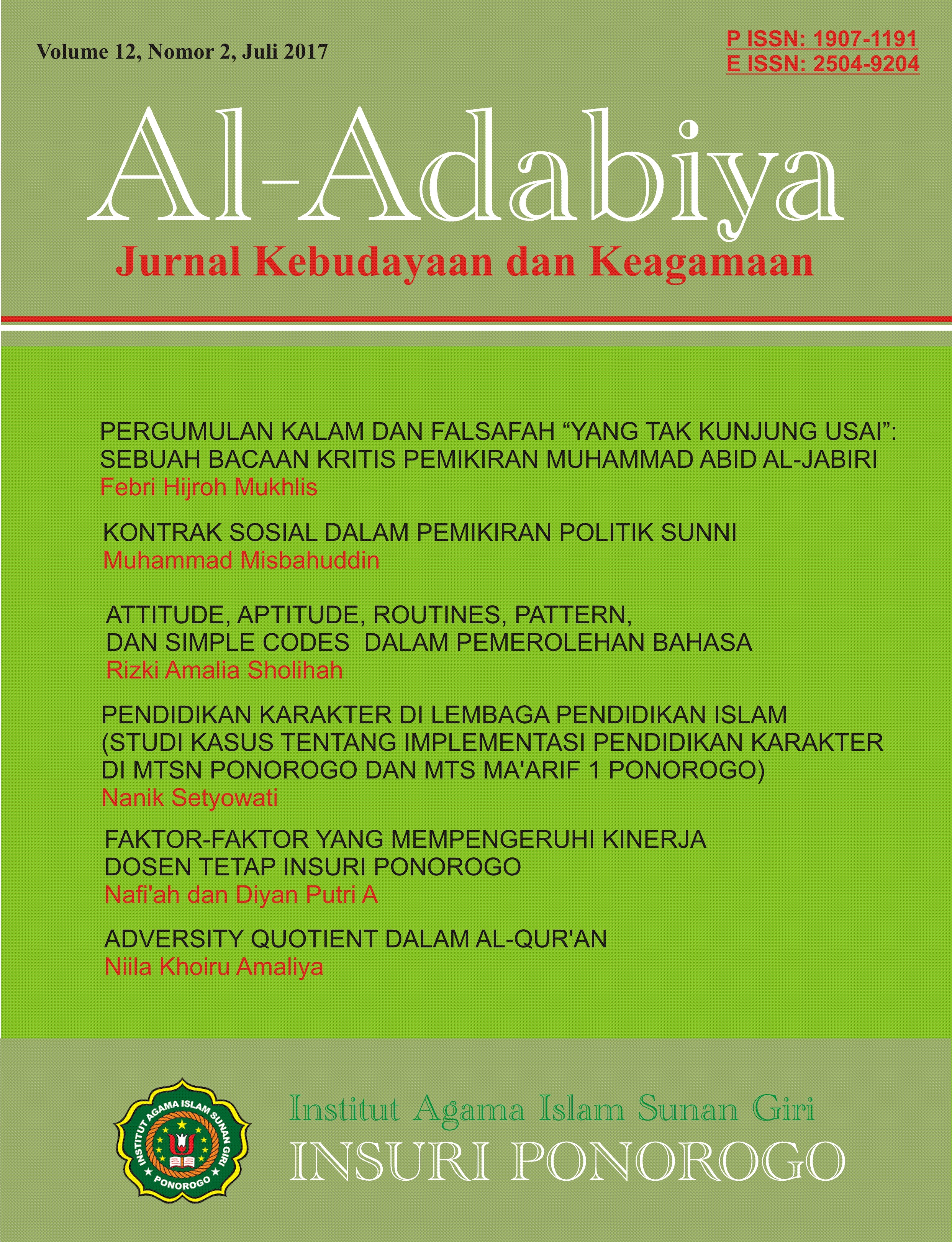 How to Cite

Amaliya, N. (2018). Adversity Quotient Dalam Al-Qur'an. Al-Adabiya: Jurnal Kebudayaan Dan Keagamaan, 12(2), 227-254. https://doi.org/10.37680/adabiya.v12i2.16

The author(s) retain/s the copyright and grant/s Al-Adabiya: Jurnal Kebudayaan dan Keagamaan the first publication rights licensed under the Creative Commons Attribution-ShareAlike 4.0 International License (CC BY-SA 4.0) which allows others to access (search, read, download and quote), share (copy and redistribute the material in any media or format) and adapt (mix, modify and develop) works for legitimate purposes, even commercially, with recognition of the authorship of the work and its initial publication in this journal.

Abstract views: 1197 , pdf downloads: 2558