FENOMENA PRAGMATIS DALAM AL-QUR'AN: ANALISIS TINDAK TUTUR ILOKUSI PADA PERCAKAPAN MUSA A.S. DAN KHIDIR
Rizza Faesal Awaludin

Institut Agama Islam Sunan Giri (INSURI) Ponorogo

Ika Wahyu Susiani

Institut Agama Islam Sunan Giri (INSURI) Ponorogo
Keywords:
pragmatic phenomenon, ilocutionary act, the conversation of the prophet Moses peace be upon him and Khidir
Abstract
The studies of Qur'an have been carried out by many researchers, including studies conducted on the story of Khidir with the prophet Moses peace be upon him. However, none of the studies specifically examined it through pragmatic review. This research aims to reveal the types of ilocutionary act contained in the conversation between the prophet Musa and Khidir. This research uses a qualitative approach that is descriptive through a literature review. Analysis of the conversation between the prophet Moses peace be upon him and Khidir reveals the existence of three types of ilocutionary act, directive (ask, demand, plead, and suggest), commisive (promise and offer), and declarative (determine and give punishment). With the disclosure of these types of ilocutionary act, it is expected to provide a new perspective in looking at the friendship story of the two righteous servants of Allah.
Downloads
Download data is not yet available.
References
al-Shabuni, Muhammad Ali. Shafwatu al-Tafasir Juz 2. Beirut: Dar al-Fikri, 1996.
al-Zuhailiy, Wahbah. al-Tafsir al-Munir Jilid 8. Damaskus: Dar al-Fikri, 2009.
Chaer, Abdul dan Leonie Agustina. Sosiolinguistik: Perkenalan Awal. Jakarta: Rineka Cipta, 2004.
Faisol, M. Struktur Naratif Cerita Nabi Khidir dalam al-Qur'an. Adabiyyat, Vol. X No.2 Desember 2011.
Fathurrosyid. Pragmatika al-Qur'an: Model Pemahaman Kisah Maryam yang Terikat Konteks. Jurnal Suhuf, Vol. 9 No. 2 Desember 2016.
Fauzi, Moch Sony. Pragmatik dan Ilmu Ma'aniy: Persinggungan Ontologik dan Epistemologik. Malang: UIN Maliki Press, 2012.
Idris, Mardjoko. Stilistika al-Qur'an: Kajian Pragmatik. Yogyakarta: KaryaMedia, 2013.
Leech, Geoffrey. Prinsip-prinsip Pragmatik, terj. M.D.D. Oka. Jakarta: Universitas Indonesia (UI Press), 2015.
Musfiroh, Tadkiroatun. Psikolinguistik Edukasional: Psikolinguistik untuk Pendidikan Bahasa. Yogyakarta: Tiara Wacana, 2017.
Nadar, F.X. Pragmatik & Penelitian Pragmatik. Yogyakarta: Graha Ilmu, 2013.
Rofiq, Faiq Ainur. Analisa Redaksi Tindak Tutur Imperatif dalam Surat al-Baqarah. Jurnal Kodifikasia, Vol. 9 No. 1 2015.
Sumarsono. Sosiolinguistik. Yogyakarta: SABDA, 2011.
Tarigan, Henry Guntur. Pengajaran Pragmatik. Bandung: Angkasa, 2009.
Yule, George. Pragmatik, terj. Rombe Mustajab. Yogyakarta: Pustaka Pelajar, 2006.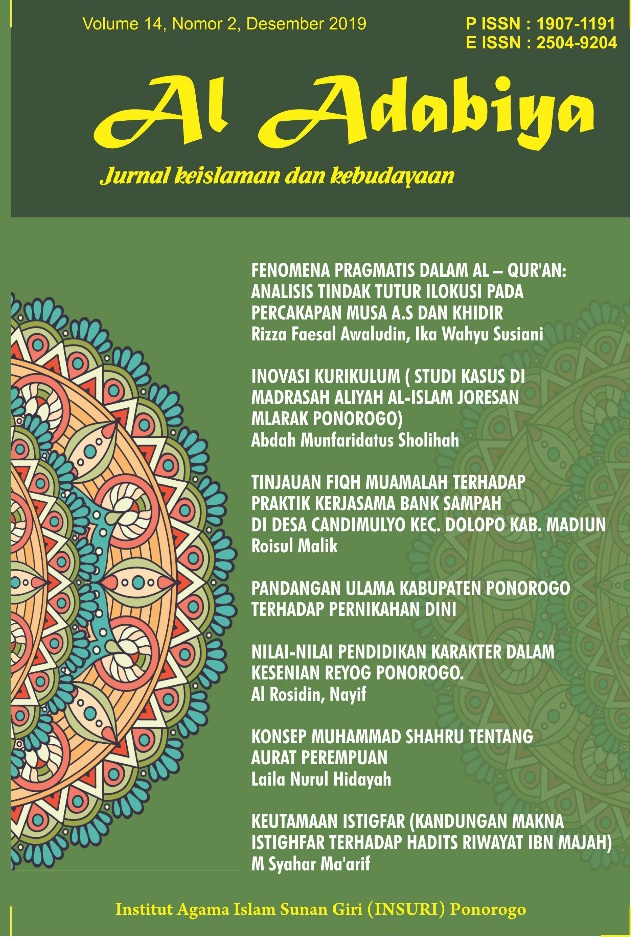 How to Cite

Awaludin, R., & Susiani, I. W. (2020). FENOMENA PRAGMATIS DALAM AL-QUR'AN: ANALISIS TINDAK TUTUR ILOKUSI PADA PERCAKAPAN MUSA A.S. DAN KHIDIR. Al-Adabiya: Jurnal Kebudayaan Dan Keagamaan, 14(02), 118-132. https://doi.org/10.37680/adabiya.v14i02.195

The author(s) retain/s the copyright and grant/s Al-Adabiya: Jurnal Kebudayaan dan Keagamaan the first publication rights licensed under the Creative Commons Attribution-ShareAlike 4.0 International License (CC BY-SA 4.0) which allows others to access (search, read, download and quote), share (copy and redistribute the material in any media or format) and adapt (mix, modify and develop) works for legitimate purposes, even commercially, with recognition of the authorship of the work and its initial publication in this journal.

Abstract views: 966 , pdf downloads: 1395