Islam in North Sumatra: Study on the Naqsabandiyah Sufi Order in the Malay Langkat Community
Azhar Azhar

Universitas Islam Negeri Sumatera Utara, Medan, Indonesia

Suryo Adi Sahfutra

Universitas Pembangunan Panca Budi, Medan, Indonesia
Keywords:
Islamic da'wa, Islamic history, Langkat, Malay Community, North Sumatra
Abstract
This research focuses on the development of Islamic Da'wa in the Malay Langkat community, particularly during the early period of Islam developed by Tarekat Naqsabandiyah. Using a social historical approach, this study produced several findings. The historical data regarding the initial entry of Islam indicates two arguments, one originating from Barus and the other from Peurlak. However, the strongest argument for the entry of Islam into Langkat comes from the Aceh Peurlak region. The history of Islamic Da'wa is marked by several events, such as the establishment of the Azizi Grand Mosque, the Masrulah Madrasah, and the Babussalam Besilam Suluk settlement, which has historical connections with the followers of Tarekat Naqsabandiyah in Malaysia. After Indonesia's independence, the social and religious conditions of the community underwent changes. The development of Da'wa was no longer centered on the sultanate, but rather it was spread throughout various areas in Langkat, through institutions, individuals, and religious communities. The development of Tarekat Naqsabandiyah Da'wa can still be found today, as evidenced by the presence of many students at the Babussalam pesantren who come from Malaysia. The development of tarekat-based Da'wa has become one of the distinctive characteristics of Malay Islam in Langkat.
Downloads
Download data is not yet available.
References
Abdurrahman, M Kasim. "Studi Sejarah Masjid Azizi Tanjung Pura-Langkat-Sumatera Utara." Jakarta Selatan: Najm, 2011.
Amalia, Isnaini. "Peranan Syekh Abdul Wahab Rokan Dalam Pendidikan Islam di Besilam Kabupaten Langkat." UMSU, 2021.
Angerler, Johnn. "Sitor Situmorang, Toba na Sae; Sejarah lembaga sosial politik abad XIII-XX." Jakarta: Komunitas Bambu, 2004.
Arifin, Zainal. Langkat dalam sejarah dan perjuangan kemerdekaan. Penerbit Mitra, 2009.
Azis, Abdul, Sharfina Nur Amalina, dan Azharotunnafi Azharotunnafi. "Islamic Historical Studies: The Beginning of the Emergence of Islam and the Development of Islamic Culture in Southeast Asia." Riwayat: Educational Journal of History and Humanities 4, no. 2 (2021): 117–25.
Azra, Azyumardi. Jaringan ulama: Timur Tengah dan kepulauan Nusantara abad XVII dan XVIII: melacak akar-akar pembaruan pemikiran Islam di Indonesia. Mizan, 1994.
Balai Kajian Sejarah dan Nilai Tradisional Aceh. Kerajaan-Kerajaan Tradisional di Sumatera Utara (1612-1950 M. Aceh: Kantor Balai Kajian Sejarah dan Nilai Tradisional, t.t.
Bruinessen, Martin Van. "Tarekat Naqsabandiyah di Indonesia." Bandung: Mizan, 1992.
Dahlan, Zaini. "Islamic Education During Langkat Sultanate Era In 1912-1946: A Historical Study of Jam'iyah Mahmudiyah li Thalibil Khairiyah Langkat." MIQOT: Jurnal Ilmu-ilmu Keislaman 41, no. 1 (2017).
Dahlan, Zaini, dan Hasan Asari. "Sejarah Keagamaan Dan Sosial Masjid-Masjid Tua Di Langkat." Universitas Islam Negeri Sumatera Utara, 2020.
Ginting, Dewi. "Sejarah Berkembangnya Agama Islam di Tanah Karo Sumatera Utara Pada Tahun 1980-2010." UNIMED, 2012.
Hadi, Amirul. Aceh: sejarah, budaya, dan tradisi. Yayasan Pustaka Obor Indonesia, 2010.
Hidayat, Ziaulhaq. "Lobe Runcing (LR) Tarekat Naqsabandiyah-Khalidiyah Babussalam (TNKB): Identitas, Sakralitas, dan Komoditas." Heritage Of Nusantara 4, no. 1 (t.t.).
———. "Tarekat Naqsabandiyah-Khalidiyah Babussalam (TNKB) dari Doktrin, Seni Hingga Arsitektur." Jakarta: Lembaga Studi Islam Progresif (LSIP), 2015.
Ilahi, Wahyu. Komunikasi Dakwah. Diterjemahkan oleh Adriyani Kamsyah. Bandung: Pustaka Setia, 2010.
Kurnia, Rizka Dwi. "Sistem Pemerintahan Kesultanan Langkat." Journal Analytica Islamica 4, no. 1 (2015): 155–66.
Laffan, Michael. Sejarah Islam di Nusantara. Bentang Pustaka, 2016.
Lestari, Rani. "Kampung Tarekat Naqsabandiyah Babusalam, Besilam Dalam Lintas Sejarah." JUSPI (Jurnal Sejarah Peradaban Islam) 1, no. 1 (2017): 1–28.
Muzakkir, Muzakkir, dan A S Abdullah. "Menjadi Tamu Istimewa di Rumah Orang Lain: Identitas Sosial dan Etnosentrisme Jamaah Suluk Asal Malaysia di Tarekat Naqsabandiyah-Khalidiyah Babussalam (TNKB)." Jurnal Masyarakat dan Budaya, 2019, 169–90.
Nasir, Badlihisham Mohd. "Islam dan Dakwah dalam Zaman Kebangkitan Awal Islam dan Era Penjajahan Barat di Tanah Melayu." Islamiyyat: International Journal of Islamic Studies 34 (2012).
Nasution, Abdul Gani Jamora, Adien Inayah, Fitri Khoiroh Sayidah Harahap, Hilda Melani Purba, dan Nurul Handini. "Peran Kesultanan Langkat dalam Perkembangan Islam di Kota Langkat." Inspirasi Dunia: Jurnal Riset Pendidikan dan Bahasa 2, no. 1 (2023): 159–74.
Perret, Daniel. Kolonialisme dan Etnisitas Batak dan Melayu di Sumatra Timur Laut. Kepustakaan Populer Gramedia, 2010.
Perret, Daniel, Daniel Perret, Heddy Surachman, dan Ade Pristie Wahyo. Barus negeri kamper: sejarah dari abad ke-12 hingga pertengahan abad ke-17. Kepustakaan Populer Gramedia, 2015.
Rambe, Tappil, dan Sri Surabina Sembiring. "SEJARAH MIGRASI ETNIS KARO KE KECAMATAN BAHOROK KABUPATEN LANGKAT." Puteri Hijau: Jurnal Pendidikan Sejarah 2, no. 1 (2017): 73–88.
Raswief, Zulnaidi Nilzami. "Masjid Azizi: Bukti Kejayaan Islam Etnis Melayu Langkat." Criksetra: Jurnal Pendidikan Sejarah 4, no. 1 (2015).
Said, Ahmad Fuad. Syekh Abdul Wahab, Tuan Guru Babussalam. Pustaka Babussalam, 1983.
Sinar, Tuanku Luckman. Sari Sejarah Serdang I, 1986.
Siregar, L Hidayat. "Tarekat Naqsabandiyah Syaikh Abdul Wahab Rokan: Sejarah, Ajaran, Amalan, dan Dinamika Perubahan." Miqot: Jurnal Ilmu-Ilmu Keislaman 35, no. 1 (2011): 131.
Sumanti, Solihah Titin. "Dinamika Sejarah Kesultanan Melayu di Sumatera Utara (Menelusuri Jejak Masjid Kesultanan Serdang)," 2019.
Supriatna, Eman. "KERAJAAN ARU/HARU DALAM LINTASAN SEJARAH ISLAM DI NUSANTARA." E-Jurnal Pendidikan Mutiara 7, no. 1 (2022).
Tanjung, Muaz. "Pertumbuhan Lembaga Pendidikan Islam di Kerajaan Langkat Pada Tahun 1912-1942." Jurnal Lektur Keagamaan 15, no. 2 (2017): 318–33.
Tanjungpura, Langkat, dan North Sumatra. "Inskripsi Keagamaan pada Masjid Azizi Tanjungpura, Langkat, Sumatera Utara." Jurnal Lektur Keagamaan 16, no. 1 (2018): 75–100.
Windari, Sri. "Kesultanan Langkat Di Sumatera Utara Pada Masa Sultan Abdul Aziz (1897-1927 M)." JUSPI (Jurnal Sejarah Peradaban Islam) 1, no. 1 (2017): 29–47.
Zuhdi, Sulaiman. "Langkat dalam Kilatan Selintas Jejak Sejarah dan Peradaban." Stabat: Kantor Perpustakaan, Arsip dan Dokumentasi Kabupaten Langkat, 2014.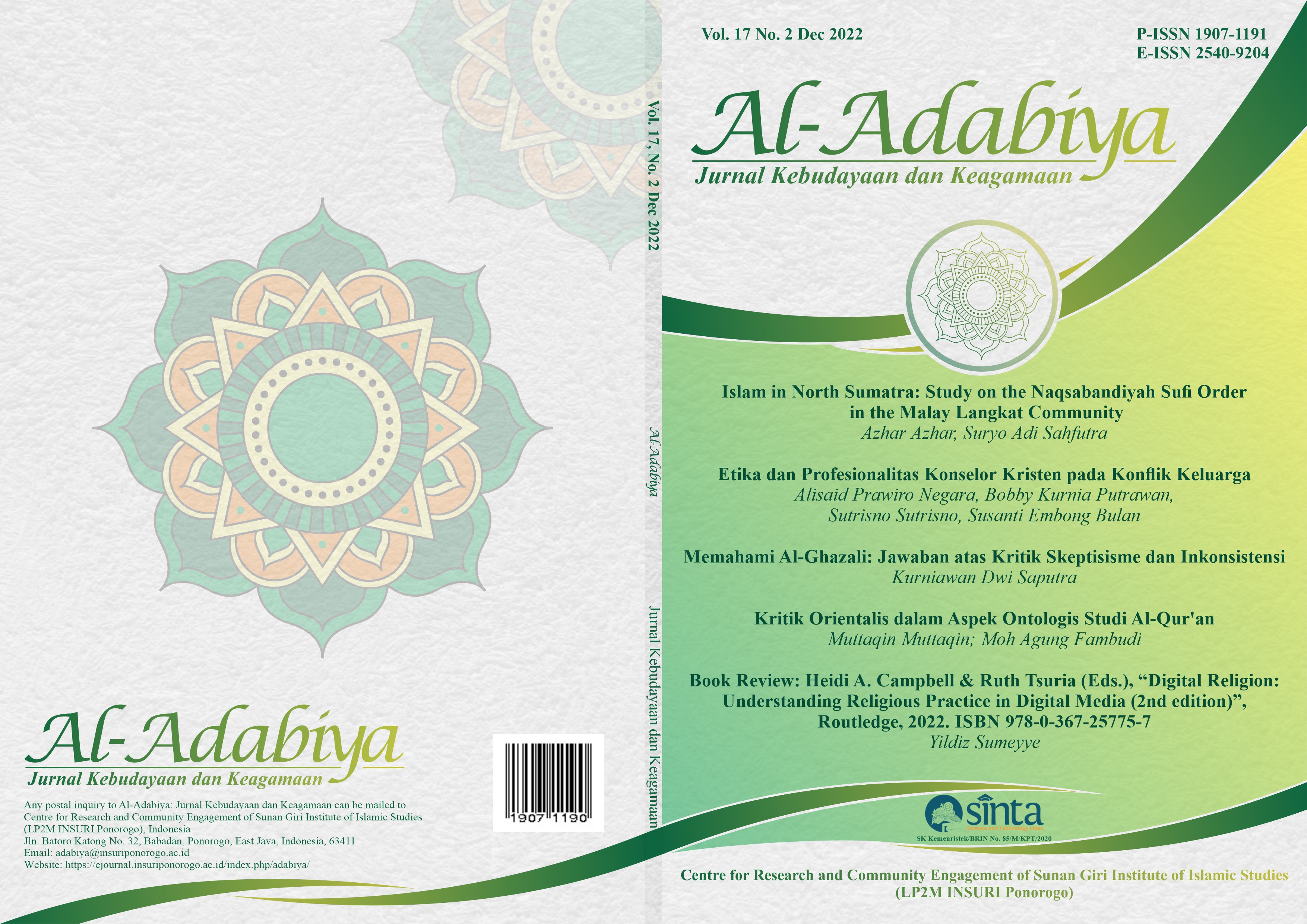 How to Cite
Azhar, A., & Sahfutra, S. (2022). Islam in North Sumatra: Study on the Naqsabandiyah Sufi Order in the Malay Langkat Community. Al-Adabiya: Jurnal Kebudayaan Dan Keagamaan, 17(2), 131-143. https://doi.org/10.37680/adabiya.v17i2.2379
Copyright (c) 2022 Azhar Azhar, Suryo Adi Sahfutra
This work is licensed under a Creative Commons Attribution-ShareAlike 4.0 International License.

The author(s) retain/s the copyright and grant/s Al-Adabiya: Jurnal Kebudayaan dan Keagamaan the first publication rights licensed under the Creative Commons Attribution-ShareAlike 4.0 International License (CC BY-SA 4.0) which allows others to access (search, read, download and quote), share (copy and redistribute the material in any media or format) and adapt (mix, modify and develop) works for legitimate purposes, even commercially, with recognition of the authorship of the work and its initial publication in this journal.

Abstract views: 130 , PDF (English) downloads: 128