Peran Ormawa dalam Membentuk Nilai-nilai Karakter di Dunia Industri (Studi Organisasi Kemahasiswaan di Politeknik Negeri Balikpapan)
Basri Basri

Politeknik Negeri Balikpapan

Nawang Retno Dwiningrum

Politeknik Negeri Balikpapan
Abstract
Campus has a strategic role in the development of human resources through the implementation of Tridharma (three higher education roles), namely the implementation of education and teaching, research, and community service. In addition to this role, vocational colleges have the responsibility of equipping students with values according to the needs of the industry. To be able to work according to the needs of the workplace, not only to mastering hard skills, but also mastering soft skills, because in carrying out his profession in addition to using technological tools also conduct social interaction with fellow colleagues, supervisors, and partners in a professional manner. To train students in developing intra-personal and interpersonal skills, in addition to being obtained in lecture halls, also through student organization activities (ormawa) on campus such as BEM, MPM, HMJ and UKM. This study aims to examine the role of ormawa in shaping character values, by analyzing the character indicators of the implementation of ormawa's work program. Among the findings are the growth of independence, creativity, responsibility, honesty, budget accountability, and time management. The results of this study indicate that ormawa has a role in shaping character values through student activities independently.
 Keywords : character values, industry workplace, students organization
Kampus memiliki peran strategis dalam pengembangan sumber daya manusia melalui penyelenggaraan tridharma pendidikan tinggi, yaitu pelaksanaan pendidikan dan pengajaran, penelitian dan pengabdian kepada masyarakat. Selain peran tersebut, perguruan tinggi vokasi memiliki tanggung jawab membekali peserta didik dengan nilai-nilai sesuai kebutuhan dunia kerja dan industri.Untuk dapat bekerja sesuai kebutuhan dunia kerja, selain penguasaan hard skill, juga penguasaan soft skill, karena dalam menjalankan profesinya selain menggunakan alat-alat teknologi juga melakukan interaksi sosial dengan sesama rekan kerja, atasan, dan mitra secara profesional. Untuk melatih mahasiswa dalam mengembangkan kemampuan intra personal dan interpersonal, selain diperoleh di ruang kuliah, juga melalui aktifitas organisasi kemahasiswaan (ormawa) yang ada di kampus seperti BEM, MPM, HMJ, dan UKM. Penelitian ini bertujuan untuk mengkaji peran ormawa dalam membentuk nilai-nilai karakter, dengan menganalisis indikator karakter dari pelaksanaan program kerja ormawa yang dilaksanakan. Di antara temuannya adalah tumbuhnya kemandirian, kreatifitas, tanggung jawab, kejujuran, akuntabilitas anggaran, dan manajemen waktu. Hasil penelitian ini menunjukkan bahwa ormawa memiliki peran dalam membentuk nilai-nilai karakter melalui aktifitas mahasiswa secara mandiri.
Kata kunci : dunia industri, nilai-nilai karakter, ormawa
Downloads
Download data is not yet available.
References
Herminanto, Sofyan.. Implementasi Pendidikan Karakter Melalui Kegiatan Kemahasiswaan. Yogyakarta, 2011
Hidayah Yayuk, Penguasaan Civic Skills Aktivis Badan Eksekutif Mahasiswa Jurnal Pendidikan IPS Volume 4,2, 2017
IPTEK, Sumber Daya. Undang-Undang Republik Indonesia No.12 Tentang Pendidikan Tinggi. Jakarta: Pendidikan Tinggi. 2012
Kementerian Pendidikan Nasional, Naskah Akademik Pendidikan Karakter di Perguruan Tinggi Direktorat Jenderal Pendidikan Tinggi,2011
Moeloeng, Lexi,. Metodologi Penelitian Kualitatif. Bandung: P.T. Remaja Rosda Karya. 2010
Hendra, Faisal. "Peran Organisasi Mahasiswa Dalam Meningkatkan Mutu Pembelajaran Keterampilan Berbahasa Arab." Arabiyat : Jurnal Pendidikan Bahasa Arab Dan Kebahasaaraban 5, no. 1 (2018): 103–20. https://doi.org/10.15408/a.v5i1.7480.
Rohman, Muhamad Asvin Abdur. "Pendidikan Karakter Di Sekolah Menengah Pertama (SMP): Teori, Metodologi Dan Implementasi." QALAMUNA: Jurnal Pendidikan, Sosial, Dan Agama 11, no. 2 (2019): 265–86.
Sa'diyah, Rika. . "Pentingnya Melatih Kemandirian Anak." Jurnal Kordinat, Vol : 16 : 1. 2017
Sudarsono, Juwono.. Keputusan Mentri Pendidikan dan Kebudayaan . Jakarta:Kemdikbud. 1998
Sugiyono. Metode Penelitian Kuantitatif dan Kualitatif. Bandung: AlFabeta. 2010.
Ubaidillah, Mujib.. "Pembelajaran Berbasis Proyek Untuk Mengembangkan Ensiklopedia." Jurnal Pendidikan Sains Vol. 5 No. 1, 2017
Verawadina, Unung. "Kurikulum Pendidikan Vokasi pada Era Revolusi Industri 4.0." Jurnal Pendidikan Vol : 20 : 1. 2019.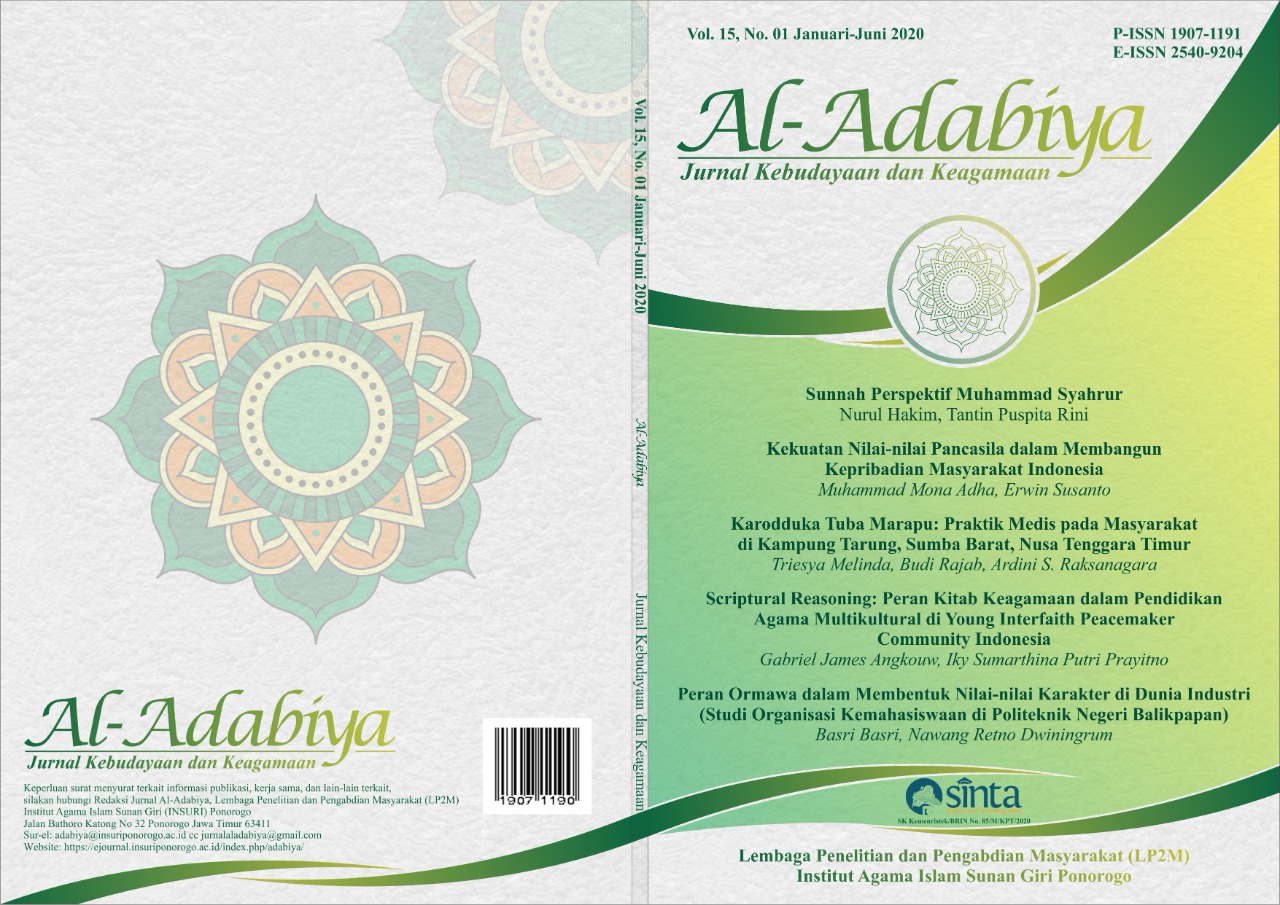 How to Cite
Basri, B., & Dwiningrum, N. (2020). Peran Ormawa dalam Membentuk Nilai-nilai Karakter di Dunia Industri (Studi Organisasi Kemahasiswaan di Politeknik Negeri Balikpapan). Al-Adabiya: Jurnal Kebudayaan Dan Keagamaan, 15(01), 139-158. https://doi.org/10.37680/adabiya.v15i01.273
Copyright (c) 2020 Basri, Nawang Retno Dwiningrum
This work is licensed under a Creative Commons Attribution-ShareAlike 4.0 International License.

The author(s) retain/s the copyright and grant/s Al-Adabiya: Jurnal Kebudayaan dan Keagamaan the first publication rights licensed under the Creative Commons Attribution-ShareAlike 4.0 International License (CC BY-SA 4.0) which allows others to access (search, read, download and quote), share (copy and redistribute the material in any media or format) and adapt (mix, modify and develop) works for legitimate purposes, even commercially, with recognition of the authorship of the work and its initial publication in this journal.

Abstract views: 2419 , PDF (Bahasa Indonesia) downloads: 4192