Kekuatan Nilai-nilai Pancasila dalam Membangun Kepribadian Masyarakat Indonesia
Muhammad Mona Adha

Universitas Lampung

Erwin Susanto

Universitas Buana Perjuangan (UBP) Karawang
Keywords:
Indonesia, kepribadian bangsa, nilai-nilai Pancasila
Abstract
This study aims to explore the role of Pancasila values in building the personality of the Indonesian people. Building and awakening human resources with Pancasila personality is done together with more peace, mutual respect, respect, understanding one culture with another culture, loving others, creating kinship and kinship. This research is a literature review by gathering various sources of information and facts from several literatures and documents directly related to the discussion. The results of this study Pancasila has provided a strong bond of unity in the midst of changes in people's lives in the era of globalization, Pancasila provides the power to deliver the Indonesian people to the era of glory as a dignified nation in civilization. Pancasila is able as a pillar of life such as economic, social, political, cultural, and defense and security directed towards the Unitary State of the Republic of Indonesia which has a personal Pancasila that embodies an advanced and religious Indonesia.
Keywords: Indonesia, National values, Pancasila values  
Penelitian ini bertujuan untuk menggali peran nilai-nilai Pancasila dalam membangun kepribadian masyarakat Indonesia. Membangun dan membangkitkan sumber daya manusia yang berkepribadian Pancasila dilakukan secara bersama dengan lebih damai, saling menghargai, menghormati, memahami satu budaya dengan budaya yang lain, menyayangi sesama, menciptakan kekerabatan dan kekeluargaan. Penelitian ini adalah review literature dengan mengumpulkan berbagai sumber informasi dan fakta dari beberapa literatur dan dokumen yang terkait langsung dengan pembahasan. Hasil penelitian iini Pancasila telah memberikan ikatan persatuan dan kesatuan yang kuat ditengah-tengah perubahan kehidupan masyarakat dalam era globalisasi, Pancasila memberikan kekuatan untuk mengantarkan bangsa Indonesia menuju era kejayaan sebagai bangsa yang bermartabat dalam peradaban. Pancasila mampu sebagai pilar kehidupan seperti ekonomi, sosial, politik, budaya, dan pertahanan keamanan diarahkan untuk menuju Negara Kesatuan Republik Indonesia yang memiliki diri pribadi Pancasila yang mewujudkan Indonesia yang maju dan religius.
Kata Kunci: Indonesia, kepribadian bangsa, nilai-nilai Pancasila
Downloads
Download data is not yet available.
References
Adha, M. M. Understanding the Relationship between Kindness and Gotong Royong for Indonesian Citizens in Developing Bhinneka Tunggal Ika. The Proceeding of the Commemorative academic conference for the 60th anniversary of the 1955 Asian – African conference in Bandung, Indonesia, 2015a.
Adha, M. M. Pendidikan Kewarganegaraan Mengoptimalkan Pemahaman Perbedaan Budaya Warga Masyarakat Indonesia dalam Kajian Manifestasi Pluralisme di Era Globalisasi. Jurnal Ilmiah Mimbar Demokrasi, 14(2) (2015b): 1-10.
Adha, M. M. Advantageous of Volunteerism Values for Indonesian Community and Neighbourhoods, International Journal of Community Service Learning, 3(2) (2019): 83-87
Amir, S. Pancasila as Integration Philosophy of Education and National Character. International Journal of Scientific & Technology Research, 2(1) (2013): 54-57.
Affandi, I. Memperkokoh Jati Diri Bangsa (Belajar dari Kinerja dan Kultur Bangsa Jepang). Bandung: Mutiara Press, 2015.
Banks, J. A. Diversity and Citizenship Education: Global Perspective. San Fransisco: Jossey-Bass, 2014.
Bey, A. Beyond Civilizational Dialogue: A Multicultural Symbiosis in the Service of World Politics. Jakarta: Paramadina, 2003.
Bolo, A. D. Pancasila Kekuatan Pembebas. Yogyakarta: Kanisius, 2012.
Dewantara, K. H. Ki Hadjar Dewantara: Pemikiran, Konsepsi, Keteladanan, Sikap Merdeka Bagian I (Pendidikan). Yogyakarta: Universitas Sarjanawiyata Tamansiswa (UST-Press). Sarjanawiyata Tamansiswa (UST-Press), 2013.
Faradila, A. H., Holilluloh., & Adha, M. M. Pengaruh Pemahaman Ideologi Pancasila terhadap Sikap Moral dalam Mengamalkan Nilai-nilai Pancasila, Jurnal Kultur Demokrasi, 2(7) (2014).
Kahin, G. Nasionalisme dan Revolusi Indonesia. Depok: Komunitas Bambu, 2013.
Kusumaatmadja, M. Rekam Jejak Kebangsaan. Jakarta: PT. Kompas Media Nusantara, 2015.
MD, Mahfud. Perdebatan Hukum Tata Negara Pascaamandemen Konstitusi. Jakarta: Rajawali Pers, 2010.
Meyer, D. S. Social Movement (Identity, Culture, dan the State). New York: Oxford University Press, 2002.
Muslim, A. Relevansi Nalar Humanisme Jhon Locke Terhadap Persoalan Keanekaragaman Indonesia, Al-Adabiya: Jurnal Kebudayaan dan Keagamaan, 13(01), (2018), 144-158.
Notonagoro. Pancasila Secara Ilmiah Populer. Jakarta: PT. Bina Aksara, 1987.
Nurmalisa, Y & Adha, M. M. Peran Lembaga Sosial Terhadap Pembinaan Moral Remaja Di Sekolah Menengah Atas. Jurnal Ilmiah Pendidikan Pancasila dan Kewarganegaraan, 1 (1) (2016), 64-71.
Pasandaran, S. Pendidikan Kewarganegaraan untuk Menyiapkan Generasi Emas Indonesia, Prosiding Seminar Nasional dengan tema "Penguatan Komitmen Komunitas Akademik dalam Memperkokoh Jatidiri PKn", Universitas Pendidikan Indonesia 4 April 2015, 2015.
Priyono, A. E & Hamid, U. Merancang Arah Baru Demokrasi. Jakarta: Kepustakaan Populer Gramedia, 2014.
Said, S. Dari Gestapu ke Reformasi (Serangkaian Kesaksian). Bandung: Mizan, 2014.
Sari, V. Y., Holilluloh. & Adha, M. M. Pengaruh Pemahaman Sejarah Perjuangan Bangsa terhadap Sikap Nasionalisme pada Materi Pkn, Jurnal Kultur Demokrasi, 1 (9) (2013).
Sassen, S. A Sociology of Globalization. New York: W.W. Norton & Company, Inc, 2007.
Setiyono, B., & Triyana, B. Revolusi Belum Selesai (Kumpulan Pidato Presiden Soekarno 30 September 1965 – Pelengkap Nawaksana. Jakarta: Serambi, 2014.
Seuring, S & Gold, S. Conducting Content‐Analysis Based Literature Reviews in Supply Chain Management, Supply Chain Management, 17 (5) (2012): 544-555.
Sihabudin, A. Komunikasi Antarbudaya (Satu Perspektif Multidimensi). Jakarta: Bumi Aksara, 2011.
Tempo. Muhammad Yamin Penggagas Indonesia yang Dihujat dan Dipuja. Jakarta: Kepustakaan Populer Gramedia, 2015.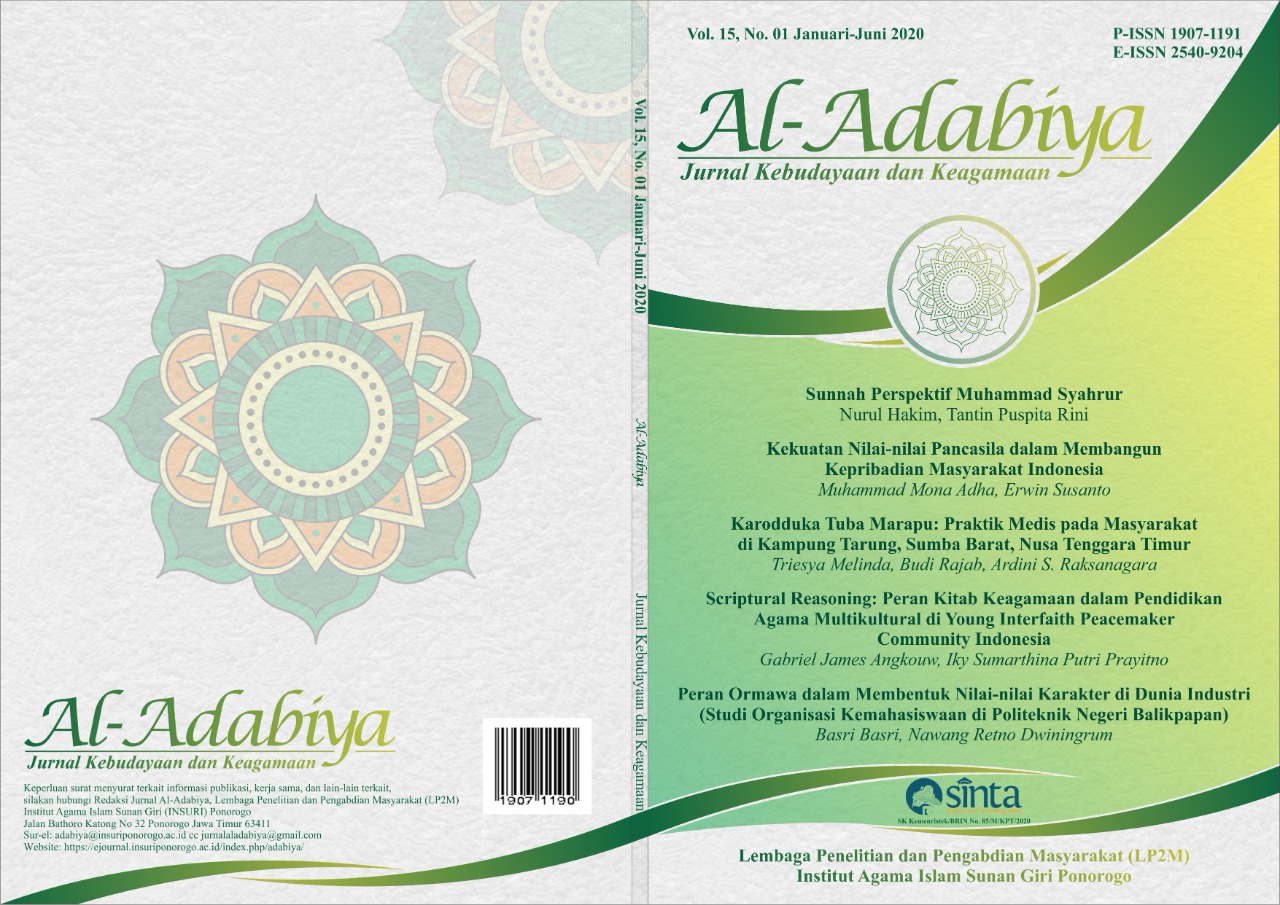 How to Cite

Adha, M. M., & Susanto, E. (2020). Kekuatan Nilai-nilai Pancasila dalam Membangun Kepribadian Masyarakat Indonesia. Al-Adabiya: Jurnal Kebudayaan Dan Keagamaan, 15(01), 121-138. https://doi.org/10.37680/adabiya.v15i01.319

The author(s) retain/s the copyright and grant/s Al-Adabiya: Jurnal Kebudayaan dan Keagamaan the first publication rights licensed under the Creative Commons Attribution-ShareAlike 4.0 International License (CC BY-SA 4.0) which allows others to access (search, read, download and quote), share (copy and redistribute the material in any media or format) and adapt (mix, modify and develop) works for legitimate purposes, even commercially, with recognition of the authorship of the work and its initial publication in this journal.

Abstract views: 30463 , PDF (Bahasa Indonesia) downloads: 38373