Gaya Hidup Nongkrong di Kafe dan Perilaku Gosip sebagai Kontrol Sosial
Hangout Lifestyle in Cafe and Gossiping Behavior as Social Control
Alwazir Abdusshomad

Politeknik Penerbangan Indonesia Curug, Tangerang, Indonesia
Keywords:
gossip as social control, gossiping behavior, hanging out, social creature
Abstract
This research relates to people's lifestyle generally in big cities, especially in Tangerang, a satellite city of Greater Jakarta. The problem raised here is how the lifestyle of hanging out in cafes can influence on society to practice gossiping behavior. This qualitative research done by case study on a number of targeted adult informants discovered that the lifestyle of hanging out at the cafe has become commonplace among the community, indicating that humans are social creatures. Hanging out activities that are intended to have fun and relax can trigger people to participate in gossiping behavior where the activity cannot be easily avoided from the existing environment. Besides the gossip activities seem to be fun and merely entertaining activities, found that the activities can be a social control for the community.
Penelitian ini berkaitan dengan gaya hidup masyarakat pada umumnya di kota-kota besar khususnya di Tangerang yang merupakan kota satelit Jabodetabek. Permasalahan yang diangkat di sini adalah bagaimana gaya hidup menongkrong di kafe dapat mempengaruhi masyarakat untuk mempraktikkan perilaku gosip. Penelitian kualitatif yang dilakukan dengan studi kasus pada sejumlah informan dewasa yang dibidik ini menemukan bahwa gaya hidup menongkrong di kafe sudah menjadi hal yang lumrah di kalangan masyarakat, menandakan bahwa manusia adalah makhluk sosial. Kegiatan nongkrong yang bertujuan untuk bersenang-senang dan bersantai dapat memicu masyarakat untuk ikut serta dalam perilaku gosip dimana kegiatan tersebut tidak dapat dengan mudah dihindari dari lingkungan yang ada. Selain kegiatan gosip yang terkesan menyenangkan dan hanya sekedar hiburan, ternyata kegiatan tersebut dapat menjadi kontrol sosial bagi masyarakat.
Downloads
Download data is not yet available.
References
Baumeister, Roy F., Liqing Zhang, and Kathleen D. Vohs. "Gossip as Cultural Learning." Review of General Psychology 8, no. 2 (2004): 111–21. https://doi.org/10.1037/1089-2680.8.2.111.
Chua, Sandy, and Kristine June Uy. "The Psychological Anatomy of Gossip." Recoletos Multidisciplinary Research Journal 1, no. 1 (2013): 41–47. https://doi.org/10.32871/rmrj1301.01.05.
Dore, Jessica. "Ternyata Kebiasaan Bergosip Berperan Penting Atas Kelangsungan Hidup Manusia." vice.com, n.d.
Dunbar, R. I.M., Anna Marriott, and N. D.C. Duncan. "Human Conversational Behavior." Human Nature 8, no. 3 (1997): 231–46. https://doi.org/10.1007/BF02912493.
Faisal, Sanapiah. Penelitian Kualitatif: Dasar-Dasar Dan Aplikasi. Malang: Ikip Malang, 1990.
Fauzi, Ahmad, I Nengah Punia, and Gede Kamajaya. "Budaya Nongkrong Anak Muda Di Kafe (Tinjauan Gaya Hidup Anak Muda Di Kota Denpasar)." Jurnal Ilmiah Sosiologi (SOROT) 3, no. 5 (2017): 40–47.
Gudykunst, William B, Young Yun Kim, and Burr Ridge. "Third Edition Communicating With Strangers an Approach To Intercultural Communication." In Communicating with Strangers. Boston: Mc Graw Hill, 1997.
Guritno, Andrian Listyo. "Adaptasi Sosial Mahasiswa Rantau Dalam Dunia Hiburan Malam (Studi Deskriptif Tentang Adaptasi Sosial Mahasiswa Rantau Jakarta Dalam Dunia Hiburan Malam Di Kota Surabaya)." Universitas Airlangga, 2018.
Hafizah. "Gosip Di Kalangan Ibu-Ibu Rumah Tangga." Historia : Jurnal Program Studi Pendidikan Sejarah 4, no. 1 (2019): 11–18.
Herlyana, Elly. "Fenomena Coffee Shop Sebagai Gejala Gaya Hidup Baru Kaum Muda." ThaqÃfiyyÃT 13, no. 1 (2012): 188–204.
Irawan, Handi. 10 Prinsip Kepuasan Pelanggan. PT Elex Media Komputindo, 2002.
TribunBanten.com. "Jadwal Acara TV Hari Ini, Sabtu 10 April 2021: Ikatan Cinta Di RCTI Hingga Cliffhanger Di GTV - Halaman All - Tribun Banten," 2021.
Juni Priansa, Donni. Perilaku Konsumen Dalam Persaingan Bisnis Kontemporer. Bandung: Alfabeta, 2017.
Kropotkin, Petr. "Ethics : Origin and Development," 1–138. London: George G. Harrap and Co., LTD., London, Calcutta, and Sydney 1924., 1922. https://doi.org/10.1130/spe164-p1.
Makan, Zona. "21 Tempat Nongkrong Di Tangerang Paling Hitz Banget," n.d.
Meinarno, Eko A, Sunu Bagaskara, and Mely Putri Kurniati Rosalina. "Apakah Gosip Bisa Menjadi Kontrol Sosial?" Jurnal Psikologi Pitutur 1, no. 2 (2011): 78–84.
Munandar, Ashar Sunyoto. Psikologi Industri Dan Organisasi. Jakarta: Universitas Indonesia (UI-Press), 2001.
Muslim, Abu. "Relevansi Nalar Humanisme Jhon Locke Terhadap Persoalan Keanekaragaman Indonesia." Al-Adabiya: Jurnal Kebudayaan Dan Keagamaan 13, no. 01 (September 3, 2018): 144–58. https://doi.org/10.37680/adabiya.v13i01.8.
Pratiwi, Ananda Vidyaratri Mega, and Rizki Amalia Sholihah. "Evolusi Dan Eksistensi Model Abaya Pada Masa Modern Di Jazirah Arab." Al-Adabiya: Jurnal Kebudayaan Dan Keagamaan 15, no. 02 (December 12, 2020): 229–41. https://doi.org/10.37680/adabiya.v15i02.620.
Queen, Robin M. "Robin Dunbar. Grooming, Gossip, and the Evolution of Language. Cambridge: Harvard University Press, 1996. https://doi.org/doi:10.1017/S0047404500019898.
Soemardjan, Selo. Setangkai Bunga Sosiologi. Jakarta: Fakultas Ekonomi Universitas Indonesia, 1974.
Turcotte, Dana. "Gossip and the Group: A Self-Categorization Perspective." CGU Thesis and Dissertations, 2012, 94. https://doi.org/10.5642/cguetd/30.
Waren, Roucek. Pengendalian Sosial. Jakarta: PT Rajawali, 1996.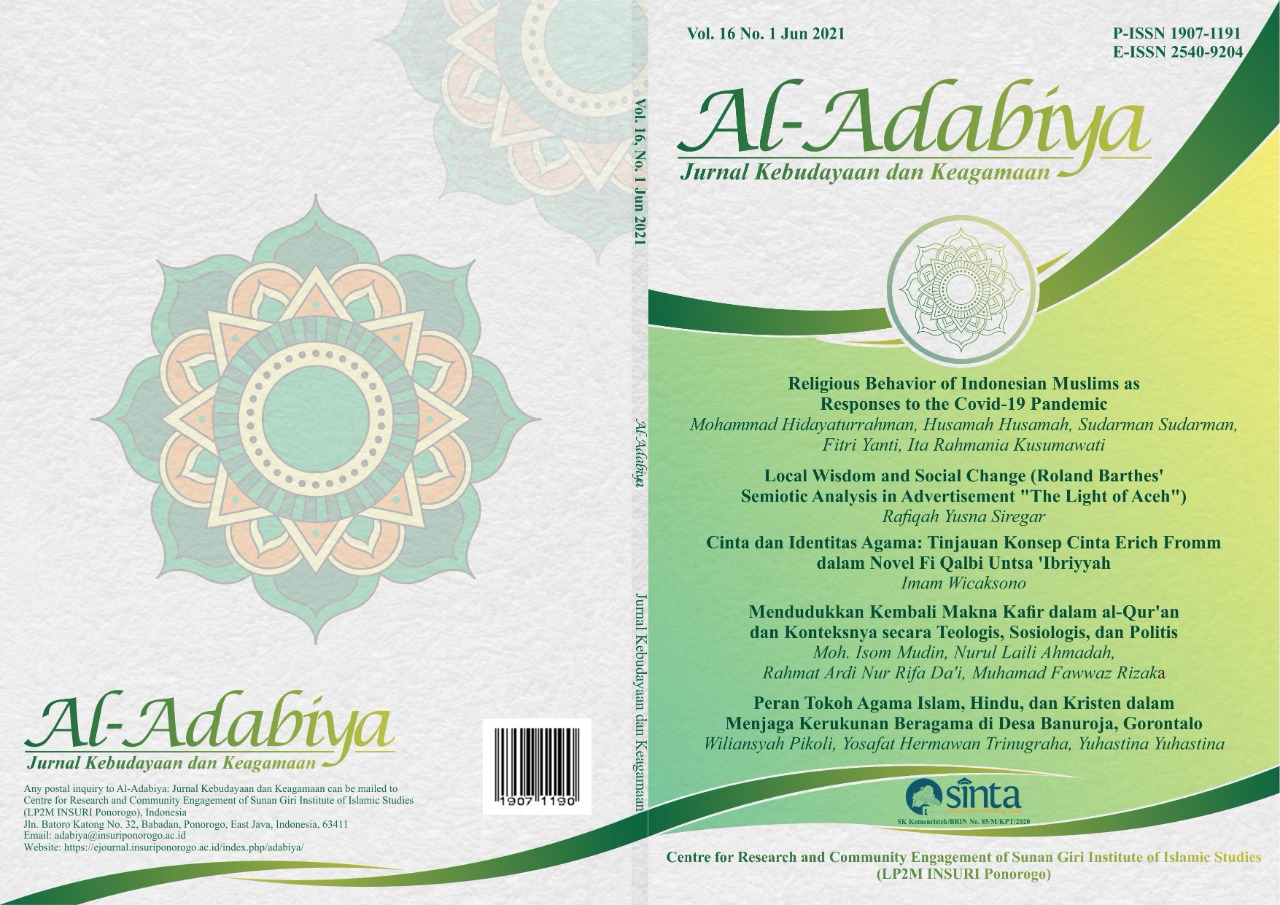 How to Cite
Abdusshomad, A. (2021). Gaya Hidup Nongkrong di Kafe dan Perilaku Gosip sebagai Kontrol Sosial. Al-Adabiya: Jurnal Kebudayaan Dan Keagamaan, 16(1), 57-68. https://doi.org/10.37680/adabiya.v16i1.593
Copyright (c) 2021 Alwazir Abdusshomad
This work is licensed under a Creative Commons Attribution-ShareAlike 4.0 International License.

The author(s) retain/s the copyright and grant/s Al-Adabiya: Jurnal Kebudayaan dan Keagamaan the first publication rights licensed under the Creative Commons Attribution-ShareAlike 4.0 International License (CC BY-SA 4.0) which allows others to access (search, read, download and quote), share (copy and redistribute the material in any media or format) and adapt (mix, modify and develop) works for legitimate purposes, even commercially, with recognition of the authorship of the work and its initial publication in this journal.

Abstract views: 445 , PDF (Bahasa Indonesia) downloads: 270