Local Wisdom and Social Change (Roland Barthes' Semiotic Analysis in Advertisement "The Light of Aceh")
Rafiqah Yusna Siregar

Master of Communication Science, Faculty of Social and Politic Studies, Universitas Sumatera Utara (USU), Indonesia
Keywords:
advertising, local wisdom, representation, Roland Barthes, semiotics, social changes
Abstract
This research focuses on answering how Acehnese local wisdom is represented and sees social changes in the community through advertising media. Using Roland Barthes' semiotic analysis to find the meaning of denotation, connotation, and myths in TV commercial "The Light of Aceh", this research employs the constructivism paradigm with qualitative methods. The denotation falls in several objects, such as a traditional house Rumoh Aceh as a place for Acehnese people to live, the customs to honor guests and eat together with them as a symbol of friendship between communities, and the Pacu Kude tradition. The connotation of the local wisdom object has been cultured and become the community's identity, then displayed in the advertisement as the result of the construction of the existing reality. This construction is interpreted as a myth that does not necessarily refer to mythology in the ordinary sense. It is traditional stories, legends, et cetera, but rather an explanation of messages with a connotative dimension. The myths found in the advertisements show the social changes taking place in Acehnese society.
Fokus penelitian ini adalah menjawab bagaimana kearifan lokal Aceh direpresentasikan dan melihat perubahan sosial yang terjadi di masyarakat melalui media iklan. Dengan menggunakan analisis semiotik Roland Barthes untuk menemukan makna denotasi, konotasi, dan mitos dalam iklan TV "The Light of Aceh", penelitian ini menggunakan paradigma konstruktivisme dengan metode kualitatif. Makna denotasi terdapat pada beberapa objek, seperti rumah adat Rumoh Aceh sebagai tempat tinggal masyarakat Aceh, adat istiadat untuk menghormati tamu dan makan bersama sebagai simbol persahabatan antar masyarakat, serta tradisi Pacu Kude. Objek kearifan local yang berkonotasi telah membudaya dan menjadi identitas masyarakat, kemudian ditampilkan dalam iklan tersebut sebagai hasil konstruksi dari realitas yang ada. Konstruksi ini dimaknai sebagai mitos yang tidak serta merta mengacu pada mitologi dalam pengertian biasa. Ini adalah cerita tradisional, legenda, dan sebagainya, tetapi lebih merupakan penjelasan tentang pesan dengan dimensi konotatif. Mitos yang ditemukan dalam iklan tersebut menunjukkan perubahan sosial yang terjadi pada masyarakat Aceh.
Downloads
Download data is not yet available.
References
Ahmad, Kamaruzzaman Bustamam. "Perempuan Aceh Dalam Perspektif Antropologi." Gender Equality: International Journal of Child and Gender Studies 1, no. 2 (2015): 37–48. https://doi.org/http://dx.doi.org/10.22373/equality.v1i2.788.
Ali, Mukti. "Persepsi Masyarakat Gayo Tentang Pacuan Kuda Menurut Konsep Islam." UIN Ar-Raniry Banda Aceh, 2016. https://repository.ar-raniry.ac.id/id/eprint/1602/.
Ansor, Muhammad. "'Kita Kan Beda!': Persamaan Remaja Perempuan Muslim Dan Kristen Di Langsa, Aceh." Harmoni 13, no. 2 (2014): 37–50. https://jurnalharmoni.kemenag.go.id/index.php/harmoni/article/view/125.
Brata, Ida Bagus. "Kearifan Budaya Lokal Perekat Identitas Bangsa." Jurnal Bakti Saraswati (JBS) 5, no. 1 (2016). https://jurnal.unmas.ac.id/index.php/Bakti/article/view/226.
Bungin, Burhan. Komunikasi Pariwisata (Tourism Communication): Pemasaran Dan Brand Destinasi. Jakarta: Prenadamedia Group, 2015.
Departemen Pendidikan Nasional. Kamus besar bahasa Indonesia Pusat Bahasa : Edisi Keempat. Gramedia Pustaka Utama, 2016.
Hairumini, Hairumini, Dewi Liesnoor Setyowati, and Tjaturahono Budi Sanjoto. "Kearifan Lokal Rumah Tradisional Aceh Sebagai Warisan Budaya Untuk Mitigasi Bencana Gempa Dan Tsunami." Journal of Educational Social Studies 6, no. 1 (2017): 37–44. https://doi.org/https://doi.org/10.15294/jess.v6i1.16253.
Harahap, Muhammad Iqbal. "Perancangan Promosi Wisata Perkebunan Teh Rancabali Melalui Video Iklan." Universitas Komputer Indonesia, 2020. http://elibrary.unikom.ac.id/id/eprint/3419.
Hasbi, Rahil Muhammad. "Kajian Kearifan Lokal Pada Arsitektur Tradisional Rumoh Aceh." Vitruvian: Jurnal Arsitektur, Bangunan, Dan Lingkungan 7, no. 1 (2017): 265311. https://publikasi.mercubuana.ac.id/index.php/virtuvian/article/view/2717.
Hereyah, Yoyoh. "Komodifikasi Budaya Lokal Dalam Iklan: Analisis Semiotik Pada Iklan Kuku Bima Energi Versi Tari Sajojo." In Prosiding Seminar Nasional Menggagas Pencitraan Berbasis Kearifan Lokal. Purwokerto: Ilmu Komunikasi FISIP Universitas Jenderal Soedirman, 2012.
Hermawan, Agus. Komunikasi Pemasaran. Jakarta: Penerbit Erlangga, 2013.
Husniati, Ade Muana, and Maryam Maryam. "Konstruksi Identitas Komunikasi Pemasaran Pariwisata Halal Aceh." Jurnal Jurnalisme 9, no. 1 (2020): 62–83. https://doi.org/https://doi.org/10.29103/jj.v9i1.3099.
Jailani, Abdul Kodir, and Rio Febriannur Rachman. "KAJIAN SEMIOTIK BUDAYA MASYARAKAT: Nilai Keislaman Dalam Tradisi Ter-Ater Di Lumajang." MUHARRIK: Jurnal Dakwah Dan Sosial 3, no. 02 (2020): 125–37. https://doi.org/https://doi.org/10.37680/muharrik.v3i02.460.
Lustyantie, Ninuk. "Pendekatan Semiotik Model Roland Barthes Dalam Karya Sastra Prancis." In Seminar Nasional FIB UI, 1–15, 2012.
Melinda, Triesya, Budi Rajab, and Ardini S Raksanagara. "Karodduka Tuba Marapu: Praktik Medis Pada Masyarakat Di Kampung Tarung, Sumba Barat, Nusa Tenggara Timur." Al-Adabiya: Jurnal Kebudayaan Dan Keagamaan 15, no. 01 (2020): 25–46. https://doi.org/https://doi.org/10.37680/adabiya.v15i01.235.
Miles, Matthew B, A Michael Huberman, and Johnny Saldaña. Qualitative Data Analysis: A Methods Sourcebook. Sage publications, 2018.
Morissan, M A. Manajemen Media Penyiaran: Strategi Mengelola Radio & Televisi Ed. Revisi. Prenada Media, 2018.
Muzaqqi, Haqqi Al. "Perancangan Video Iklan Wisata Visit Kota Malang Sebagai Media Promosi." Universitas Negeri Malang, 2018. http://repository.um.ac.id/id/eprint/14633.
Pintenate, Amalia, and Bukhari Bukhari. "Pacuan Kuda Dalam Kajian Sosiologi (Suatu Penelitian Di Kabupaten Bener Meriah)." Jurnal Ilmiah Mahasiswa Fakultas Ilmu Sosial & Ilmu Politik 2, no. 2 (2017): 907–26. http://www.jim.unsyiah.ac.id/FISIP/article/view/2650.
Prasetyo, Dwi, and Denny Indrayana Setyadi. "Perancangan Film Pendek Bertema Wisata Dengan Pendekatan Storytelling Sebagai Media Promosi Wisata Pulau Bawean." Jurnal Sains Dan Seni ITS 6, no. 1 (2017): F55–61. https://doi.org/http://dx.doi.org/10.12962/j23373520.v6i1.22886.
Qodariah, Lelly, and Laely Armiyati. "Nilai-Nilai Kearifan Lokal Masyarakat Adat Kampung Naga Sebagai Alternatif Sumber Belajar." SOCIA: Jurnal Ilmu-Ilmu Sosial 10, no. 1 (2013). https://doi.org/https://doi.org/10.21831/socia.v10i1.5338.
Rizha, Fachrur, Sutrisno Sutrisno, and Julia Noviani. "Communication Patterns of Religious Minority in Cultural Adaptation in Central Aceh Regency." Profetik: Jurnal Komunikasi 13, no. 2 (2020): 276–89. https://doi.org/https://doi.org/10.14421/pjk.v13i2.1889.
Sari, Desi Novita. "Adab Makan Dan Minum Dalam Masyarakat: Kajian Sosiologi Budaya." Electronic Theses and Dissertations (ETD) Universitas Syah Kuala, 2016, 67. https://etd.unsyiah.ac.id/index.php?p=show_detail&id=22102.
Wahyuningsih, Sri. "Kearifan Budaya Lokal Madura Sebagai Media Persuasif (Analisis Semiotika Komunikasi Roland Barthes Dalam Iklan Samsung Galaxy Versi Gading Dan Giselle Di Pulau Madura)." SOSIO-DIDAKTIKA: Social Science Education Journal 1, no. 2 (2014): 171–80. https://doi.org/https://doi.org/10.15408/sd.v1i2.1259.
Whusta, Junisa, and Mohd Din. "Upaya Penegakan Hukum Terhadap Tindak Pidana Perjudian Dalam Tradisi Pacuan Kuda (Pacu Kude) Di Aceh Tengah." Jurnal Ilmiah Mahasiswa Bidang Hukum Pidana 3, no. 1 (2019): 178–86. http://www.jim.unsyiah.ac.id/pidana/article/view/15584.
Zain, Arifin, Syahrin Harahap, and Hasan Bakti Nasution. "The Relation of the Majority and Minority of Religious People in Aceh Singkil." Budapest International Research and Critics Institute-Journal (BIRCI-Journal), 2019, 56–65. https://doi.org/https://doi.org/10.33258/birci.v2i2.237.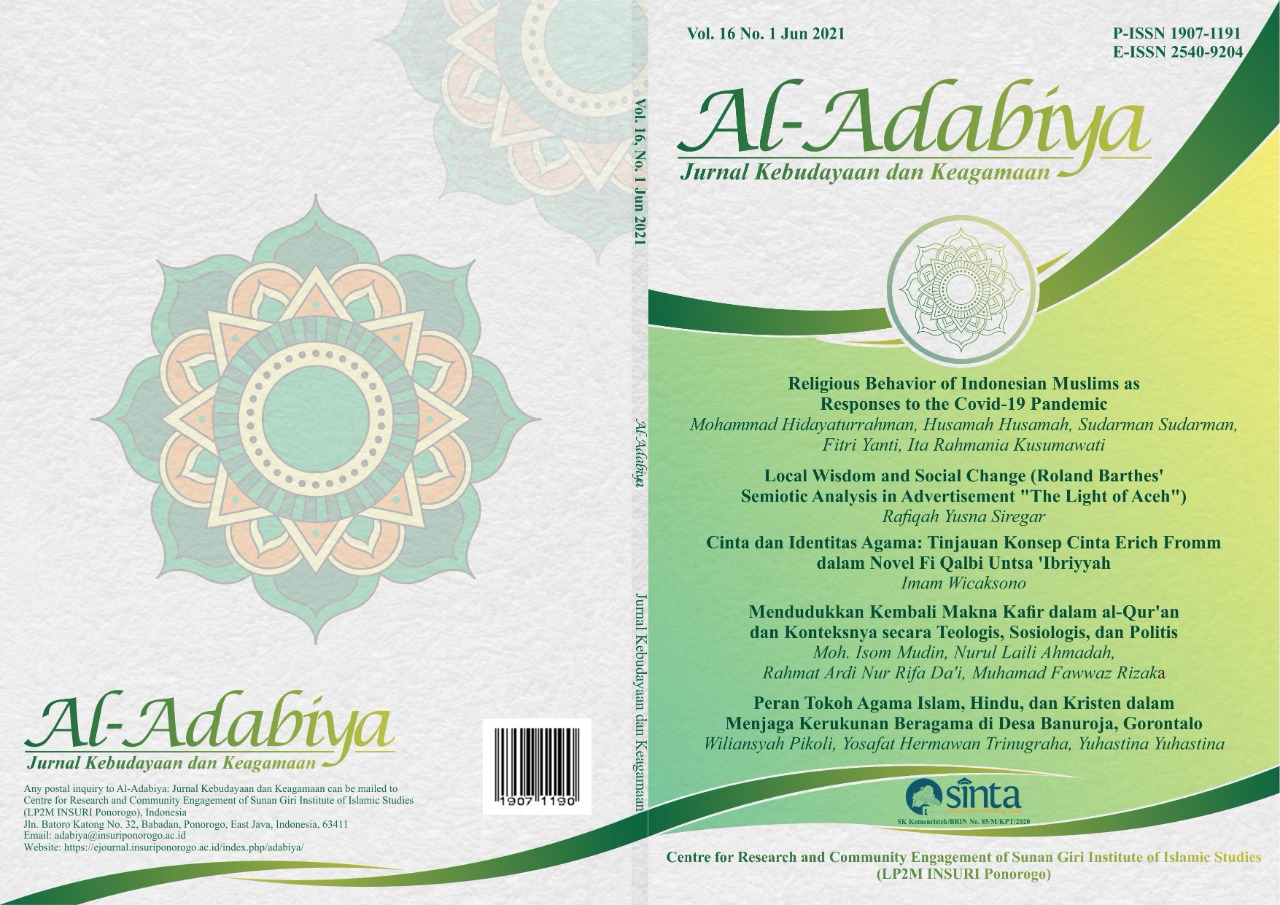 How to Cite
Siregar, R. (2021). Local Wisdom and Social Change (Roland Barthes' Semiotic Analysis in Advertisement "The Light of Aceh"). Al-Adabiya: Jurnal Kebudayaan Dan Keagamaan, 16(1), 15-26. https://doi.org/10.37680/adabiya.v16i1.715
Copyright (c) 2021 Rafiqah Yusna Siregar
This work is licensed under a Creative Commons Attribution-ShareAlike 4.0 International License.

The author(s) retain/s the copyright and grant/s Al-Adabiya: Jurnal Kebudayaan dan Keagamaan the first publication rights licensed under the Creative Commons Attribution-ShareAlike 4.0 International License (CC BY-SA 4.0) which allows others to access (search, read, download and quote), share (copy and redistribute the material in any media or format) and adapt (mix, modify and develop) works for legitimate purposes, even commercially, with recognition of the authorship of the work and its initial publication in this journal.

Abstract views: 302 , PDF (English) downloads: 212