Peran Tokoh Agama Islam, Hindu, dan Kristen dalam Menjaga Kerukunan Beragama di Desa Banuroja, Gorontalo
The Role of Islam, Hindu, and Christian Leaders in Maintaining Religious Harmony in Banuroja Village, Gorontalo
Wiliansyah Pikoli

Pendidikan Sosiologi Antropologi, Fakultas Keguruan & Ilmu Pendidikan, Universitas Sebelas Maret, Surakarta, Indonesia

Yosafat Hermawan Trinugraha

Pendidikan Sosiologi Antropologi, Fakultas Keguruan & Ilmu Pendidikan, Universitas Sebelas Maret, Surakarta, Indonesia

Yuhastina Yuhastina

Pendidikan Sosiologi Antropologi, Fakultas Keguruan & Ilmu Pendidikan, Universitas Sebelas Maret, Surakarta, Indonesia
Keywords:
Banuroja village, religious harmony, religious leaders, religious people, role
Abstract
This study aims to determine the role of Islamic, Christian (Protestant and Catholic) and Hindu religious leaders in maintaining inter-religious harmony in Banuroja Village, Randangan District, Pohuwato Regency, Gorontalo Province. This study uses a qualitative research method with a case study approach. Data collection techniques were carried out through observation, interviews and documentation. The results of this study indicate that the roles of religious leaders are different but the goal is the same, namely maintaining harmony between religious believers, the role of religious leaders is to teach people to help each other without discriminating, teach openness, teach three sacred actions (holy thought, utterance, and behavior), giving understanding in terms of maintaining communication between others, inviting the community to participate in community service, inviting other people to help when they are holding activities, and always warning the public not to be easily provoked by religious issues.
Penelitian ini bertujuan untuk mengetahui bagaimana peran dari tokoh agama Islam, Kristen (Protestan dan Katolik), dan Hindu dalam menjaga kerukunan antarumat beragama di Desa Banuroja, Kecamatan Randangan, Kabupaten Pohuwato, Provinsi Gorontalo. Penelitian ini menggunakan metode penelitian kualitatif dengan pendekatan studi kasus. Teknik pengumpulan data dilakukan melalui observasi, wawancara dan dokumentasi. Hasil penelitian ini menunjukan bahwa peran para tokoh agama berbeda-beda tetapi tujuannya sama yaitu menjaga kerukunan antarumat beragama, peran para tokoh agama yaitu mengajarkan masyarakat untuk saling tolong menolong tanpa membeda-bedakan,mengajarkan sikap keterbukaan, mengajarkan tiga perbuatan suci (berfikir suci, berkata suci, dan berperilaku suci), memberi pemahaman dalam hal menjaga komunikasi antar sesama, mengajak masyarakat untuk ikut kerja bakti, mengajak untuk ikut membantu umat lain jika sedang mengadakan kegiatan, dan selalu memperingatkan masyarakat untuk tidak mudah terpancing mengenai isu-isu yang berbau agama.
Downloads
Download data is not yet available.
References
Ahmadi, Rulam. Metodologi Penelitian Kualitatif. Yogyakarta: Ar-Ruzz Media, 2016.
Angkouw, Gabriel James, and Iky Sumarthina Putri Prayitno. "Scriptural Reasoning: Peran Kitab Keagamaan Dalam Pendidikan Agama Multikultural Di Young Interfaith Peacemaker Community Indonesia." Al-Adabiya: Jurnal Kebudayaan Dan Keagamaan 15, no. 01 (June 5, 2020): 69–91. https://doi.org/10.37680/adabiya.v15i01.410.
Aziz, Zahara, Amla Salleh, and Hardiana Ema Ribu. "A Study of National Integration: Impact of Multicultural Values." Procedia - Social and Behavioral Sciences 7, no. 2 (2010): 691–700. https://doi.org/10.1016/j.sbspro.2010.10.094.
Baihaqi, M. Adib. "Peran Tokoh Agama Dalam Menjaga Kerukunan Antar Umat Beragama (Komunikasi Kelompok Pada Dusun Thekelan, Desa Batur, Kecamatan Getasan, Kabupaten Semarang Tahun 2018)." Skripsi. Institut Agama Islam Negeri Salatiga, 2018.
Lestari, Dwi. "Upaya Tokoh Masyarakat Dan Tokoh Agama Dalam Menerapkan Pendidikan Multikultural Antar Agama Di Desa Menjing Kecamatan Jenawi Kabupaten Karanganyar Tahun 2019." Institut Agama Islam Negeri Surakarta, 2019.
Noe, Wahyudin, Novia Wahyu Wardhani, Sitirahia Ji Umar, and Rasid Yunus. "Realizing Multiculturalism and Social Integration in Banuroja Community." Jurnal Civics: Media Kajian Kewarganegaraan 18, no. 1 (2021): 82–96. https://doi.org/10.21831/jc.v18i1.37983.
Rukin. Metodologi Penelitian Kualitatif. Takalar: Yayasan Ahmar Cendekia Indonesia, 2019.
Sahfutra, Suryo Adi. "Konflik Dan Bina Damai Masyarakat Multirelijius: Studi Masyarakat Turgo Lereng Merapi Yogyakarta." MUHARRIK: Jurnal Dakwah Dan Sosial 2, no. 2 (November 13, 2019): 71–97. https://doi.org/10.5281/ZENODO.3540507.
Setyawan, Agus. "Dakwah Yang Menyelamatkan: Memaknai Ulang Hakikat Dan Tujuan Da'wah Islamiyah." Al-Adabiya: Jurnal Kebudayaan Dan Keagamaan 15, no. 02 (2020): 189–99. https://doi.org/https://doi.org/10.37680/adabiya.v15i02.487.
Sugiyono. Metode Penelitian Pendidikan (Pendekatan Kuantitatif, Kualitatif, Dan R&D). Bandung: Alfabeta, 2015.
Turama, Akhmad Rizqi. "Formulasi Teori Fungsionalisme Struktural Talcott Parsons." EUFONI : Journal of Language, Literary and Cultural Studies 2, no. 2 (2018): 58–69.
Ulya, Inayatul. "Pendidikan Islam Multikultural Sebagai Resolusi Konflik Agama Di Indonesia." Fikrah 4, no. 1 (2016): 20. https://doi.org/10.21043/fikrah.v4i1.1663.
Wahab, Abdul Jamil. Harmoni Di Negeri Seribu Agama (Membumikan Teologi Dan Fikih Kerukunan). Jakarta: PT Elex Media Komputindo, 2015.
Wasil. "Peran Pemuka Agama Dalam Memelihara Kerukunan: Studi Kasus Hubungan Islam Dan Katolik Di Desa Pabian Kabupaten Sumenep." Universitas Islam Negeri Syarif Hidayatullah, 2018.
Yani, Tri Wibowo; Muhammad Turhan. "Peran Tokoh Agama Dalam Menjaga Kerukunan Antar Umat Beragama Di Desa Sekaran Kecamatan Kayen Kidul Kabupaten Kediri." Kajian Moral Dan Kewarganegaraan 02, no. 04 (2016): 844–58.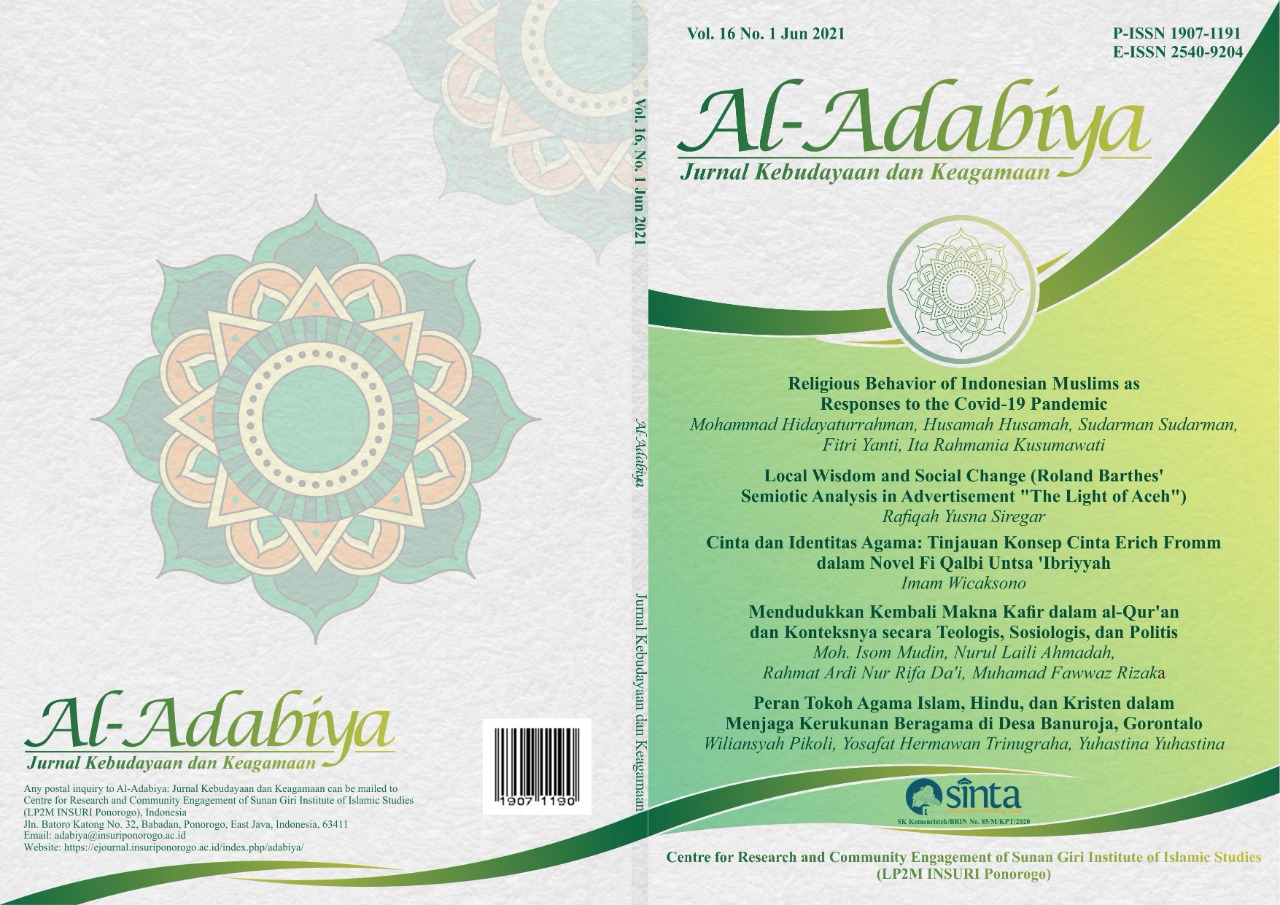 How to Cite
Pikoli, W., Trinugraha, Y., & Yuhastina, Y. (2021). Peran Tokoh Agama Islam, Hindu, dan Kristen dalam Menjaga Kerukunan Beragama di Desa Banuroja, Gorontalo. Al-Adabiya: Jurnal Kebudayaan Dan Keagamaan, 16(1), 79-95. https://doi.org/10.37680/adabiya.v16i1.827
Copyright (c) 2021 Wiliansyah Pikoli, Yosafat Hermawan Trinugraha, Yuhastina Yuhastina
This work is licensed under a Creative Commons Attribution-ShareAlike 4.0 International License.

The author(s) retain/s the copyright and grant/s Al-Adabiya: Jurnal Kebudayaan dan Keagamaan the first publication rights licensed under the Creative Commons Attribution-ShareAlike 4.0 International License (CC BY-SA 4.0) which allows others to access (search, read, download and quote), share (copy and redistribute the material in any media or format) and adapt (mix, modify and develop) works for legitimate purposes, even commercially, with recognition of the authorship of the work and its initial publication in this journal.

Abstract views: 291 , PDF (Bahasa Indonesia) downloads: 213