KRITIK IMMANUEL KANT TERHADAP FAHAM RASIONALISME DAN EMPIRISME
Keywords:
Kant, metaphysics, epistemology, ethics, aesthetics, empiricism,rationalism.
Abstract
Immanuel Kant is one of the most influential philosophers in the history of Western philosophy. His contributions to metaphysics, epistemology, ethics, and aesthetics have had a profound impact on almost every philosophical movement that followed him. This portion will focus on his metaphysics and epistemology in one of his most important works. The Critique of Pure Reason, A large part of Kant's work addresses the question "What can we know?" The answer, if it can be stated simply, is that our knowledge is constrained to mathematics and the science of the -natural, empirical world. It is impossible, Kant argues, to extend knowledge to the supersensible realm of speculative metaphysics. The reason that knowledge has these constraints, Kant argues, is that the mind plays an active role in constituting the features of experience and limiting the mind's access to the empirical realm of space and time. In order to understand Kant's position, we must understand the philosophical background that he was reacting to. First, 1 will present a brief overview of his predecessor's positions with a brief statement of Kant's objections, then I will return to a more detailed exposition of Kant's arguments. There are two major historical movements in the early modem period of philosophy that had a significant impact on Kant; Empiricism and Rationalism,
Downloads
Download data is not yet available.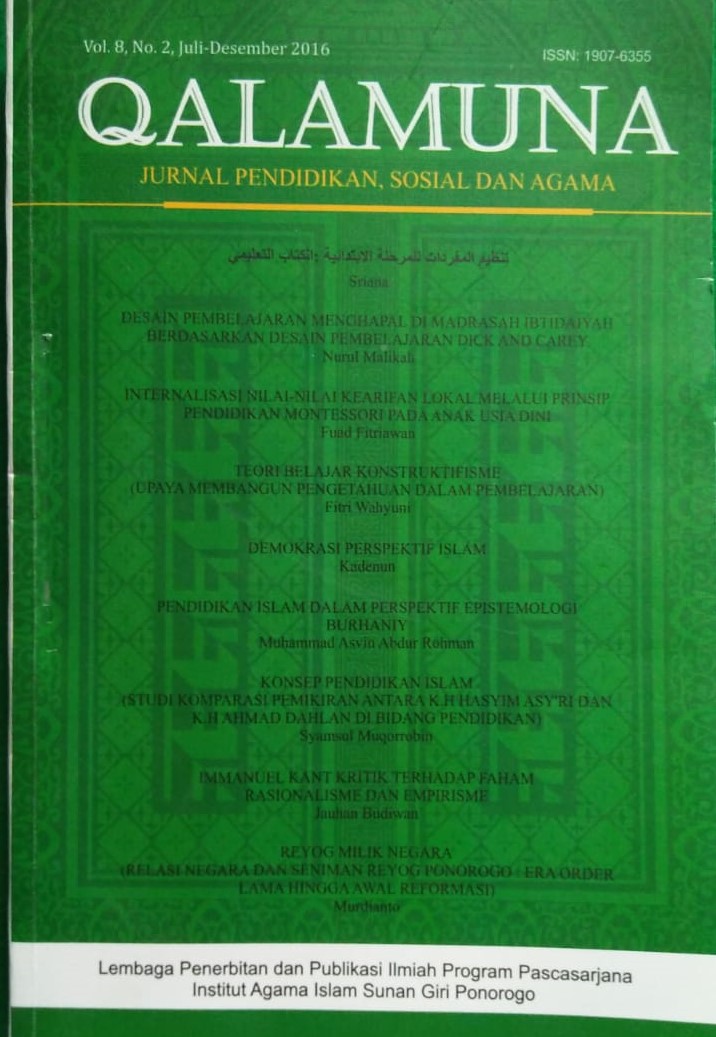 How to Cite
Budiwan, J. (2016). KRITIK IMMANUEL KANT TERHADAP FAHAM RASIONALISME DAN EMPIRISME. QALAMUNA: Jurnal Pendidikan, Sosial, Dan Agama, 8(02). https://doi.org/10.37680/qalamuna.v8i02.357
Copyright (c) 2016 Jauhan Budiwan
This work is licensed under a Creative Commons Attribution-ShareAlike 4.0 International License.

Authors who submit manuscript retain its copyright and grant publisher right of first publication licensed under a Creative Commons Attribution-ShareAlike 4.0 International License (CC BY-SA 4.0) that allows others to access (search, read, download, and cite), share (copy and redistribute the material in any medium or format) and adapt (remix, transform, and build upon any material) the work for any lawful purpose, even commercially with an acknowledgement of the work's authorship and initial publication in Qalamuna: Jurnal Pendidikan, Sosial, dan Agama.

Abstract views: 2478 , PDF (Bahasa Indonesia) downloads: 9454