Pembangunan Karakter Siswa SD Ditinjau Dari Latar Belakang Kebudayaan di Lereng Gunung Slamet
Itsna Oktaviyanti

PGSD FKIP UNRAM

Kiki Indah Pratiwi
Keywords:
characters students, elementary school, culture, Mount Slamet
Abstract
This research aimed to know the process of character building of primary school students and reviewed from the cultural background in Lereng Gunung Slamet. Research method used was qualitative with interpretative approach. Data were collected by using interview and documentation. Then data source was students, teachers, parent of SD Negeri 1 Serang  and people while determination of informants used purposive sampling. Data analysis technique was begun by reducing data, presenting data and verification.  Research result was that cultural background in lereng Gunung Slamet built students' characters of SD Negeri 1 Serang. These were because characters built by language elements were friendly and communicative, livelihood elements were discipline, hard work, environmental care, and responsible, religious element were tolerance, honest, loving peace and social care, and last was art and traditional elements where art built characters of creative, loving the homeland , friendly/communicative, and spirit of nationality, while tradition built characters of religious, loving homeland, tolerance spirit of nationality, loving piece, social care and environmental care.
Downloads
Download data is not yet available.
References
Aqib, Z. (2012). Pendidikan Karakter di Sekolah. Bandung: Yarma Widya
Barnawi & Arifin. (2012). Strategi & Kebijakan Pembelajaran Pendidikan Karakter. Jogjakarta: Ar-ruzz Media
Hadi, Nur. (2014). Pengembangan Bahan Bacaan Berbasis Pendidikan Multi Kultural, Religi Komunitas Pegunungan: Studi Kasus Pada Masyarakat Terunyan di Gunung Batur, Tengger di Gunung Bromo dan Kinahrejo di Lereng Merapi. Sejarah dan Budaya, Tahun Kedelapan, Nomor 1, 25-40
Kaimuddin. (2014). Implementasi Pendidikan Karakter Dalam Kurikulum 2013. Dinamika Ilmu, 14(1), 47-64
Kementrian Pendidikan Nasional. (2010). Buku Induk Pembangunan Karakter. Jakarta: Kementrian Pendidikan Nasional Badan Penelitian dan Pengembangan Pusat Kurikulum dan Perbukuan.
Koentjaraningrat. (2015). Pengantar Ilmu Antropologi. Jakarta: Rineka Cipta.
Kosim, Abdul. (2019). Internalisasi Pendidikan Karakter Berbasis School Culture. Jurnal Wahana Karya Ilmiah_Pascasarjana (S2) PAI Unsika, 3 (1), 240-251
Mulyadi dan Deny A. Iyai. (2016). Pengaruh Nilai Budaya Lokal terhadap Motivasi Bertani Suku Arfak di Papua Barat. Jurnal Peternakan Sriwijaya, l. 5(1), 18 – 29
Piazza, S. V., Rao, S., & Protacio, M. S. (2015). Converging Recommendations for Culturally Responsive Literacy Practices: Students with Learning Disabilities, English Language Learners, and Socioculturally Diverse Learners. International Journal of Multicultural Education, 17(3). Western Michigan University
Pranata, M. (2013). Pendidikan Karakter. Malang: Bayu Media Publising.
Prasojo, M. Nur Budi. (2015). Konstruksi Sosial Masyarakat Terhadap Alam Gunung Merapi: Studi Kualitatif tentang Kearifan Lokal yang Berkembang di Desa Tlogolele Kecamatan Selo Kabupaten Boyolali. Jurnal Analisa Sosiologi, 4(2), 31 –46
Putri, Shafira Leliana Putri dan Maya Damayanti. (2017). Peran SumberDaya Sosial Budaya dalam Pengembangan Pariwisata di Kawasan Gunung Merapi Desa Umbulharjo dan Desa Kepuharjo. RUANG, 3(1), 1-10
Putry, Raihan. (2018). Nilai Pendidikan Karakter Anak di Sekolah Perspektif Kemendiknas. Internasional. Journal of Child and Gender Studies, 4 (1), 39-54
Rachmawati, Julianne Indah., Warto dan Titis Srimuda Pitana. (2018). Selling Sacredness: Representation of Sedekah Gunung Ritual in Lencoh Village, Boyolali in New Media. Mozaik Humaniora, 18 (2), 178-188
Rahayu, Dewi Widiana. (2016). Internalisasi Nilai Karakter Melalui Budaya Sekolah. Jurnal Buana Pendidikan. Tahun XII, No. 22, 49-68
Salahudin, A. (2013). Pendidikan Karakter Berbasis Pendidikan Agama dan Budaya Bangsa. Bandung: Pustaka Setia.
Soekanto, Soerjono. (2017). Sosiologi Suatu Pengantar. Jakarta: Rajawali Press
Sudarmiani. (2013). Membangun Karakter Anak Dengan Budaya Kearifan Lokal Dalam Proses Pembelajaran di Sekolah. Jurnal Equiliribium, 1 (1), 54-72
Sugiyono. (2018). Metode Penelitian Kualitatif (Untuk penelitian yang bersifat: eksploratif, enterpretatif, interaktif dan konstruktif. Bandung: Alfabeta.
Syafei, Nur. (2019). Murid SD di Surabaya Melawan Guru karena Ditegur Merokok. Sindonews.com. https://daerah.sindonews.com/berita/1398934/174/murid-sd-di-surabaya-melawan-guru-karena-ditegur-merokok.
Wibowo, A. (2013). Manajemen Pendidikan Karakter di Sekolah. Yogyakarta: Pustaka Pelajar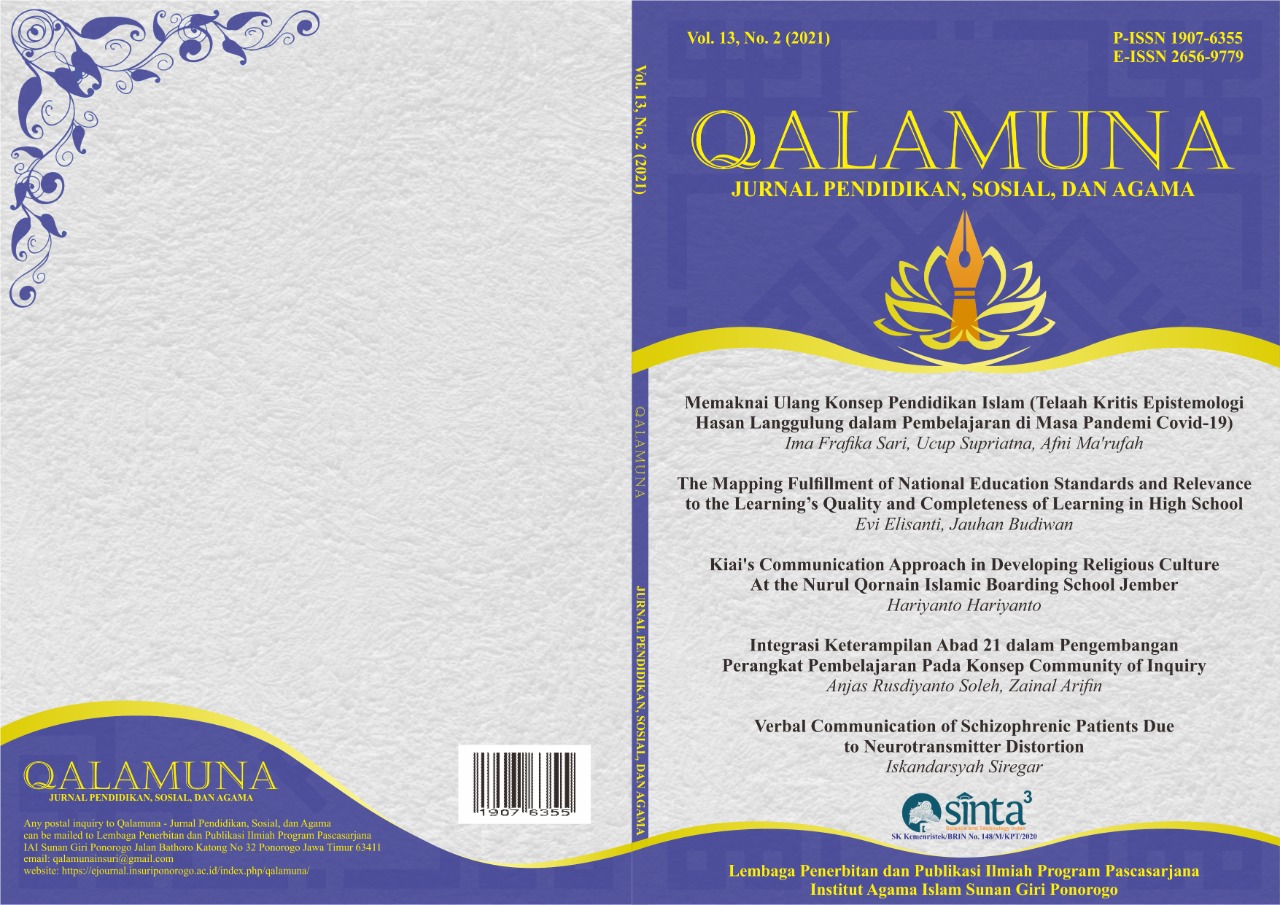 How to Cite
Oktaviyanti, I., & Pratiwi, K. (2021). Pembangunan Karakter Siswa SD Ditinjau Dari Latar Belakang Kebudayaan di Lereng Gunung Slamet. QALAMUNA: Jurnal Pendidikan, Sosial, Dan Agama, 13(2), 633-648. https://doi.org/10.37680/qalamuna.v13i2.1063
Copyright (c) 2021 Itsna Oktaviyanti, Kiki Indah Pratiwi
This work is licensed under a Creative Commons Attribution-ShareAlike 4.0 International License.

Authors who submit manuscript retain its copyright and grant publisher right of first publication licensed under a Creative Commons Attribution-ShareAlike 4.0 International License (CC BY-SA 4.0) that allows others to access (search, read, download, and cite), share (copy and redistribute the material in any medium or format) and adapt (remix, transform, and build upon any material) the work for any lawful purpose, even commercially with an acknowledgement of the work's authorship and initial publication in Qalamuna: Jurnal Pendidikan, Sosial, dan Agama.

Abstract views: 544 , PDF downloads: 612