Menangkal Radikalisme Dengan Penguatan Pendidikan Karakter Nasionalisme Melalui Amaliyah Aswaja di SD Islamiyah Magetan
Irwan Fathurrochman

Institut Agama Islam Negeri (IAIN) Curup

Abu Muslim

Institut Agama Islam Negeri (IAIN) Ponorogo
Keywords:
Character Education, Radicalism, Amaliyah Aswaja
Abstract
This study explains how the implementation of strengthening nationalism character education and what factors influence the implementation of nationalism character with Aswaja amaliyah as counter radicalism in SD Islamiyah Magetan. Then what are the impacts on counter radicalism? All these questions will be answered by researchers using a qualitative approach. This research uses descriptive analytical thinking method with field research. The results of this study are that students are able to fortify themselves from the influence of radicalism that spreads in schools and schools. The inhibiting factor is the influence of social media which is often accessed by students from propaganda. Meanwhile, another supporting factor is the commitment to the parents of students through good communication towards understanding the importance of nationalism character education through Amaliah Aswaja. So that it is hoped that it can support nationalism character education through Amaliah Aswaja able to ward off radicalism.
Downloads
Download data is not yet available.
References
Arifin, Syamsul."Kemitraan Sekolah-Masyarakat Sebagai Upaya Peningkatan Mutu Pendidikan Di Sampang Jawa Timur". Jurnal Humanity Vol. 8, no. 1, September (2012).
Aqil Siradj, Said. Ahlussunnah wal Jama'ah; Sebuah Kritik Historis. Jakarta: Pustaka Cendikia muda, 2008.
Bahri Djamarah, Syaiful. Psikologi Belajar. Jakarta: PT Rineka Cipta, 2002.
Barker, Chris. Cultur Studies Teori dan Praktek, terj. Nurhadi. Yogyakarta: Kreasi Wacana, 2005.
Cohen, Stanley. "Deviance and Moral Paanics" dalam Cohen, Folk Devils and Moral Panics. London: Routledge, 2020.
Daryanto. Pengelolaan Budaya dan Klim Sekolah. Yogyakarta: Gava Media, 2015.
Hasbullah. Dasar-Dasar Ilmu Pendidikan. Jakarta: PT. RajaGrafindo Persada, 2001.
Hamalik, Oemar. Psikologi Belajar Mengajar. Bandung: Sinar Baru Algesindo 1992.
Jalal, Fasli. Peran Pendidikan Non Formal dalam Pembangunan Manusia Indonesia yang Cerdas dan Bermutu. Yogyakarta: Universitas Negeri Yogyakarta. 2004.
Junanto, Subar. Civic Education. Surakarta: Fataba Press 2013.
Kemendikbud. Konsep Dan Pedoman Penguatan Pendidikan Karakte. Jakarta: Kementerian Pendidikan dan Kebudayaan Republik Indonesia, 2016.
Kemendiknas. Pengembangan Pendidikan Budaya dan Karakter Bangsa. Jakarta: Puskur, 2010.
Kurniawan, Syamsul Pendidikan Karakter: Konsepsei dan Implementasi Secara Terpadu di Lingkungan Keluarga Sekolah, Perguruan Tinggi dan Masyarakat. Yogyakarta: Ar-Ruzz Media: 2013.
L. Berger, Peter dan Thomas Luckman. tafsir Sosial Atas Kenyataan: Risalah Sosiologi Pengetahuan. Jakarta: LP3ES, 1990.
Maunah, Binti. Metodologi Pengajaran Agama Islam. Yogyakarta: Teras, 2009.
Latif, Yudi. Negara Paripurna Historisitas, Rasionalitas, dan Aktualitas Pancasila. Jakarta: Gramedia Pustaka Utama, 2011.
Muchson dan Samsuri. Dasar-Dasar Pendidikan Moral (Basis Pengembangan Pendidikan Karakter. Yogyakarta: Penerbit Ombak, 2015.
Muhtadi, Ali. "Teknik Dan Pendekatan Penanaman Nilai Dalam Proses Pembelajaran Di Sekolah", Jurnal Majalah Ilmiah Pembelajaran, Vol 3, No 1, 2007.
Mulyasa, E. Standar Kompetensi Guru. Bandung: Rosdakarya, 2008.
Qodir, Zuly. Radikalisme Agama di Indonesia. Yogyakarta: Pustaka Pelajar, 2014.
Shihab, Alwi. Islam Inklusif: Menuju Sikap Terbuka dalam Beragama. Bandung: Mizan, 1999.
Slameto. Belajar dan Faktor-faktor yang Mempengaruhinya. Jakarta: PT. Rineka Cipta, 2010.
Tibi, Bassam. Islamism and Islam. London: Yale University Press, 2012.
Uzer Usman, Moh. Menjadi Guru Profesional. Bandung: Remaja Rosdakarya, 2000.
Qodir, Zuli. Radikalisme Agama di Indonesia. Yogyakarta: Pustaka Pelajar, 2014.
Zubaedi. Pendidikan Berbasis Masyarakat. Yogyakarta: Pustaka Pelajar, 2006.
. Desain Pendidikan Karakter: Konsepsi dan Aplikasinya Dalam Lembaga Pendidikan. Jakarta: Kencana, 2012.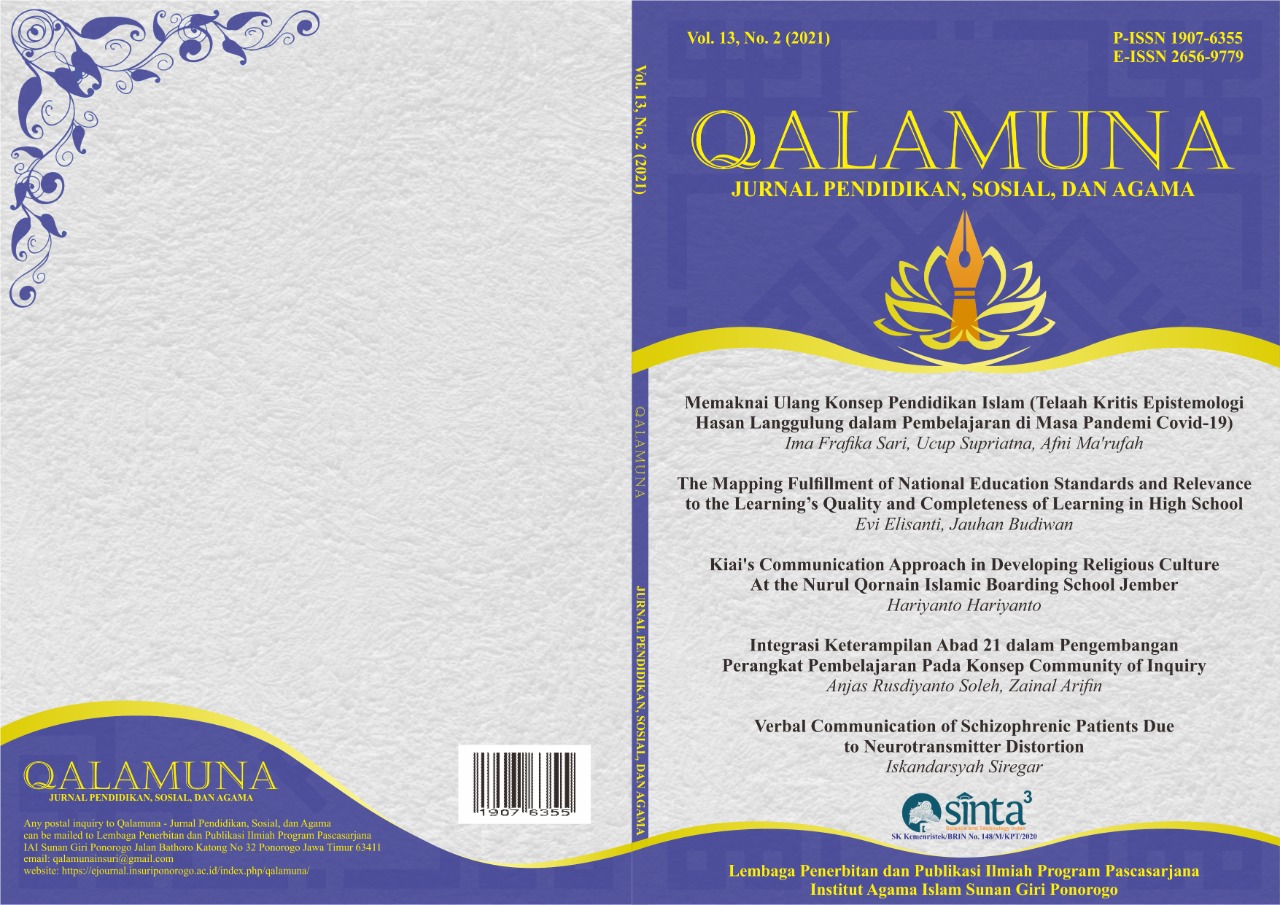 How to Cite
Fathurrochman, I., & Muslim, A. (2021). Menangkal Radikalisme Dengan Penguatan Pendidikan Karakter Nasionalisme Melalui Amaliyah Aswaja di SD Islamiyah Magetan. QALAMUNA: Jurnal Pendidikan, Sosial, Dan Agama, 13(2), 801-818. https://doi.org/10.37680/qalamuna.v13i2.1071
Copyright (c) 2021 Irwan Fathurrochman, Abu Muslim
This work is licensed under a Creative Commons Attribution-ShareAlike 4.0 International License.

Authors who submit manuscript retain its copyright and grant publisher right of first publication licensed under a Creative Commons Attribution-ShareAlike 4.0 International License (CC BY-SA 4.0) that allows others to access (search, read, download, and cite), share (copy and redistribute the material in any medium or format) and adapt (remix, transform, and build upon any material) the work for any lawful purpose, even commercially with an acknowledgement of the work's authorship and initial publication in Qalamuna: Jurnal Pendidikan, Sosial, dan Agama.

Abstract views: 1307 , PDF downloads: 1831