Perasaan Emosional Orang Tua dalam Mendampingi Anak Pada Pembelajaran Daring (Studi Kasus di MTsN 5 Kota Padang)
Dilla Oktaviana

IAIN BATUSANGKAR

Indri Syarifah

IAIN BATUSANGKAR

Wahidah Fitriani

IAIN BATUSANGKAR
Keywords:
Emotional Feelings, Parents, Online Learning
Abstract
This research aims to analyze online learning carried out and explore the emotional feelings of parents in accompanying children's education during online learning. The study was conducted at MTsN 5 Padang City, West Sumatra. This study uses a qualitative method based on a case study approach. The research findings show that; First, online learning at school is realized through the following stages: Teachers, homeroom teachers collaborate with homeroom teachers through the formation of WhatsApp groups. This is intended to reduce misunderstandings between homeroom and homeroom teachers to discuss and exchange ideas. Learning to try to use Zoom Meeting, Google Classroom, and education is also attempted through giving assignments. Second, the procedures that parents try to direct their feelings when accompanying children at home, especially by collaborating with teachers, including mentors to accompany children's tasks, carry out interrelation and closeness with their children.
Downloads
Download data is not yet available.
References
Al Gholaini, A. P. (2021). Sosialisasi bagi Para Orang Tua dalam Menghadapi Problematika Pembelajaran Jarak Jauh di Desa Keboan Kecamatan Ngusikan Jombang. Jumat Pendidikan: Jurnal Pengabdian Masyarakat, 2(2), 64–68.

Aqodiah, B. I., Aria, Z., Aqodiah, T., Ida, B., & Zaenafi Aria, T. (2021). STRATEGI ORANG TUA DALAM PEMBELAJARAN DARI RUMAH MASA PANDEMI COVID-19. Ibtida'iy: Jurnal Prodi PGMI, 6(2), 53–60.

Atiqoh, L. N. (2020). Respon orang tua terhadap pembelajaran daring pada masa pandemi Covid-19. Thufuli: Jurnal Ilmiah Pendidikan Islam Anak Usia Dini, 2(1), 45–52.

Ayal, L. N., & Listyawati, A. (2019). Urgensi Peran Sakti Peksos dalam Penanganan Permasalahan Anak di Kota Kupang. Media Informasi Penelitian Kesejahteraan Sosial, 43(1), 35–50.

Aziza, F. N., & Yunus, M. (2021). Peran Orang Tua Dalam Membimbing Anak Pada Masa Study From Home Selama Pandemi Covid 19. UrbanGreen Conference Proceeding Library, 112–114.

Chusna, P. A., & Utami, A. D. M. (2020). Dampak pandemi COVID-19 terhadap peran orang tua dan guru dalam meningkatkan kualitas pembelajaran daring anak usia sekolah dasar. Premiere: Journal of Islamic Elementary Education, 2(1), 11–30.

Damanik, S., Zuhdi, M., Hazizah, H., & Herlina, H. (2020). Model evaluasi pembelajaran AUD berbasis daring di RA Nurun Namirah Medan Marelan (studi kasus selama masa pandemi covid-19). Jurnal Al-Fatih, 3(1), 155–172.

Ilham, I. (2020). PERKEMBANGAN EMOSI DAN SOSIAL PADA ANAK USIA SEKOLAH DASAR. EL-Muhbib: Jurnal Pemikiran Dan Penelitian Pendidikan Dasar, 4(2), 162–180.

Kemala, A. (2018). Faktor Psikososial Lingkungan Kerja (Studi Kasus) Pada Karyawan Pabrik Ssp Pt. X. Jurnal Psikologi, 11(1).

Kurnianto, B., & Rahmawati, R. D. (2020). Hubungan pola asuh Orang Tua terhadap motivasi belajar siswa pada pembelajaran Daring Masa Pandemi. Seminar Pendidikan Nasional (SENDIKA), 2(1).

Kurniati, E., Alfaeni, D. K. N., & Andriani, F. (2020). Analisis peran orang tua dalam mendampingi anak di masa pandemi Covid-19. Jurnal Obsesi: Jurnal Pendidikan Anak Usia Dini, 5(1), 241–256.

Lubis, M., & Yusri, D. (2020). Pembelajaran Pendidikan Agama Islam Berbasis E-Learning (Studi Inovasi Pendidik MTS. PAI Medan di Tengah Wabah Covid-19). Fitrah: Journal of Islamic Education, 1(1), 1–18.

Miles, M. B. (n.d.). dan A. Michael Huberman, dan Johnny Saldana. (2014). Qualitative Data Analysis.

Moleong, L. J. (2021). Metodologi penelitian kualitatif. PT Remaja Rosdakarya.
Nofianti, R. (2020). PERAN ORANGTUA DALAM PENDAMPINGAN PEMBELAJARAN DARING ANAK USIA DINI DI MSA PANDEMIC COVID 19 DI TK ISLAM IBNU QOYYIM. Jurnal Abdi Ilmu, 13(2), 19–30.

Palupi, T. N. (2021). Tingkat stres ibu dalam mendampingi siswa-siswi sekolah dasar selama belajar di rumah pada masa pandemi covid-19. Jurnal Psikologi Pendidikan Dan Pengembangan SDM, 10(1), 36–48.

Putro, K. Z., Amri, M. A., Wulandari, N., & Kurniawan, D. (2020). Pola interaksi anak dan orangtua selama kebijakan pembelajaran di rumah. Fitrah: Journal of Islamic Education, 1(1), 124–140.

Syamsiah, P. N., Rahmawati, A., Atika, A., Wati, I. N., Yuliana, Y., & Amirudin, M. F. (2021). Optimalisasi Peran Orang Tua Dalam Pembelajaran Daring Pada Masa Pandemi Covid-19 di Kelurahan Sumber Harta. Edification Journal: Pendidikan Agama Islam, 3(2), 153–174.

Veddaren, H., ROZI, S., & Rohmad, M. A. (2021). Interaksi Edukatif Orang Tua dengan Anak Pada Masa Pandemi Covid-19 (Studi Fenomenologi Orang Tua Siswa MTs Miksyaful Ulum). UNIVERSITAS ISLAM MAJAPAHIT.

Wahyuni, F., & Asfahani, A. (2021). Menjadi Orang Tua Kreatif bagi Anak Usia Dini di Masa New Normal. Absorbent Mind: Journal of Psychology and Child Development, 1(1), 1–11.

Wardani, A., & Ayriza, Y. (2020). Analisis kendala orang tua dalam mendampingi anak belajar di rumah pada masa pandemi Covid-19. Jurnal Obsesi: Jurnal Pendidikan Anak Usia Dini, 5(1), 772.

Wulandari, D., & Lestari, T. (2021). Pengaruh Gadget Terhadap Perkembangan Emosi Anak. Jurnal Pendidikan Tambusai, 5(1), 1689–1695.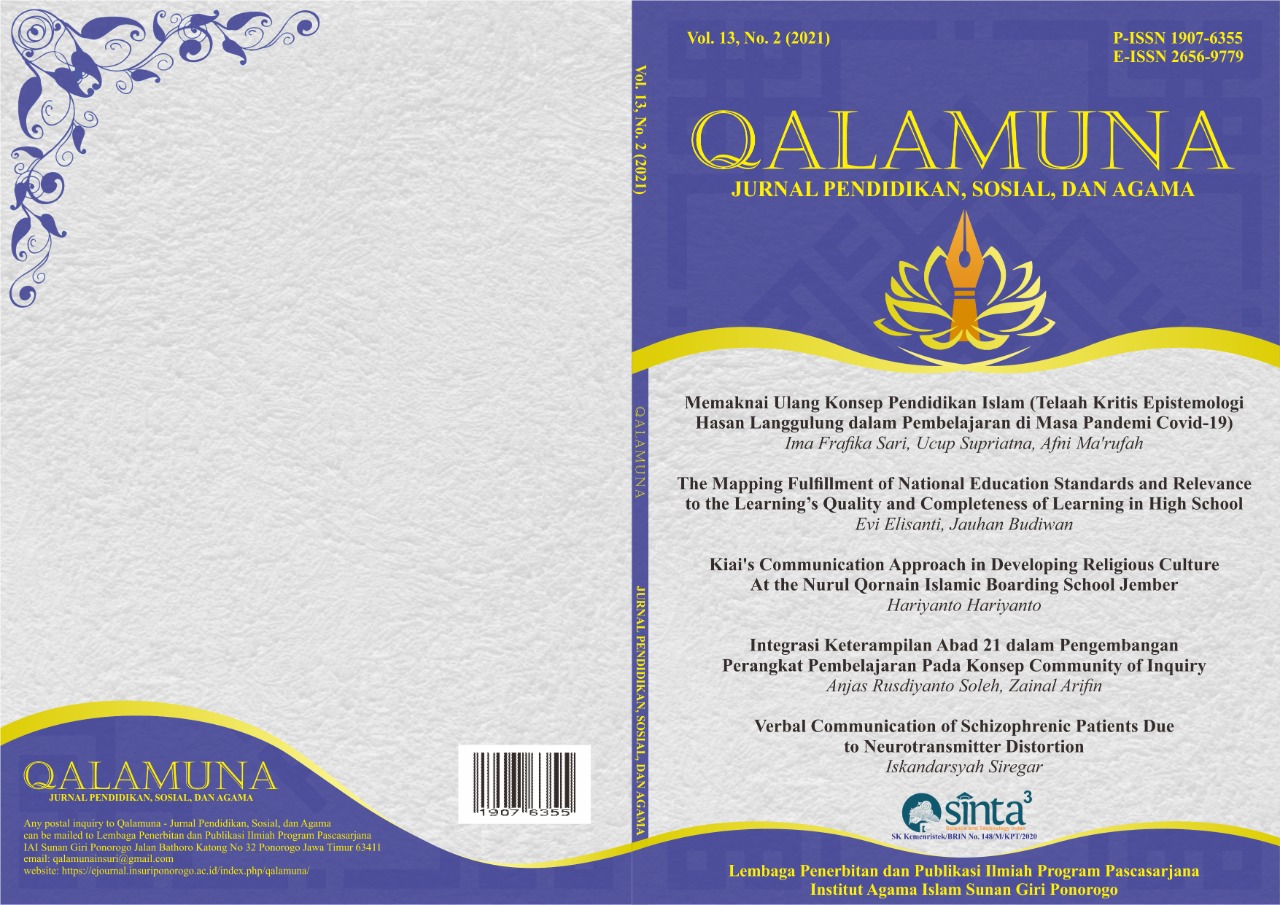 How to Cite
Oktaviana, D., Syarifah, I., & Fitriani, W. (2021). Perasaan Emosional Orang Tua dalam Mendampingi Anak Pada Pembelajaran Daring (Studi Kasus di MTsN 5 Kota Padang). QALAMUNA: Jurnal Pendidikan, Sosial, Dan Agama, 13(2), 853-864. https://doi.org/10.37680/qalamuna.v13i2.1145
Copyright (c) 2022 Dilla Oktaviana, Indri Syarifah, Wahida Fitriani
This work is licensed under a Creative Commons Attribution-ShareAlike 4.0 International License.

Authors who submit manuscript retain its copyright and grant publisher right of first publication licensed under a Creative Commons Attribution-ShareAlike 4.0 International License (CC BY-SA 4.0) that allows others to access (search, read, download, and cite), share (copy and redistribute the material in any medium or format) and adapt (remix, transform, and build upon any material) the work for any lawful purpose, even commercially with an acknowledgement of the work's authorship and initial publication in Qalamuna: Jurnal Pendidikan, Sosial, dan Agama.

Abstract views: 595 , PDF downloads: 494