Pengembangan Model Pembelajaran Berbasis Web Powtoon Untuk Merangsang Minat Belajar Siswa Pada Mata Pelajaran Al-Qur'an Hadits Kelas 3 MI
Naila Husna Ramadhana

UIN Sunan Kalijaga Yogakarta

Andi Prastowo

UIN Sunan Kalijaga Yogyakarta
Keywords:
development, web-based learning, powtoon, learning interests
Abstract
This study aims to develop a web-based learning model so that it can provide innovation in the learning process of Al-Qur'an Hadith subjects in the Surah An-Nas material which students must memorize and can remember the meaning, so researchers want to develop web-based learning with powtoon media to provide an interesting learning experience and can provide convenience to students. The research method using research and development and the development model carried out in this study is the ADDIE model which consists of five steps, namely: analysis (analyze), design (design), development (development), implementation (implementation), evaluation (evaluation). This research was conducted at MIN Hulu Sungai Selatan II. This research provides a product in the form of animated video powtoon to be tested for feasibility by media experts, material experts, and two groups of 18 students. The results of the trial were media experts with an average score of 3.6 which was categorized as very valid, material experts with an average value of 4 and categorized as very valid, and student respondents with an average score of 3.62 in the very good category.
Downloads
Download data is not yet available.
References
Anggita, Z. (2020). PENGGUNAAN POWTOON SEBAGAI SOLUSI MEDIA PEMBELAJARAN DI MASA PANDEMI COVID-19. 7(2), 44–52. https://doi.org/10.26618/jk.v7i2.4538
Fatmawati, N. L. (2021). Pengembangan Video Animasi Powtoon Sebagai Media Pembelajaran Bahasa Inggris Usia Sekolah Dasar di Masa Pandemi. INSANIA : Jurnal Pemikiran Alternatif Kependidikan, 26(1), 65–77. https://doi.org/10.24090/INSANIA.V26I1.4834
Fitriyani, N. (2019). PENGEMBANGAN MEDIA PEMBELAJARAN AUDIO-VISUAL POWTOON TENTANG KONSEP DIRI DALAM BIMBINGAN KELOMPOK UNTUK PESERTA DIDIK SEKOLAH DASAR. In Jurnal Tunas Bangsa (Vol. 6, Issue 1). https://ejournal.bbg.ac.id/tunasbangsa/article/view/950
Kholilurrohmi, I. (2017). EFEKTIVITAS PENERAPAN MEDIA PEMBELAJARAN VIDEOPOWTOON PADA MATA PELAJARAN KIMIA TERHADAPPRESTASI DAN MOTIVASI BELAJAR PESERTA DIDIKKELAS X SEMESTER 1.
Mershand, S. (2014). Product Review: PowToon | Tech & Learning. https://www.techlearning.com/news/product-review-powtoon
Munir. (2017). Pembelajaran Digital. Alfabeta. www.cvalfabeta.com
Nurdiansyah, E., Faisal, E. El, & Sulkipani, S. (2018). Pengembangan media pembelajaran berbasis PowToon pada perkuliahan Pendidikan Kewarganegaraan. Jurnal Civics: Media Kajian Kewarganegaraan, 15(1), 1–8. https://doi.org/10.21831/JC.V15I1.16875
Qurrotaini, L., Sari, T. W., Sundi, V. H., & Nurmalia, L. (2020). Efektivitas Penggunaan Media Video Berbasis Powtoon dalam Pembelajaran Daring. Prosiding Seminar Nasional Penelitian LPPM UMJ, 1(1). https://jurnal.umj.ac.id/index.php/semnaslit/article/view/7869
Rijal, A. S. (2020). Pengembangan Media Pembelajaran Berbasis Web Untuk Meningkatkan Kreativitas Guru. Ideas: Jurnal Pendidikan, Sosial Dan Budaya, 6(1), 81. https://doi.org/10.32884/ideas.v6i1.238
Riska Babo, M. (2016). Pembelajaran Berbasis Web (Issue November). https://123dok.com/document/y9d2nwwq-pembelajaran-berbasis-web.html
Rothwell, W. J., Benscoter, G. M. B., King, M., & King, S. B. (2015). Mastering the instructional design process: A systematic approach. Mastering the Instructional Design Process: A Systematic Approach, 1–397. https://doi.org/10.1002/9781119176589
Smaldino, S. E., Lowther, D. L., & Mims, C. (2019). Instructional Technology and Media for Learning 12th Edition. https://lccn.loc.gov/2017015584
Sugiyono, S. (2010). Metode Penelitian Kuantitatif dan Kualitatif dan R&D. https://www.pdfdrive.com/prof-dr-sugiyono-metode-penelitian-kuantitatif-kualitatif-dan-rd-intro-e56379944.html
Tegeh, I. M., & Kirna, I. M. (2013). PENGEMBANGAN BAHAN AJAR METODE PENELITIAN PENDIDIKAN DENGAN ADDIE MODEL. Jurnal IKA, 11(1). https://doi.org/10.23887/IKA.V11I1.1145
Wahyuni Arifin, R., Septanto, H., & Wignyowiyoto, I. (2018). Copyright@2018. P2M STMIK BINA INSANI Pengembangan Media Pembelajaran Berbasis Video Animasi Dengan Model ADDIE Dalam Kegiatan Pembelajaran Blended Learning. INFORMATION MANAGEMENT FOR EDUCATORS AND PROFESSIONALS, 2(2), 179–188.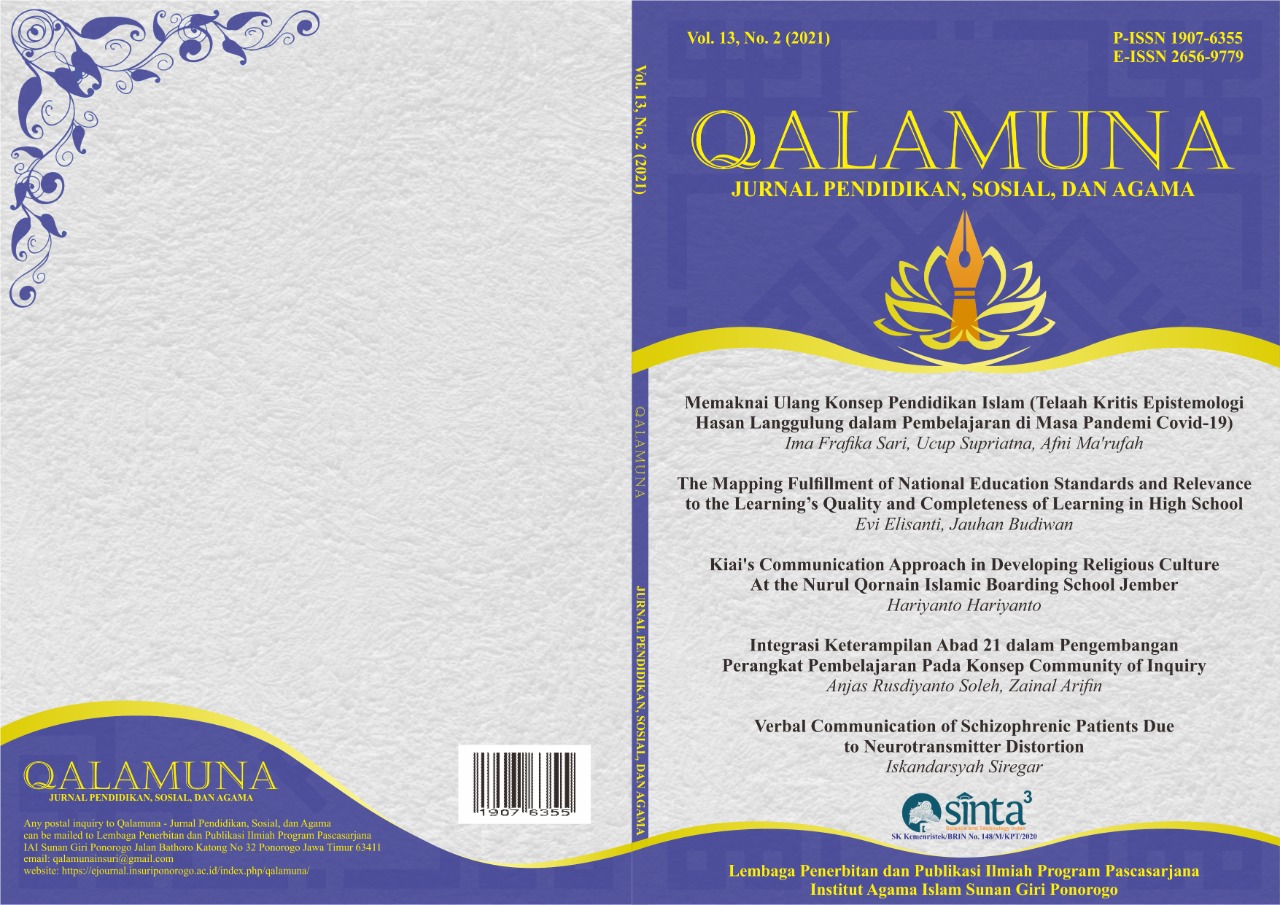 How to Cite
Ramadhana, N., & Prastowo, A. (2021). Pengembangan Model Pembelajaran Berbasis Web Powtoon Untuk Merangsang Minat Belajar Siswa Pada Mata Pelajaran Al-Qur'an Hadits Kelas 3 MI. QALAMUNA: Jurnal Pendidikan, Sosial, Dan Agama, 13(2), 879-894. https://doi.org/10.37680/qalamuna.v13i2.1162
Copyright (c) 2021 Naila Husna Ramadhana, Andik Prastowo
This work is licensed under a Creative Commons Attribution-ShareAlike 4.0 International License.

Authors who submit manuscript retain its copyright and grant publisher right of first publication licensed under a Creative Commons Attribution-ShareAlike 4.0 International License (CC BY-SA 4.0) that allows others to access (search, read, download, and cite), share (copy and redistribute the material in any medium or format) and adapt (remix, transform, and build upon any material) the work for any lawful purpose, even commercially with an acknowledgement of the work's authorship and initial publication in Qalamuna: Jurnal Pendidikan, Sosial, dan Agama.

Abstract views: 746 , PDF downloads: 693