Pemenuhan Hak Dasar Anak Dalam Situasi Darurat Covid-19 di Kabupaten Jember
Dina Tsalist Wildana

Universitas Jember

Fanny Tanuwijaya

Universitas Jember

Sapti Prihatmini

Universitas Jember

Jauhari Zakky Anas

Universitas Jember
Keywords:
Children's Rights; Covid-19; Jember
Abstract
The Covid-19 pandemic, which has become a global epidemic, requires the implementation of health protocols in order to prevent its spread, creating its own social problems, especially for the growth and development of children, so that they are the most affected. This study uses empirical juridical methods and uses a conceptual approach. The results of this study indicate that the problem of fulfilling children's rights during the pandemic is still a priority scale program by the government in Jember Regency which must be resolved immediately, especially in terms of health and education. In the context of health, children still have not received vaccination facilities. On the other hand, online children's education is also not optimal due to limited interaction between teachers and students. This research also formulates recommendations for formulating precise policies in terms of mainstreaming the fulfillment of rights to children during the Covid-19 pandemic, especially in Jember Regency, establishing an accountable and accurate information system regarding the distribution of children affected by the Covid-19 pandemic, and making new breakthroughs related to mechanisms. education, health and the environment in favor of the fulfillment of children's rights
Downloads
Download data is not yet available.
References
Antara. (2020). Akademisi Peduli Jember Kritisi Kebijakan Penanganan COVID-19. www.jawapos.com. https://www.jawapos.com/jpg-today/06/05/2020/akademisi-peduli-jember-kritisi-kebijakan-penanganan-covid-19/
Children, S. T. (2021). Dampak Tersembunyi dari COVID-19.
Gaol, D. L. (2020). Kekerasan Anak di Masa Pandemi Urusan Siapa? https://www.stc.or.id/Kampanye-Kami/Kampanye-Pulih-Bersama/Kekerasan-Anak-di-Masa-Pandemi,-Urusan-Siapa/.
Jember, P. (2020). Anggaran Covid-19 Jember Sebesar Rp. 479,4 Miliar, Berikut Penjelasannya. www.jemberkab.go.id.
Jember, P. (2021). Vaksinasi Covid-19, 5.062 Nakes Jember Terima Vaksin. https://www.jemberkab.go.id/vaksinasi-covid-19-5-062-nakes-jember-terima-vaksin/
Moko, P. (2021). Capaian Belum Sampai 70 Persen, Jember Belum Bisa Gelar Vaksinasi untuk Anak. https://lenteratoday.com/capaian-belum-sampai-70-persen-jember-belum-bisa-gelar-vaksinasi-untuk-anak/
Muladi, & Arief, B. N. (1992). Bunga Rampai Hukum Pidana, Alumni, Bandung. Alumni.
Prasetyo, D. B. (2020). Anggaran Penanganan COVID-19 di Jember Terbesar Kedua Setelah Makassar. www.timesindonesia.co.id. https://www.timesindonesia.co.id/read/news/265170/anggaran-penanganan-COVID-1919-di-jember-terbesar-kedua-setelah-makassar/
Puspa, A. (2020). 3.087 Kasus Kekerasan Anak Terjadi Selama Pandemi Covid-19. Media Indonesia. https://mediaindonesia.com/humaniora/322799/3087-kasus-kekerasan-anak-terjadi-selama-pandemi-covid-19
Ribuan Anak di Jember Butuh Perlindungan Karena ini. (2021). Radar Jember. https://radarjember.jawapos.com/berita-jember/04/11/2021/ribuan-anak-di-jember-butuh-perlindungan-karena-ini/
Rita Pranawati. (2020). Panduan Mengasuh Anak di Era Pandemi COVID-19. kpai.go.id. https://www.kpai.go.id/publikasi/panduan-mengasuh-anak-di-era-pandemi-covid-19
Rita Pranawati. dkk. (2020). Pemenuhan Hak dan Perlindungan Anak di Era COVID-19. KPAI.
UNICEF. (2020a). Covid-19 Dan Anak-Anak Di Indonesia Agenda Tindakan Untuk Mengatasi Tantangan Sosial Ekonomi. unicef.org. https://data.unicef.org/topic/child-health/immunization/.
UNICEF. (2020b). Perlindungan Anak Saat Pandemi COVID-19.
UNODC. (2020). Informasi mengenai Pengasuhan Anak selama COVID-19. https://www.unodc.org/documents/listenfirst/covid19/Bahasa_-_UNODC-lockdown-leaflet-20200418.pdf
Wahyuni, D. (2020). Pencegahan Kekerasan Terhadap Anak Pada Masa Pandemi COVID-19. XII(22).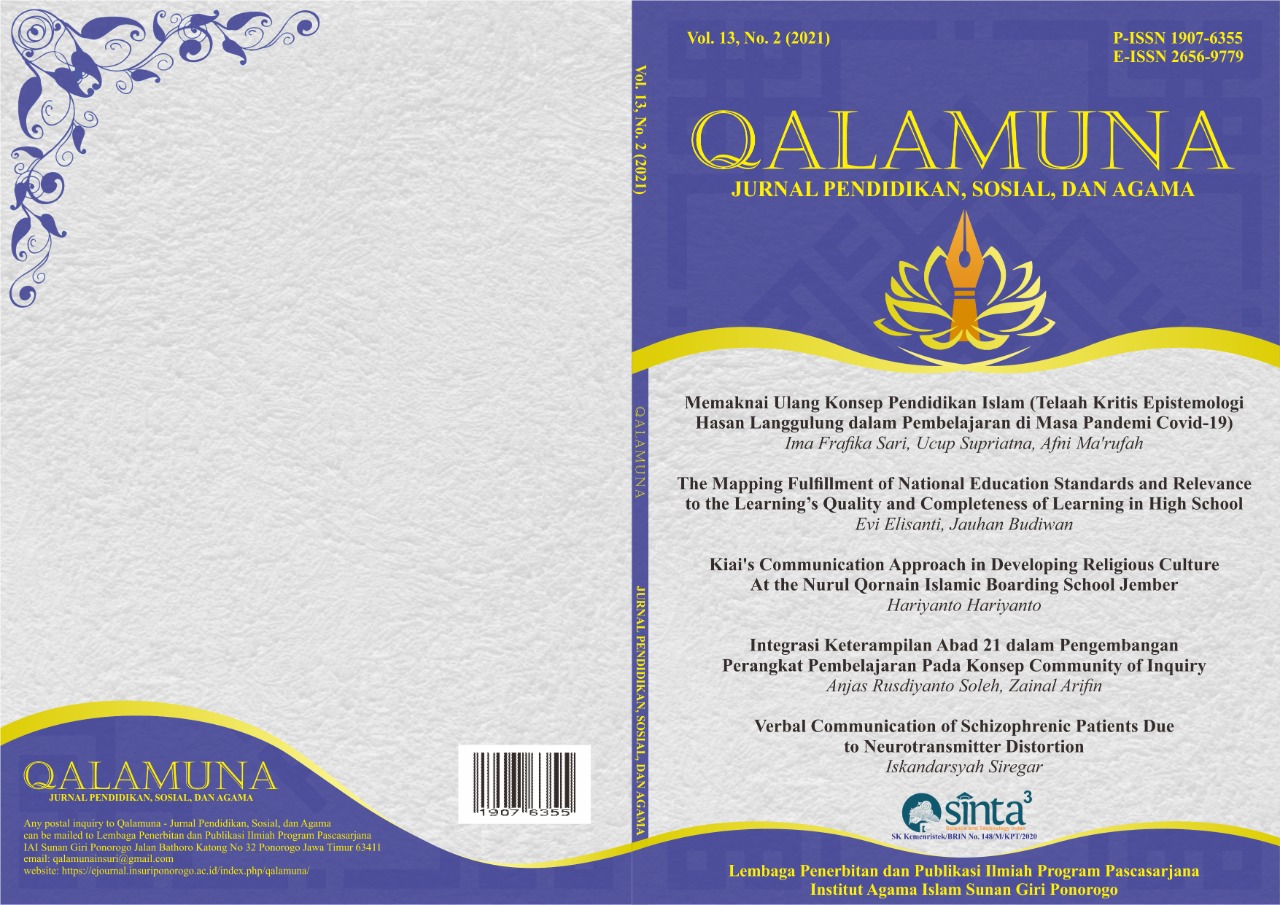 How to Cite
Wildana, D., Tanuwijaya, F., Prihatmini, S., & Anas, J. (2021). Pemenuhan Hak Dasar Anak Dalam Situasi Darurat Covid-19 di Kabupaten Jember. QALAMUNA: Jurnal Pendidikan, Sosial, Dan Agama, 13(2), 905-916. https://doi.org/10.37680/qalamuna.v13i2.1195
Copyright (c) 2021 Dina Tsalist Wildana
This work is licensed under a Creative Commons Attribution-ShareAlike 4.0 International License.

Authors who submit manuscript retain its copyright and grant publisher right of first publication licensed under a Creative Commons Attribution-ShareAlike 4.0 International License (CC BY-SA 4.0) that allows others to access (search, read, download, and cite), share (copy and redistribute the material in any medium or format) and adapt (remix, transform, and build upon any material) the work for any lawful purpose, even commercially with an acknowledgement of the work's authorship and initial publication in Qalamuna: Jurnal Pendidikan, Sosial, dan Agama.

Abstract views: 662 , PDF downloads: 586