Arah Metodologi Tafsir Kontemporer
Abstract
Methods of interpretation evolve over time. This is because the problems of human life that need to refer to the Qur"an is constantly evolving, while Qur"an
is definite and static, there is no development in its verses as well as in human life"s problems. Therefore, an interpretation is sometimes considered more
appropriate at a certain period and not at another. Various methods of interpretation have been offered in the history of Muslims such as method of
tahlili, ijmali, muqaran also maudlui. These methods have helped human to understand Qur"an. Nowadays, maudlu"i becomes the most frequently method
used by Muslims. Thus, this paper tries to find the direction of current interpretive methodology. This can be seen in the tendency of contemporary
interpretation, which has assumption and paradigm that 1) Qur"an Shalihlikulli zaman wamakan 2) Text is static while context is dynamic 3) Interpretation is
relative and tentative. With its character of paradigm that 1) Positioning Qur"an as a Guide Book, using an interdisciplinary approach 2)Contextual and
oriented to the spirit of Qur"an. The solution of contemporary paradigmis to find alternatives toward Qur"an bimaqashid al-syari"ah. 3) Scientific, Critical,
Non-Sectarian with the method of interpretation is method of maudlui.
Downloads
Download data is not yet available.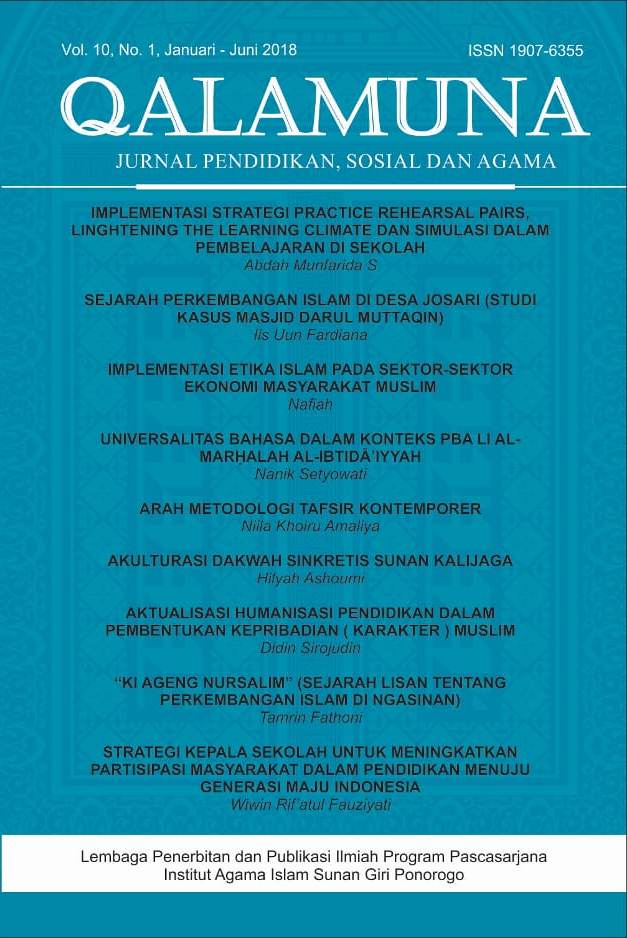 How to Cite

Amaliya, N. (2019). Arah Metodologi Tafsir Kontemporer. QALAMUNA: Jurnal Pendidikan, Sosial, Dan Agama, 10(01). https://doi.org/10.5281/zenodo.3559240

Authors who submit manuscript retain its copyright and grant publisher right of first publication licensed under a Creative Commons Attribution-ShareAlike 4.0 International License (CC BY-SA 4.0) that allows others to access (search, read, download, and cite), share (copy and redistribute the material in any medium or format) and adapt (remix, transform, and build upon any material) the work for any lawful purpose, even commercially with an acknowledgement of the work's authorship and initial publication in Qalamuna: Jurnal Pendidikan, Sosial, dan Agama.

Abstract views: 0 , PDF (Bahasa Indonesia) downloads: 1