Islamisasi Ilmu Pengetahuan (Upaya Mengurai Dikotomi Ilmu Pengetahuan dalam Islam)
Abstract
The idea of Islamization of science is as a phenomenon of modernity, this idea appears to respond to the development of modern knowledge in the dominance
of non-Islamic western civilization. The dominance of secular civilization became the dominant factor of the decline of the Islamic ummah, whereas in the early history of its development the Muslims were able to prove themselves as a camp of civilization and science growth. The advancement of science in the world of Islam continues to fade along with the decline of Islamic political power, the rapid progress of the west indirectly have positive implications for the Islamic world.
Departing from the awareness of Islam is experiencing new dynamics through reorientation and transformation of its teachings. Islamic thinkers make a breakthrough by integrating between the general sciences and the religious sciences that we are familiar with the Islamization of science.
Downloads
Download data is not yet available.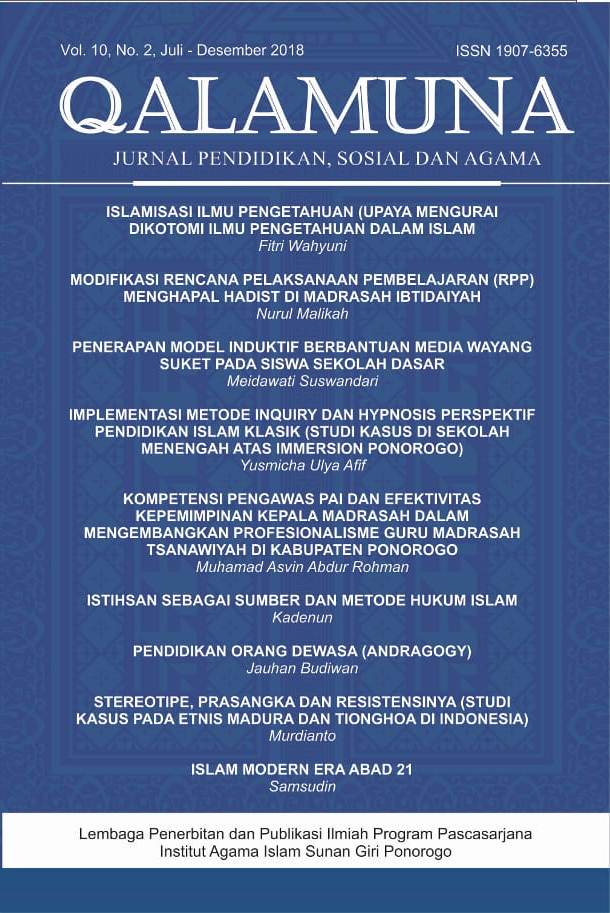 How to Cite

Wahyuni, F. (2019). Islamisasi Ilmu Pengetahuan (Upaya Mengurai Dikotomi Ilmu Pengetahuan dalam Islam). QALAMUNA: Jurnal Pendidikan, Sosial, Dan Agama, 10(02). https://doi.org/10.5281/zenodo.3559251

Authors who submit manuscript retain its copyright and grant publisher right of first publication licensed under a Creative Commons Attribution-ShareAlike 4.0 International License (CC BY-SA 4.0) that allows others to access (search, read, download, and cite), share (copy and redistribute the material in any medium or format) and adapt (remix, transform, and build upon any material) the work for any lawful purpose, even commercially with an acknowledgement of the work's authorship and initial publication in Qalamuna: Jurnal Pendidikan, Sosial, dan Agama.

Abstract views: 72 , PDF (Bahasa Indonesia) downloads: 525