Kompetensi Pengawas PAI dan Efektivitas Kepemimpinan Kepala Madrasah dalam Mengembangkan Profesionalisme Guru Madrasah Tsanawiyah di Kabupaten Ponorogo
Muhamad Asvin Abdur Rohman
Abstract
Banyak faktor yang mempenyaruhi kualitas Madrasah Tsanawiyah (MTs) di Ponorogo, akan tetapi kemudian banyak orang yang beranggapan bahwa kesemuanya adalah kurangnya profesionalisme guru. Demikian juga guru yang kurang profesional banyak juga faktor yang mempengaruhinya, sehingga
bagaimana kompetensi Pengawas PAI dan bagaimana pula efektivitas kepemimpinan kepala Madrasah, turut mempengaruhi. Guru yang berada dibawah kepengawasan yang memiliki kompetensi yang baik dan juga berada di Madrasah yang memiliki kepemimpinan yang efektif, maka diharapkan menjadi guru yang profesional. Dengan profesionalismenya guru tersebut maka sebuah Madrasah akan berkualitas. Tulisan ini bertujuan untuk melihat pengaruh baik secara simultan maupun secara parsial variabel-variabel bebas (kompetensi Pengawas PAI dan efektivitas kepemimpinan kepala madrasah) terhadap variabel terikat
(profesionalisme guru) MTs di Kabupaten Ponorogo, dengan analisis Fenomenologi.
Downloads
Download data is not yet available.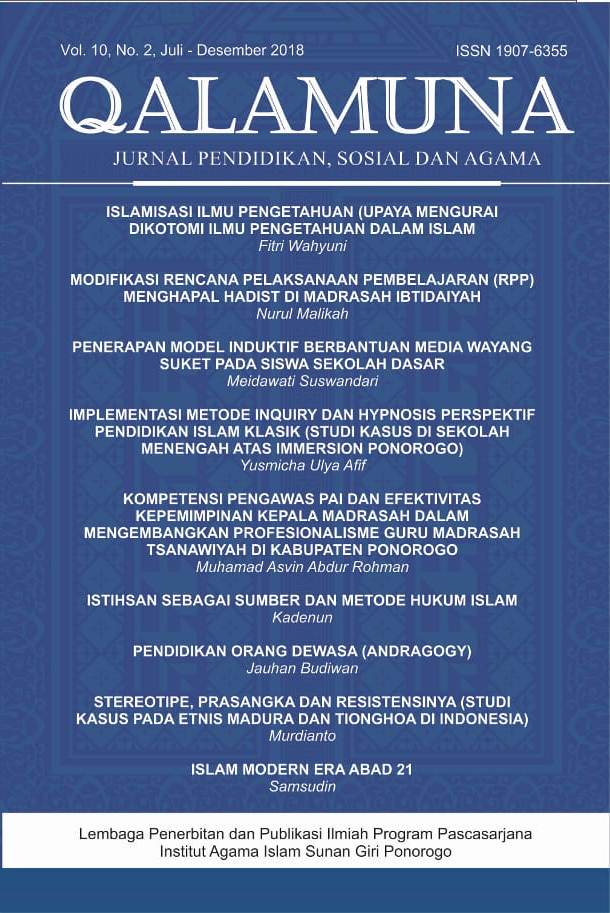 How to Cite
Abdur Rohman, M. (2019). Kompetensi Pengawas PAI dan Efektivitas Kepemimpinan Kepala Madrasah dalam Mengembangkan Profesionalisme Guru Madrasah Tsanawiyah di Kabupaten Ponorogo. QALAMUNA: Jurnal Pendidikan, Sosial, Dan Agama, 10(02). https://doi.org/10.5281/zenodo.3559260
Authors who submit manuscript retain its copyright and grant publisher right of first publication licensed under a Creative Commons Attribution-ShareAlike 4.0 International License (CC BY-SA 4.0) that allows others to access (search, read, download, and cite), share (copy and redistribute the material in any medium or format) and adapt (remix, transform, and build upon any material) the work for any lawful purpose, even commercially with an acknowledgement of the work's authorship and initial publication in Qalamuna: Jurnal Pendidikan, Sosial, dan Agama.