Pemberdayaan Taman Pendidikan Al-Quran (TPQ) melalui Penguatan SDM di Masjid Nurul Fikri Watu Bonang, Badegan, Ponorogo
Kayyis Fithtri Ajhuri

Moch. Saichu
Abstract
Program Pengabdian Kepada Masyarakat Bagi Dosen melalui Program Pengabdian Kepada Masyarakat Berbasis Masjid (PMTI) Institut Agama Islam
Negeri (IAIN) Ponorogo merupakan salah satu wujud nyata upaya pembangunan masyarakat Islam, khususnya di bidang pengabdian kepada masyarakat pada level pendidikan tinggi Islam. Pemilihan pengabdian berbasis masjid di TPQ Nurul Fata Krajan Watubonang, Badegan, Ponorogo sebagai mitra pengabdian secara lebih khusus adalah sebagai upaya mewujudkan TPQ Nurul Fata Masjid Nurul Fikri Watubonang, Ponorogo sebagai pusat sosial keagamaan yang integratif. Pengelolaan yang integratif dilakukan dalam TPQ bertujuan untuk mengembangkan dan memajukan pendidikan agama melalui TPQ. Selain itu, sebagai upaya meningkatkan manfaat ilmu pengetahuan dalam kegiatan produktif dan peningkatan mutu kehidupan masyarakat serta untuk meluaskan wawasan dan pengalaman perguruan tinggi mengenai keperluan dan masalah nyata yang dihadapi masyarakat. Dalam pengabdian ini untuk mengembangkan peradaban dan generasi Qurani maka masjid harus dijadikan wadah pendidikan integratif. Cara integratif yang dapat ditempuh dalam pemberdayaan penguatan pengelolaan TPQ Masjid menggunakan pendekatan Asset Based Community Development (ABCD). Pendekatan ABCD merupakan sebuah pendekatan dalam pengembangan masyarakat yang berada dalam aliran besar mengupayakan terwujudkan sebuah tatanan kehidupan sosial dimana masyarakat menjadi pelaku dan penentu upaya pembangunan di lingkungannya atau yang seringkali disebut dengan Community-Driven Development (CDD).
Downloads
Download data is not yet available.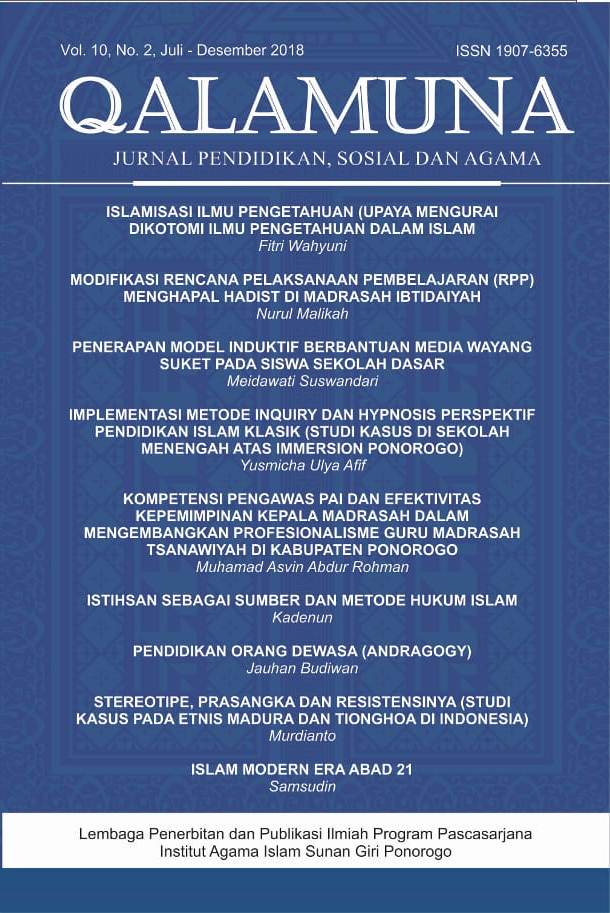 How to Cite
Ajhuri, K., & Saichu, M. (2019). Pemberdayaan Taman Pendidikan Al-Quran (TPQ) melalui Penguatan SDM di Masjid Nurul Fikri Watu Bonang, Badegan, Ponorogo. QALAMUNA: Jurnal Pendidikan, Sosial, Dan Agama, 10(02). https://doi.org/10.5281/zenodo.3559271
Authors who submit manuscript retain its copyright and grant publisher right of first publication licensed under a Creative Commons Attribution-ShareAlike 4.0 International License (CC BY-SA 4.0) that allows others to access (search, read, download, and cite), share (copy and redistribute the material in any medium or format) and adapt (remix, transform, and build upon any material) the work for any lawful purpose, even commercially with an acknowledgement of the work's authorship and initial publication in Qalamuna: Jurnal Pendidikan, Sosial, dan Agama.