Peningkatan Keterampilan Pengurusan Jenazah di MTs Ulumul Quran Medan
Sahmiar Pulungan

UIN Sumatera Utara

Sahliah Sahliah

UIN Sumatera Utara

Sarudin Sarudin

Universitas Harapan Medan
Abstract
Every living creature in this world will surely death, it means that death is a provision for every creature that has been created, nothing is eternal in this world except Allah SWT. The purpose of this service is to give training in improving students' skill about fardhu kifayah in MTs Ulumul Qur'an so that the students can have understanding and knowledge toorganize the cropse. This training program will produce understanding and implementing fardu kifayah for students in MTs Ulumul Qur'an. The stage in this activity started from the students' need to practice in organizing in the cropse. The method used in this activity was speech and practice. After giving theoretical knowledge through speech and discussion metod, the students will be given training and practiceing to organize the cropse from beginning to bath, warp corpse, have a corpse prayer and buried. The result of this service was the students have the ability not only theoritically but also practically in in organizing the corpse.
Keywords: Fardu Kifayah, Organizing the Corpse
Abstrak  
Setiap makhluk yang hidup di dunia ini pasti akan mengalami kematian, itu artinya bahwa kematian adalah suatu ketetapan bagi setiap makhluk yang telah diciptakan, tak ada yang kekal dan tak ada yang abadi kecuali Allah SWT. Tujuan dilaksanakannya pengabdian ini adalah untuk memberikan pelatihan peningkatan keterampilan siswa dalam pengurusan jenazah di MTs Ulumul Quran sehinggan para siswa memiliki pemahaman dan wawasan terhadap pengurusan jenazah. Pelatihan ini akan menghasilkan paham  dalam melaksanakan fardhu kifayah bagi siswa-siswa di MTs Ulumul Qur'an. Kegiatan pengabdian ini dimulai dari kebutuhan siswa untuk melakuka praktek pengurusan jenazah. Metode yang digunakan dalah metode ceramah dan praktek. Setelah diberikan pengetahuan teoritis melalui metode ceramah dan diskusi, para siswa diberikan pelatihan dan praktek dalam pengurusan jenazah dari mulai memandikan, mengkhafani, mensholatkan dan menguburkan jenazah. Hasil dari kegiatan ini adalah para siswa memiliki peningkatan kemampuan tidak saja secara teoritis tapi juga praktis dalam pengurusan jenazah.
Kata kunci:  Fardu Kifayah, Pengurusan Jenazah
Downloads
Download data is not yet available.
References
Abdul Karim. (2004). Petunjuk Merawat Jenazah Dan Shalat Jenazah.Jakarta: Amzah
Ad-Dimasyqi, Syaraf An-Nawawi. (2010). Imam Abu Zakariya Yahya Raudhatuththalibin/ Imam abu Zakariya bin Yahya bin Yaraf An-Nawawi AdDimasyqi: Penerjemah, Muhyiddin Mas Rida, Lc, dkk. Jakarta: Pustaka Azzam
A.W Munawwir. (1997). Kamus Al-Munawwir Arab-Indonesia Terlengkap. Surabaya: Pustaka Progressif
Az-Zuhaili, Wahbah. (2011). Fiqih Islam Wa Adillatuhu, Jilid 9. Jakarta: Gema Insani.
Drs. Margiono, M.Pd dkk. (2007). Pendidikan Agama Islam Smk Kelas XI. Ghalia Indonesia, Jakarta
Hassan Shadily. (2000). Kamus Inggris Indonesia An EnglishIndonesia Dictionary. Jakarta : PT. Gramedia.
Rifa'i, Muhammad. (2012). Tuntunan Shalat Lengkap. Semarang: PT.Karya Toha Putra
Riyadi Agus. (2013). Upaya Pemberdayaan Dan Peningkatan Keterampilan Pemulasaraan Jenazah Di Wilayah Kecamatan Mijen Kota Semarang. Jurnal Dimas Vol. 13 No. 2
'Uwaidah, Syaikh Kamil Muhammad. (2003). Fiqh Wanita, diterjemahkan oleh M. Abdul Ghoffar. Jakarta: Pustaka al-Kautsar.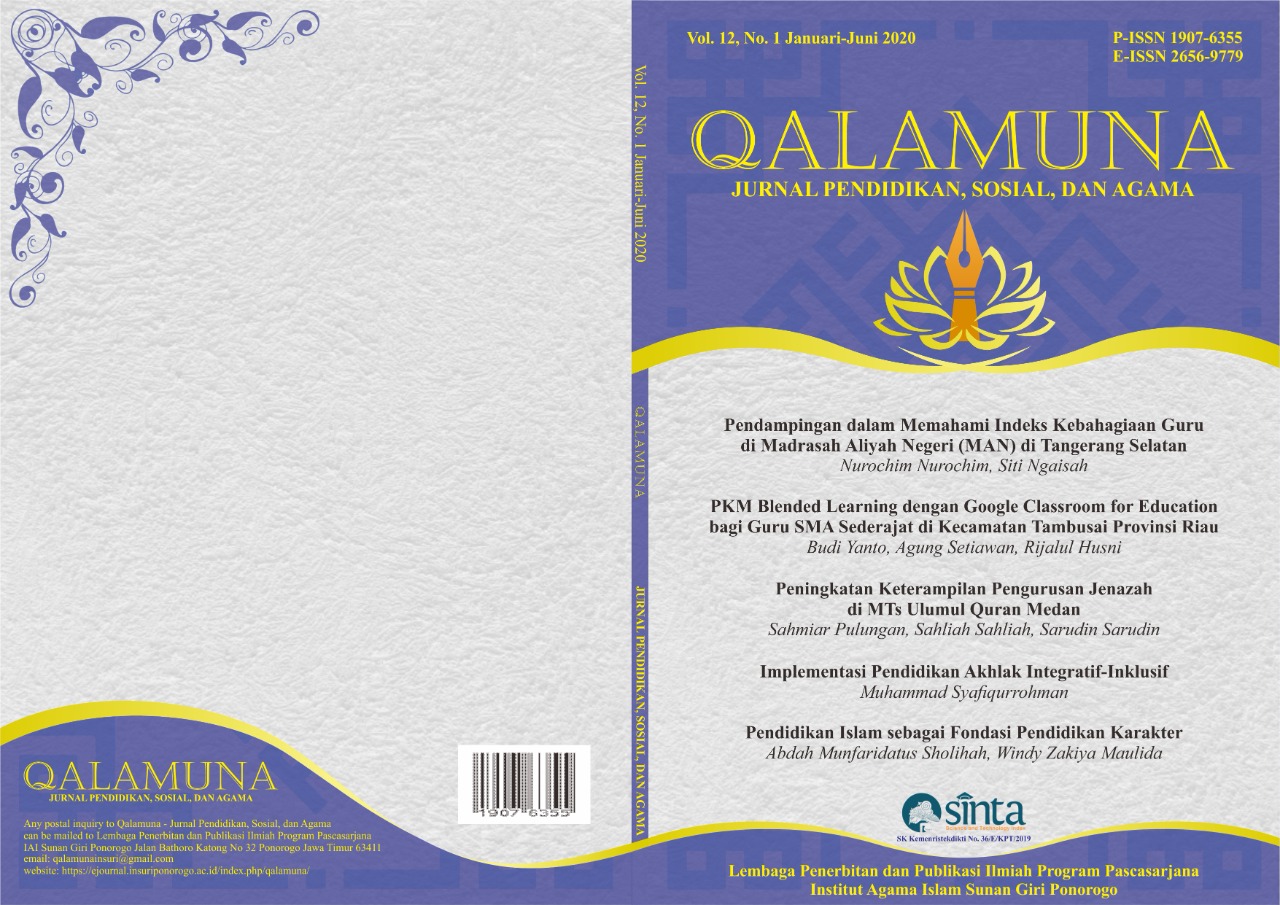 How to Cite

Pulungan, S., Sahliah, S., & Sarudin, S. (2020). Peningkatan Keterampilan Pengurusan Jenazah di MTs Ulumul Quran Medan. QALAMUNA: Jurnal Pendidikan, Sosial, Dan Agama, 12(1), 25-35. https://doi.org/10.37680/qalamuna.v12i01.231

Authors who submit manuscript retain its copyright and grant publisher right of first publication licensed under a Creative Commons Attribution-ShareAlike 4.0 International License (CC BY-SA 4.0) that allows others to access (search, read, download, and cite), share (copy and redistribute the material in any medium or format) and adapt (remix, transform, and build upon any material) the work for any lawful purpose, even commercially with an acknowledgement of the work's authorship and initial publication in Qalamuna: Jurnal Pendidikan, Sosial, dan Agama.

Abstract views: 111 , PDF (Bahasa Indonesia) downloads: 1581