Urgensi Pembentukan Aturan Terkait Pencegahan Covid-19 di Indonesia
Keywords:
Forming Rules, Management, Covid-19
Abstract
Covid-19 is a contagious disease that has the potential to cause a public health emergency. Therefore, preventive measures against these types of infectious diseases are mandatory as soon as possible. Indonesia as a nation of law, the prevention of infectious diseases is mandatory to be formed in a rule or regulation. The urgency of forming rules related to the prevention of Covid-19 is obliged to be formed in government regulation and regulation of the Minister of Health because both regulations are the implementation rules of Law No. 6 of 2018 concerning Health. Based on the author's analysis, there are 5 government regulations that must be established in order to perform countermeasures and prevention of infectious disease threats such as Covid-19 and there are 11 mandatory ministerial health regulations that are required to be established In anticipation of the Covid19 threat. Both types of regulations are very useful in anticipating health emergency that ultimately leads to the health of Indonesian people. It is expected that both of rules can be made immediately in order to give legal certainty in preventing the spread of Covid-19 widely.
Keyword: Forming Rules, Management, Covid-19
Abstrak
Covid-19 merupakan penyakit menular yang berpotensi menimbulkan kedaruratan kesehatan masyarakat. Oleh sebab itu, tindakan pencegahan terhadap jenis penyakit menular tersebut wajib dilakukan secepat mungkin. Indonesia sebagai negara hukum, maka pencegahan terhadap jenis penyakit menular tersebut wajib dibentuk dalam sebuah aturan atau regulasi. Urgensi pembentukan aturan terkait dengan pencegahan Covid-19 ini wajib dibentuk dalam Peraturan Pemerintah dan Peraturan Menteri Kesehatan karena kedua peraturan tersebut merupakan peraturan pelaksanaan daripada Undang-Undang Nomor 6 Tahun 2018 tentang Kekarantinaan Kesehatan. Berdasarkan analisis penulis, ada 5 Peraturan Pemerintah yang wajib dibentuk dalam rangka melakukan tindakan penanggulangan dan pencegahan ancaman penyakit yang mudah menular seperti Covid-19 dan ada 11 Peraturan Menteri Kesehatan terkait yang wajib dibentuk dalam rangka mengantisipasi ancaman Covid-19. Kedua jenis peraturan tersebut sangat berguna dalam hal mengantisipasi kedaruratan kesehatan yang pada akhirnya menjurus pada kekarantinaan kesehatan masyarakat Indonesia. Kiranya kedua jenis peraturan ini segera dibuat dalam rangka memberi kepastian hukum dalam mencegah menularnya Covid-19 secara meluas.
Kata Kunci: Pembentukan Aturan, Penanggulangan, Covid-19
Downloads
Download data is not yet available.
References
CNN Indonesia (2020) DPR Desak Pemerintah Bentuk Satgas Penanganan Virus Corona. Available at: www.cnnindonesia.com/nasional/20200312020329-20-482683/dpr-desak-pemerintah-bentuk-satgas-penanganan-virus-corona (Accessed: 20 Maret 2020).
IDN Times Bali (2020) Asal Mula dan Penyebaran Virus Corona dari Wuhan ke Seluruh Dunia | IDN Times BALI. Available at: https://bali.idntimes.com/health/medical/denny-adhietya/asal-muasal-dan-perjalanan-virus-corona-dari-wuhan-ke-seluruh-dunia-regional-bali/full (Accessed: 20 Maret 2020).
Kementerian Kesehatan RI (2020) Lakukan Protokol Kesehatan ini jika Mengalami Gejala Covid-19 | Sehat Negeriku. Available at: http://sehatnegeriku.kemkes.go.id/baca/rilis-media/20200316/4033408/lakukan-protokol-kesehatan-jika-mengalami-gejala-covid-19/ (Accessed: 20 Maret 2020).
Kementerian Sekretariat Negara RI (2020) Pemerintah Perhatikan Kebutuhan APD Bagi Tenaga Medis | Kementerian Sekretariat Negara RI. Available at: https://www.setneg.go.id/baca/index/pemerintah_perhatikan_kebutuhan_apd_bagi_tenaga_medis (Accessed: 20 Maret 2020).
Telaumbanua, Dalinama. 2018. "Pembentukan Peraturan Daerah Kabupaten/Kota." Jurnal Education and Development. vol. 4, no. 1
Undang-Undang Republik Indonesia Nomor 6 Tahun 2018 tentang Kekarantinaan Kesehatan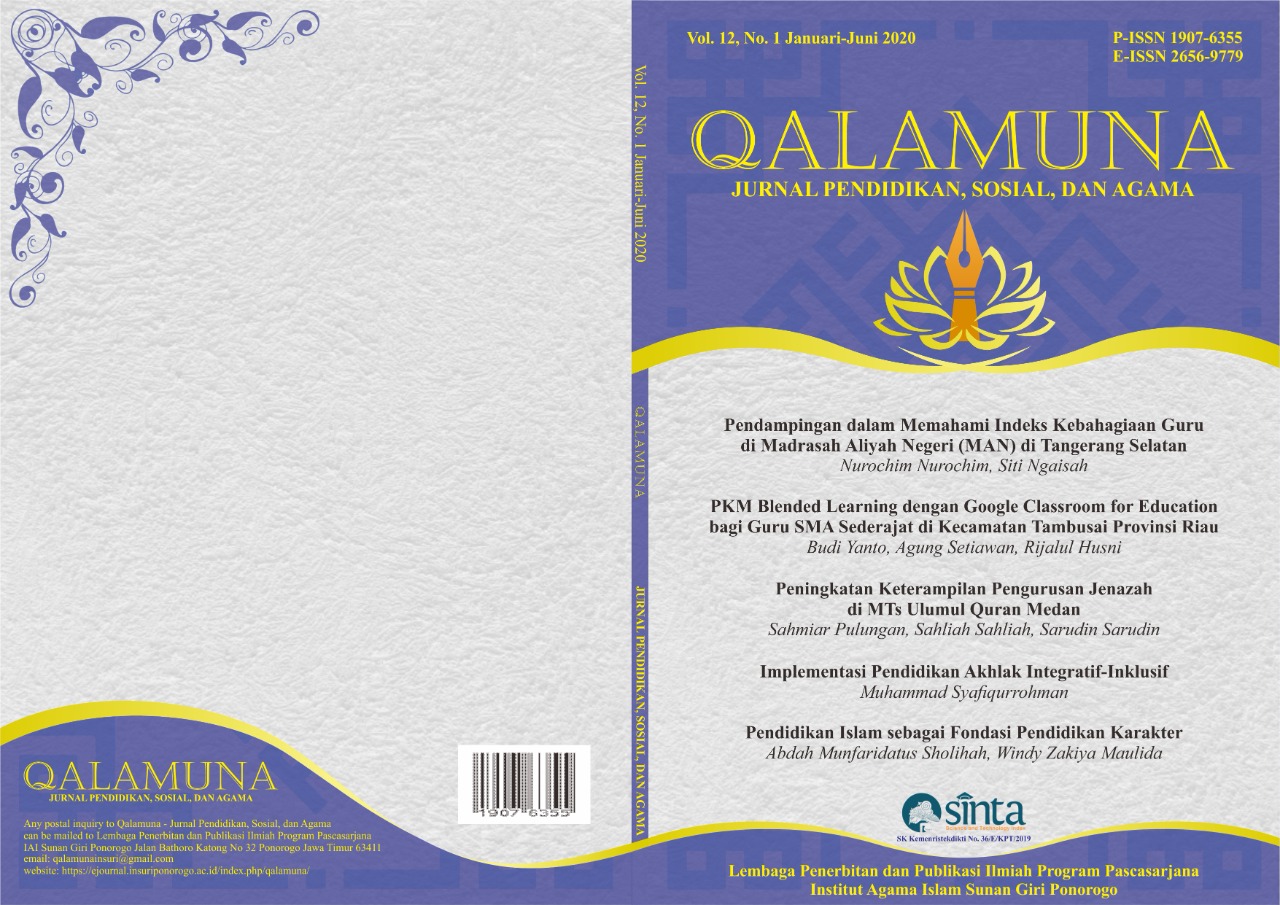 How to Cite

Telaumbanua, D. (2020). Urgensi Pembentukan Aturan Terkait Pencegahan Covid-19 di Indonesia. QALAMUNA: Jurnal Pendidikan, Sosial, Dan Agama, 12(1), 59-70. https://doi.org/10.37680/qalamuna.v12i01.290

Authors who submit manuscript retain its copyright and grant publisher right of first publication licensed under a Creative Commons Attribution-ShareAlike 4.0 International License (CC BY-SA 4.0) that allows others to access (search, read, download, and cite), share (copy and redistribute the material in any medium or format) and adapt (remix, transform, and build upon any material) the work for any lawful purpose, even commercially with an acknowledgement of the work's authorship and initial publication in Qalamuna: Jurnal Pendidikan, Sosial, dan Agama.

Abstract views: 5055 , PDF (Bahasa Indonesia) downloads: 4526