Hak dan Kewajiban Guru dan Siswa dalam QS Luqman Ayat 13-19
Alex Nanang Agus Sifa

IAIN Purwokerto
Keywords:
Hak dan kewajiban, guru, siswa, surat Luqman ayat 13-19
Abstract
In the concept of Islamic education, Qur'an is the main source that guides the ongoing education process. It contains principles that are closely related to educational values, including the education of parents to their children as contained in the surah Luqman verses 13-19. This article seeks to uncover patterns of relationships between parents and children which are interpreted through the relationship between teacher and student in terms of their rights and obligations. The method used in this research is content analysis combined with the thematic interpretation method (maudhu'i). This study concludes that teacher and student have rights and obligations that are complementary and constitute a unity. That is, the rights of a student are the obligations of a teacher and the obligations of a student are the rights of a teacher. Both teacher and student have the same rights and obligations in order to obey the commands of Allah SWT.
Keywords: Rights and obligations, teacher, student, Surah Luqman verses 13-19
Abstrak
Dalam konsep pendidikan Islam, Al-Qur'an merupakan sumber utama yang menjadi pedoman berlangsungnya proses pendidikan. Di dalamnya terkandung prinsip-prinsip yang terkait erat dengan nilai-nilai pendidikan, diantaranya adalah tentang pendidikan yang dilakukan oleh orang tua kepada anaknya sebagaimana yang terdapat dalam surat Luqman ayat 13-19. Artikel ini berusaha mengungkap pola hubungan antara orang tua dan anak tersebut yang diinterpretasikan melalui hubungan antara guru dan siswa dalam hal hak dan kewajiban keduanya. Adapun metode yang digunakan dalam penelitian ini adalah analisis isi (content analysis) yang dipadukan dengan metode tafsir tematik (maudhu'i). Penelitian ini menyimpulkan bahwa antara siswa dan guru memiliki hak dan kewajiban yang saling melengkapi dan merupakan satu kesatuan. Artinya, hak seorang siswa adalah kewajiban seorang guru dan kewajiban seorang siswa adalah hak seorang guru. Keduanya, antara guru dan siswa, memiliki hak dan kewajiban yang sama dalam rangka menaati perintah Allah SWT.
Kata Kunci: Hak dan kewajiban, guru, siswa, surat Luqman ayat 13-19
Downloads
Download data is not yet available.
References
Asy'ari, H. (1415). Adabu al 'Alim wal Muta'allim. Maktabah at Turats al Islami.
Baghawi, A. M. bin al H. bin M. al. (1409). Tafsir al Baghawi: Ma'alim at Tanzil. Dar Thayyibah.
Barnhart, C. A. (2008). Student's Dictionary of American English. Facts On File, Inc.
Dimsyiqi, I. K. ad. (2000). Tafsir al-Qur'an al 'Adzim. al Faruq al Haditsiyyah Li ath Thiba'ah wa an Nasyr.
Embun Bunyamin. (2015). Konsep Perlindungan Anak dalam Al-Qur'an dan Relevansinya dengan Pendidikan. 10(1), 1–30.
Hakami, H. bin A. al. (1995). Madarij al Qubul bisyarhi Sullami al wushul ila 'Ilmi al Ushul. Dar Ibnu al Qoyyim.
Hidayat, N. (2016). KONSEP PENDIDIKAN ISLAM MENURUT Q.S. LUQMAN AYAT 12-19. TA'ALLUM, 04(46), 359–370.
Imam adz Dzahabi. (2003). al Kabair (, cet. Ke-2, 2003), hlm. 90-91. Maktabah al Furqon.
Jabbar, U. A. (n.d.). Madarij Ta'lim al Lughah al 'Arabiyyah. Maktabah Muhammad Bin Ahmad Nabhan wa Auladuhu.
Kamus Besar Bahasa Indonesia (2008). Pusat Bahasa.
Khusnan Iskandar. (2017). Profesionalime Guru dalam Pendidikan Islam dan Gambaran Ideal Seorang Pendidik. JALIE: Journal of Applied Linguistics and Islamic Education, 01, 21–40.
Lexy J. Moleong. (1990). Metode Penelitian Kualitatif (Bandung). Remaja Rosda Karya.
Mandzur, I. (n.d.). Lisanul 'Arab. Darul Ma'arif.
Masrur, I. (2013). Pendidikan Islam dalam Upaya Meningkatkan Spiritual Anak: Kajian Surat Luqman. Episteme, 8(2), 347–370.
Mudlofir, A. (2011). Tafsir Tarbawi sebagai Paradigma Qur'ani dalam Reformulasi Pendidikan Islam. Al-Tahrir, 11, 261–280.
Muhaimin. (2003). Wacana Pengembangan Pendidikan Islam. PSAPM.
Muhajir, N. (1996). Metodologi Penelitian Kualitatif. Rake Sarasin.
Mujib, A. (2006). Ilmu Pendidikan Islam. Kencana Prenada.
Munawwir, A. W. (2010). Kamus Al Munawwir. Pustaka Progressif.
Nanang, A., & Sifa, A. (2016). Urgensi Kompetensi Guru Dalam Implementasi Pendidikan Integratif. 11(1), 74–75.
Nizar, R. dan S. (2010). Filsafat Pendidikan Islam: Telaah Sistem Pendidikan dan Pemikiran Para Tokohnya. Kalam Mulia.
Purnama, M. (2019). Implementasi Pendidikan Agama Islam yang Integratif (Antara Guru, Orang Tua, dan Masyarakat). QALAMUNA: Jurnal Pendidikan, Sosial, Dan Agama, 11(2), 141-156. https://doi.org/10.5281/zenodo.3559273
Suharto, T. (2011). Filsafat Pendidikan Islam. Ar-Ruz Media.
Suyuthi, J. 'Abdurrahma as. (1997). al Arba'una Haditsan: fi Qawa'idi min al Ahkam asy Syar'iyyah wa Fadhail al A'mal wa az Zuhdi. Dar al Manarah.
Thabari, I. J. ath. (2001). Jami' al Bayan 'an Ta'wil al-Qur'an , juz XVIII, 2001), hlm. 550-551. Dar Hijri.
Tim. (1971). Al-Qur'an dan Terjemahnya. Yayasan Penyelenggara Penterjemah/Penafsir Al-Qur'an.
Tirmidzi, A. 'Isa at. (1998). al Jami' al Kabir Li at Tirmidzi. Dar al Gharbi al Islami.
Triwidyastuti, M. S. (2018). The Concept of Islamic Education Development Based on The Theory of Fitrah. Indonesian Journal of Interdisciplinary Islamic Studies (IJIIS), 2(1), 31–52.
Wehr, H. (1979). A Dictinory Of Modern Written Arabic (: , ), hlm. Otto Harrassowitz.
Zarnuji, B. (2004). Ta'lim al Muta'allim: Thariq at Ta'allum. ad Dar as Sudaniyyah lil Kutub.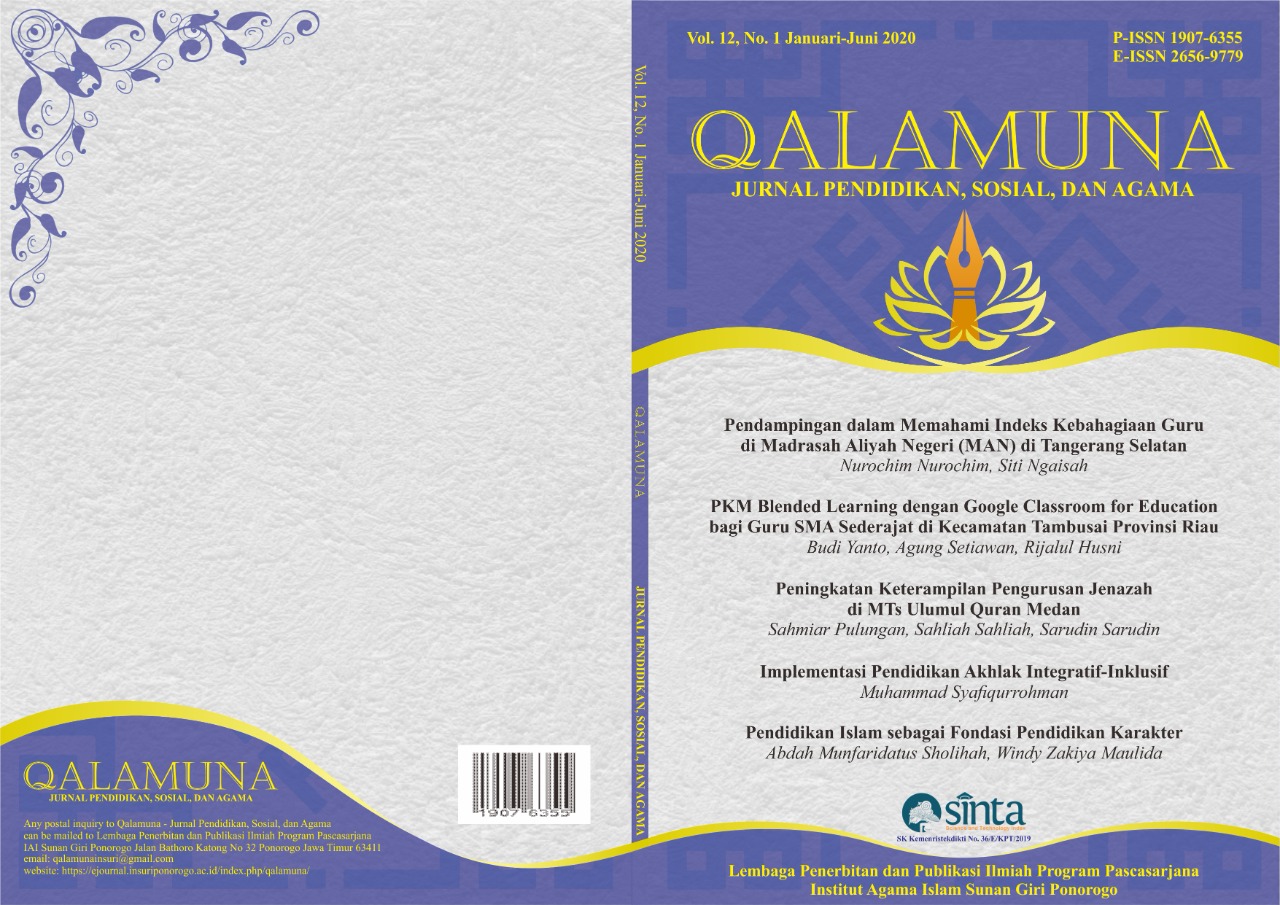 How to Cite

Sifa, A. (2020). Hak dan Kewajiban Guru dan Siswa dalam QS Luqman Ayat 13-19. QALAMUNA: Jurnal Pendidikan, Sosial, Dan Agama, 12(1), 79-90. https://doi.org/10.37680/qalamuna.v12i01.328

Authors who submit manuscript retain its copyright and grant publisher right of first publication licensed under a Creative Commons Attribution-ShareAlike 4.0 International License (CC BY-SA 4.0) that allows others to access (search, read, download, and cite), share (copy and redistribute the material in any medium or format) and adapt (remix, transform, and build upon any material) the work for any lawful purpose, even commercially with an acknowledgement of the work's authorship and initial publication in Qalamuna: Jurnal Pendidikan, Sosial, dan Agama.

Abstract views: 786 , PDF (Bahasa Indonesia) downloads: 1392