Efektivitas Pembelajaran Daring Pada Mata Kuliah Kemahiran Berbicara Bahasa Arab di Universitas Alazhar Indonesia
Ghina Kania Rahmah

Universitas Al Azhar Indonesia
Keywords:
Education, Online Learning, Arabic Language, Covid 19
Abstract
This study discusses the level of effectiveness of online methods in the learning process of Arabic speaking proficiency courses during covid-19 spread in Indonesia at the University of Alazhar Indonesia. This research, refers to how the students batch 2019 respond to online learning in this Arabic speaking proficiency course.Online lectures in this modern era are related to the use of technological media, from the internet or other applications such as Zoom, WhatsApp and other. In the context of Arabic, speaking proficiency is a mandatory skill that students must master and is one of the final goals of foreign language learning in order to gain the ability to express thoughts in the form of ideas, and courage in communicating with interlocutors using Arabic. The purpose of this study was to determine the effect of online learning on the Arabic speaking proficiency course on the learning outcomes of Arabic speaking proficiency for Arabic Literature Students at Al Azhar University Indonesia. As for the method used in this study, the author uses the Pearson Correlation method with the pieosary technique.
The effectiveness of online learning in the Arabic speaking proficiency course at the University of Alazhar Indonesia has a good enough effect on increasing understanding in learning in Arabic speaking proficiency courses. they are also greatly helped by the use of available communication aids
Downloads
Download data is not yet available.
References
(Effendy, 2017)Effendy, A. F. (2017). Metodologi Pengajaran Bahasa Arab (Cet.7; A. F. Effendy, ed.). Malang: Misykat.
Emaliana, I. (2014). Metode Pembelajaran Keterampilan Berbicara Dalam Bahasa Inggris Yang Efektif Bagi Mahasiswa.
Fuadi, T. M., Musriandi, R., & Suryani, L. (2020). Covid-19 : Penerapan Pembelajaran Daring Di Perguruan Tinggi. Jurnal Dedikasi Pendidikan, 4(2), 193–200.
Holmes, B., & Gardner, J. (2006). E-Learning, Concepts And Practice.
Huda, M. (2017). Model-Model Pengajaran dan Pembelajaran (Cet. VII; S. Z. Qudsy & A. Fawaid, eds.). Yogyakarta: Pustaka Pelajar.
Kamus Bahasa Indonesia. (2008).
Muttaqin, N. H., Yamtinah, S., & Utomo, S. B. (2018). Penerapan Model Pembelajaran Langsung (Direct Instruction) Disertai Diskusi dan Media Hyperchem untuk Meningkatkan Aktivitas dan Prestasi Belajar pada Materi Ikatan Kimia Kelas X 1 SMA Islam 1 Surakarta Tahun Pelajaran 2016/2017. Jurnal Pendidikan Kimia, 7(1), 62. https://doi.org/10.20961/jpkim.v7i1.24564
Rosali, E. S. (2020). Aktifitas Pembelajaran Daring Pada Masa Pandemi Covid -19 Di. Geography Science Education Journal (GEOSEE), 1(1), 21–30. Retrieved from https://www.researchgate.net/publication/340917125_Kendala_Pelaksanaan_Pembelajaran_Jarak_Jauh_PJJ_dalam_Masa_Pandemi/stats
Rosmi, N. (2017). Penerapan Model Pembelajaran Langsung Untuk Meningkatkan Hasil Belajar Matematika Siswa Kelas Iii Sd Negeri 003 Pulau Jambu. JURNAL PAJAR (Pendidikan Dan Pengajaran), 1(2), 162. https://doi.org/10.33578/pjr.v1i2.4570
Sadikin, A., & Hamidah, A. (2020). Pembelajaran Daring di Tengah Wabah Covid-19. Biodik, 6(2), 109–119. https://doi.org/10.22437/bio.v6i2.9759
Sourial, N., Longo, C., Vedel, I., & Schuster, T. (2018). Daring to draw causal claims from non-randomized studies of primary care interventions. Family Practice, 35(5), 639–643. https://doi.org/10.1093/fampra/cmy005
Warschauer, M. (2001). Computer Assisted Language Learning.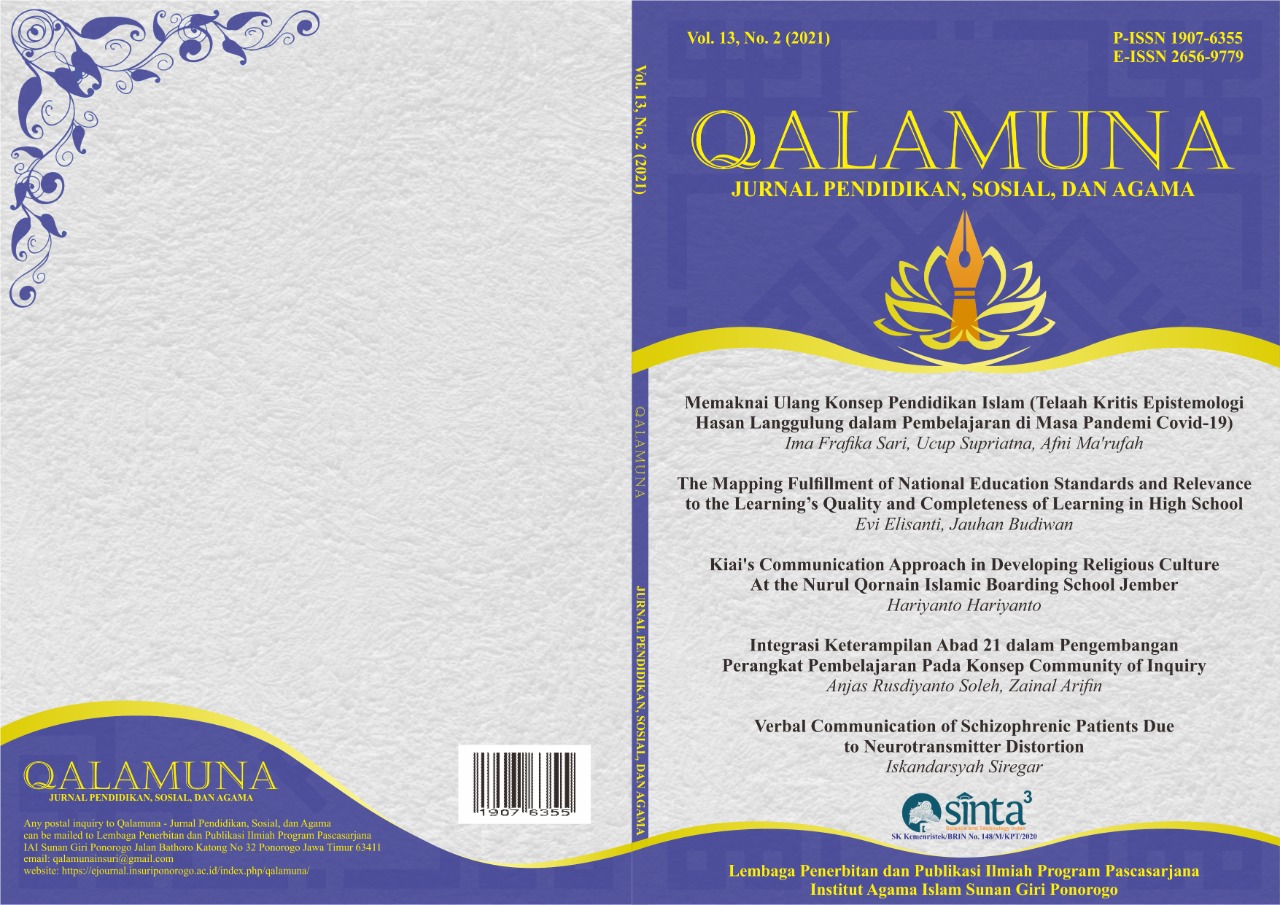 How to Cite
Rahmah, G. (2021). Efektivitas Pembelajaran Daring Pada Mata Kuliah Kemahiran Berbicara Bahasa Arab di Universitas Alazhar Indonesia. QALAMUNA: Jurnal Pendidikan, Sosial, Dan Agama, 13(2), 819-832. https://doi.org/10.37680/qalamuna.v13i2.769
Copyright (c) 2021 Ghina Kania Rahmah
This work is licensed under a Creative Commons Attribution-ShareAlike 4.0 International License.

Authors who submit manuscript retain its copyright and grant publisher right of first publication licensed under a Creative Commons Attribution-ShareAlike 4.0 International License (CC BY-SA 4.0) that allows others to access (search, read, download, and cite), share (copy and redistribute the material in any medium or format) and adapt (remix, transform, and build upon any material) the work for any lawful purpose, even commercially with an acknowledgement of the work's authorship and initial publication in Qalamuna: Jurnal Pendidikan, Sosial, dan Agama.

Abstract views: 618 , PDF downloads: 704