Penanaman Karakter Peduli Sosial Pada Siswa Sekolah Dasar
Muhamad Arif

STAI Al-Azhar Menganti Gresik

Jesica Dwi Rahmayanti

STAI Al-Azhar Menganti Gresik

Fitri Diah Rahmawati

STAI Al-Azhar Menganti Gresik
Keywords:
Character, Social Care, Elementary School, Philanthropy, Donations
Abstract
The character of social care is one of the characters that must be developed in the State of Indonesia, strengthening the character (character) in students must be done optimally so that it supports in strengthening the national identity that cares regardless of race and culture or even religion. Several cases of the lack of social care around the community, as Tabi'in explained that the all-digital era encourages individualism, this can be seen when an incident occurs, such as when a friend or other person falls (hit by a disaster), the first thing to do is not help him. However, on the contrary, some individuals are more busy capturing these moments by taking pictures or sharing on social media networks. This study used a qualitative method with an empirical background case study approach at the Muhammadiyah 1 Menganti Gresik Elementary School. The primary data sources in this study were class teachers ranging from grades 1-6. Methods of data collection using participatory observation, semi-structured interviews and documentation at the Muhammadiyah 1 Menganti Gresik Elementary School. In the process of collecting data, researchers used data analysis techniques from Miles and Hubarman, data condensation, display data and recording conclusions. The process of cultivating the character of social care in students, there are two stages carried out by the Muhammadiyah 1 Menganti Gresik Elementary School. First, is the example of the teacher. Second, is habituation that must be carried out continuously. Meanwhile, in strengthening the two stages, Muhammadiyah 1 Menganti Gresik Elementary School, several programs, namely: philanthropy, takjil on the road, donations for victims of natural disasters, social services, distribution of qurban meat and qurban for food safety.
Downloads
Download data is not yet available.
References
Abdusshomad, A. (2020). Pengaruh Covid-19 terhadap Penerapan Pendidikan Karakter dan Pendidikan Islam. QALAMUNA: Jurnal Pendidikan, Sosial, dan Agama, 12(2). https://doi.org/10.37680/qalamuna.v12i2.407
Afrianty, A. (2018). Peran Anggota Komunitas Berbagi Nasi (bernas) Dalam Membangun Sikap Peduli Sosial Masyarakat Di Kota Mojokerto. 6, 15.
Agustina, E., Rohmah, A., & Kuspiyah, H. R. (2019). Pendampingan Bimbingan Belajar Bahasa Inggris dan Bakti Sosial di Yayasan Pendidikan dan Sosial Roudlotut Thullab. Jurnal Indonesia Mengabdi, 1(1), 1–5. https://doi.org/10.30599/jimi.v1i1.415
Aini, S. Q., & Syamwil, F. (2020). Konstruksi Pendidikan Karakter Siswa Melalui Keteladanan Guru Di Sekolah. MANAGERE : Indonesian Journal of Educational Management, 2(2), 149–156. https://doi.org/10.52627/ijeam.v2i2.34
Amar, F. (2017). Implementasi Filantropi Islam di Indonesia. Al-Urban: Jurnal Ekonomi Syariah dan Filantropi Islam, 1(1), 1–14. https://doi.org/10.22236/alurban_vol1/is1pp1-14
Arif, M., & Handayani, E. F. (2020). Budaya Literasi Madrasah Ibtidaiyah (Studi Kasus Madrasah Ibtidaiyah Miftahul Ulum Kesamben Wetan Driyorejo Gresik). MODELING: Jurnal Program Studi PGMI, 7(2), 198–220.
Arif, M., & Sulistianah, S. (2019). Problems in 2013 Curriculum Implementation for Classroom Teachers in Madrasah Ibtidaiyah. Al Ibtida: Jurnal Pendidikan Guru MI, 6(1), 110. https://doi.org/10.24235/al.ibtida.snj.v6i1.3916
Ashari, R. I. (2016). Implementasi Program Idb (infaq, Disiplin Dan Bersih) Dalam Meningkatkan Karakter Siswa Di Man Bondowoso Tahun Pelajaran 2016/2017. IAIN Jember.
Astamal, A., Firman, F., & Rusdinal, R. (2021). Pembentukan Karakter Peduli Sosial pada Siswa di SMAN 3 Payakumbuh. Jurnal Pendidikan Tambusai, 5(1), 79–84.
Baidhawy, Z. (2015). Lazismu and Remaking the Muhammadiyah's New Way of Philanthropy. Al-Jami'ah: Journal of Islamic Studies, 53(2), 387. https://doi.org/10.14421/ajis.2015.532.387-412
Bamkin, S. (2020). The taught curriculum of moral education at Japanese elementary school: The role of classtime in the broad curriculum. Contemporary Japan, 32(2), 218–239. https://doi.org/10.1080/18692729.2020.1747780
Budiyanto, A. (2016). Peran Guru Dalam Mengembangkan Kepedulian Sosial Siswa Dalam Kegiatan Pembelajaran Di Sekolah Dasar. Jurnal Pendidikan Dompet Dhuafa, 6(2), 5.
Busyaeri, A., & Muharom, M. (2016). Pengaruh Sikap Guru Terhadap Pengembangan Karakter (peduli Sosial) Siswa Di Mi Madinatunnajah Kota Cirebon. Al Ibtida: Jurnal Pendidikan Guru MI, 2(1). https://doi.org/10.24235/al.ibtida.snj.v2i1.177
Cahyo, F. T., & Djuwita, P. (2019). Studi Deskriptif Bentuk Permainan Kegiatan Kepramukaan Dalam Mengembangkan Sikap Tanggung Jawab Kerjasama Dan Tolong Menolong Pada Interaksi Sosial Siswa Sd Negeri 68 Kota Bengkulu. 11.
Christian, A., Rahmawati, E., Prihatin, T., Hazanah, E. K., Dwi, F., Lubis, I., & Amri, N. O. (2020). Aksi Peduli Covid-19 Berupa Sosialisasi Hidup Sehat Dan Berbagi Sesama Insan. 2(1), 6.
Dikawati, A. A. (2019). Kegiatan Infaq Mingguan (jimpitan) Sebagai Implementasi Nilai-Nilai Kepedulian Sosial Di Desawatusomo Kecamatan Slogohimo Kabupaten Wonogiri [Skripsi]. IAIN Ponorogo.
Duryat, M., & Alphan, A. (2021). Pendidikan Dan Perubahan Sosial: (Telaah Konseptual Pemikiran Pendidikan Mansour Fakih). K-Media.
Fauzzia, W., Sofiani, F., Shaleha, D. N., Malik, N. A., Delia, R., & Rubianti, W. (2018). Pengabdian Kepada Masyarakat Bakti Sosial Bersama Jamaah Masjid Fatmah Hidayah. Jurnal Abdimas BSI: Jurnal Pengabdian Kepada Masyarakat, 1(1), 6.
Ganiem, L. M., & dkk. (2015). PSR: Personal Social Responsibility: Aku, Kamu, Kita Bisa. Kencana.
Gempa Mamuju: Pengungsi gempa Majene mulai kesulitan makanan, proses evakuasi korban di bawah reruntuhan masih dilakukan—BBC News Indonesia. (n.d.). Retrieved 1 May 2021, from https://www.bbc.com/indonesia/indonesia-55671900
Hartono, H. (2014). Pendidikan Karakter Dalam Kurikulum 2013. Jurnal Budaya, 19(2), 259–268.
Himmah, F., & Mulianingsih, F. (2019). Implementasi Pendidikan Karakter Peduli Sosial di SMP Negeri 1 Karangtengah Demak. 6.
Irawan, A. (2019). Sikap sosial siswa dalam kegiatan infaq. Atthulab: Islamic Religion Teaching and Learning Journal, 4(2), 225–235. https://doi.org/10.15575/ath.v4i2.4724
Jesica Dwi Rahmayanti & Muhamad Arif. (2021). Penerapan Full Day School Dalam Mengembangkan Budaya Religius di Sekolah Dasar Muhammadiyah 1 Menganti Gresik. eL Bidayah: Journal of Islamic Elementary Education, 3(1), 11–31. https://doi.org/10.33367/jiee.v3i1.1551
Karso, K. (2019). Keteladanan Guru dalam Proses Pendidikan di Sekolah. Prosiding Seminar Nasional Pendidikan Program Pascasarjana Universitas PGRI Palembang.
Kasdi, A. (2016). Filantropi Islam Untuk Pemberdayaan Ekonomi Umat (Model Pemberdayaan ZISWAF di BMT Se-Kabupaten Demak). IQTISHADIA Jurnal Kajian Ekonomi dan Bisnis Islam, 9(2), 227. https://doi.org/10.21043/iqtishadia.v9i2.1729
Kholis, N., Sobaya, S., Andriansyah, Y., & Iqbal, M. (2013). Potret Filantropi Islam Di Propinsi Daerah Istimewa Yogyakarta. La_Riba, 7(1), 61–84. https://doi.org/10.20885/lariba.vol7.iss1.art5
Lestari, S., & Rohani, R. (2017). Penanaman Karakter Peduli Sosial Di Sekolah Menengah Pertama Negeri 1 Tangaran Kabupaten Sambas. Jurnal Pendidikan Kewarganegaraan, 1(2).
Marlina, E., Isran Bidin, Zul Azmi, Adriyanti Agustina Putri, & Rama Gita Suci. (2019). Tinjauan Sosial Ekonomi Dan Budaya Ibadah Qurban. Jurnal Pengabdian UntukMu NegeRI, 3(2), 243–247. https://doi.org/10.37859/jpumri.v3i2.1564
Masduqi, M. (2020). Menumbuhkan Karakter Peduli Sosial Melalui Kegiatan Ekstra-Kurikuler. Miyah, 16(1), 24.
Miles, Mattew. B., Hubarman, A. M., & Saldana, J. (2014). Qualitative Data Analiysis A Metode Sourcebook Edition 3. Sage.
Muhaimin, A. (2017). Strategi Pendidikan Karakter Perspektif Kh. Hasyim Asy'ari. Nidhomul Haq, 2(1), 12.
Murniyetti, M., Engkizar, E., & Anwar, F. (2016). Pola Pelaksanaan Pendidikan Karakter Terhadap Siswa Sekolah Dasar. Jurnal Pendidikan Karakter, 6(2). https://doi.org/10.21831/jpk.v6i2.12045
Murray, B., Domina, T., Petts, A., Renzulli, L., & Boylan, R. (2020). "We're in This Together": Bridging and Bonding Social Capital in Elementary School PTOs. American Educational Research Journal, 57(5), 2210–2244. https://doi.org/10.3102/0002831220908848
Nguyen, C. K., Tran, H. T., & Nguyen, M. L. T. (2021). The Development of a Social Problem Solving Test for Elementary School Students. Journal of Rational-Emotive & Cognitive-Behavior Therapy, 39(1), 35–57. https://doi.org/10.1007/s10942-020-00360-5
Ningrum, R. T. P. (2020). Potensi Modal Sosial Masyarakat Daerah Pasca Bencana Di Kabupaten Ponorogo. I-Economic: A Research Journal on Islamic Economics, 6(1), 24.
Nursalam, Nawir, M., Suardi, & K, H. (2020). Model Pendidikan Karakter Pada Mata Pelajaran Ilmu Pengetahuan Sosial Di Sekolah Dasar. CV. AA RIZKY.
Nuryanto, M. A. (2008). Mazhab Pendidikan Kritis. Resist Book.
Okeke, C., & Drake, M. (2014). Teacher as Role Model: The South African Position on the Character of the Teacher. Mediterranean Journal of Social Sciences. https://doi.org/10.5901/mjss.2014.v5n20p1728
Okwita, A., & Aritra, E. S. A. S. (2019). Perubahan Kehidupan Sosial Budaya Masyarakat Melayu Kampung Tua Tanjung Buntung Pasca Pembangunan. HISTORIA: Jurnal Program Studi Pendidikan Sejarah, 2(1). https://doi.org/10.33373/his.v2i1.1568
Patton, M. Q. (2015). Qualitative research & evaluation methods: Integrating theory and practice (Fourth edition). SAGE Publications, Inc.
Pertiwi, M. E. (2019). Upaya guru IPS dalam meningkatkan pendidikan karakter peduli sosial melalui pembiasaan tolong menolong di kelas VII idaman SMP An-Nur Bululawang [Doctoral disertation]. Universitas Islam Negeri Maulana Malik Ibrahim Malang.
Prasetyo, D., & Marzuki, M. (2016). Pembinaan Karakter Melalui Keteladanan Guru Pendidikan Kewarganegaraan Di Sekolah Islam Al Azhar Yogyakarta. Jurnal Pendidikan Karakter, 6(2). https://doi.org/10.21831/jpk.v6i2.12052
Richardson, R. C., Tolson, H., Huang, T.-Y., & Lee, Y.-H. (2009). Character Education: Lessons for Teaching Social and Emotional Competence. Children & Schools, 31(2), 71–78. https://doi.org/10.1093/cs/31.2.71
Rokhman, F., Hum, M., Syaifudin, A., & Yuliati. (2014). Character Education for Golden Generation 2045 (National Character Building for Indonesian Golden Years). Procedia - Social and Behavioral Sciences, 141, 1161–1165. https://doi.org/10.1016/j.sbspro.2014.05.197
Ruci, L., van Allen, Z. M., & Zelenski, J. M. (2018). Pro-social personality traits, helping behavior, and ego-depletion: Is helping really easier for the dispositionally pro-social? Personality and Individual Differences, 120, 32–39. https://doi.org/10.1016/j.paid.2017.08.013
Sari, Y. M. (2016). Pembinaan Toleransi Dan Peduli Sosial Dalam Upaya Memantapkan Watak Kewarganegaraan (civic Disposition) Siswa. JURNAL PENDIDIKAN ILMU SOSIAL, 23(1). https://doi.org/10.17509/jpis.v23i1.2059
Septyawan, D. (2018). Analisis Film Upin & Ipin Dalam Penanaman Karakter Peduli Sosial. Jurnal Sinektik, 1(1), 53–65.
Setiawatri, N., & Kosasih, A. (2019). Implementation of Social Care Character Education in the Pluralist Community of Pluralism in Cigugur Kuningan. Jurnal Pendidikan Karakter, 9(2), 14.
Sulaeman, S., Mahriani, R., & Nurdin, A. (2019). Komunikasi Tradisi Abda'u pada Prosesi HewanQurban Adat Tulehu Maluku. KOMUNIKA: Jurnal Dakwah dan Komunikasi, 13(2). https://doi.org/10.24090/komunika.v13i2.2067
Sutisna, D., Indraswati, D., & Sobri, M. (2019). Keteladanan Guru sebagai Sarana Penerapan Pendidikan Karakter Siswa. JPDI (Jurnal Pendidikan Dasar Indonesia), 4(2), 29. https://doi.org/10.26737/jpdi.v4i2.1236
Tabi'in, A. (2017). Menumbuhkan Sikap Peduli Pada Anak Melalui Interaksi Kegiatan Sosial. IJTIMAIYA: Journal of Social Science Teaching, 1(1). https://doi.org/10.21043/ji.v1i1.3100
Tambunan, E., Purba, M. L., & Haloho, E. (2020). Pendampingan Gerakan Bakti Sosial Berbagi Paket Sembako Peduli Covid-19 Hima Manajemen Universitas Sari Mutiara Indonesia. Jurnal Abdimas Mutiara, 1(2), 6.
Twenge, J. M. (2013). Does Online Social Media Lead to Social Connection or Social Disconnection? Journal of College and Character, 14(1), 11–20. https://doi.org/10.1515/jcc-2013-0003
Ulza, E., & Kurniawan, H. (2018). Strategi Pemberdayaan Pembangunan Sosial Melalui Gerakan Filantropi Islam. 2(1), 11.
Viningsih, T. V., & Listyaningsih, L. (2020). Peran Guru PPKN Dalam Pembinaan Karakter Peduli Sosial Peserta Didik Di Sman 1 Gedangan Sidoarjo. Kajian Moral dan Kewarganegaraan, 08(02), 826–840.
Wang, C., Huang, J., Liao, J., & Wan, X. (2020). Food Sharing With Choice: Influence on Social Evaluation. Frontiers in Psychology, 11, 2070. https://doi.org/10.3389/fpsyg.2020.02070
Wirawan, I. B. (2012). Teori-teori Sosial dalam Tiga Paradigma: Fakta sosial, definisi sosial, dan perilaku sosial. Kencana.
Yin, R. K. (2018). Case study research and applications: Design and methods (Sixth edition). SAGE.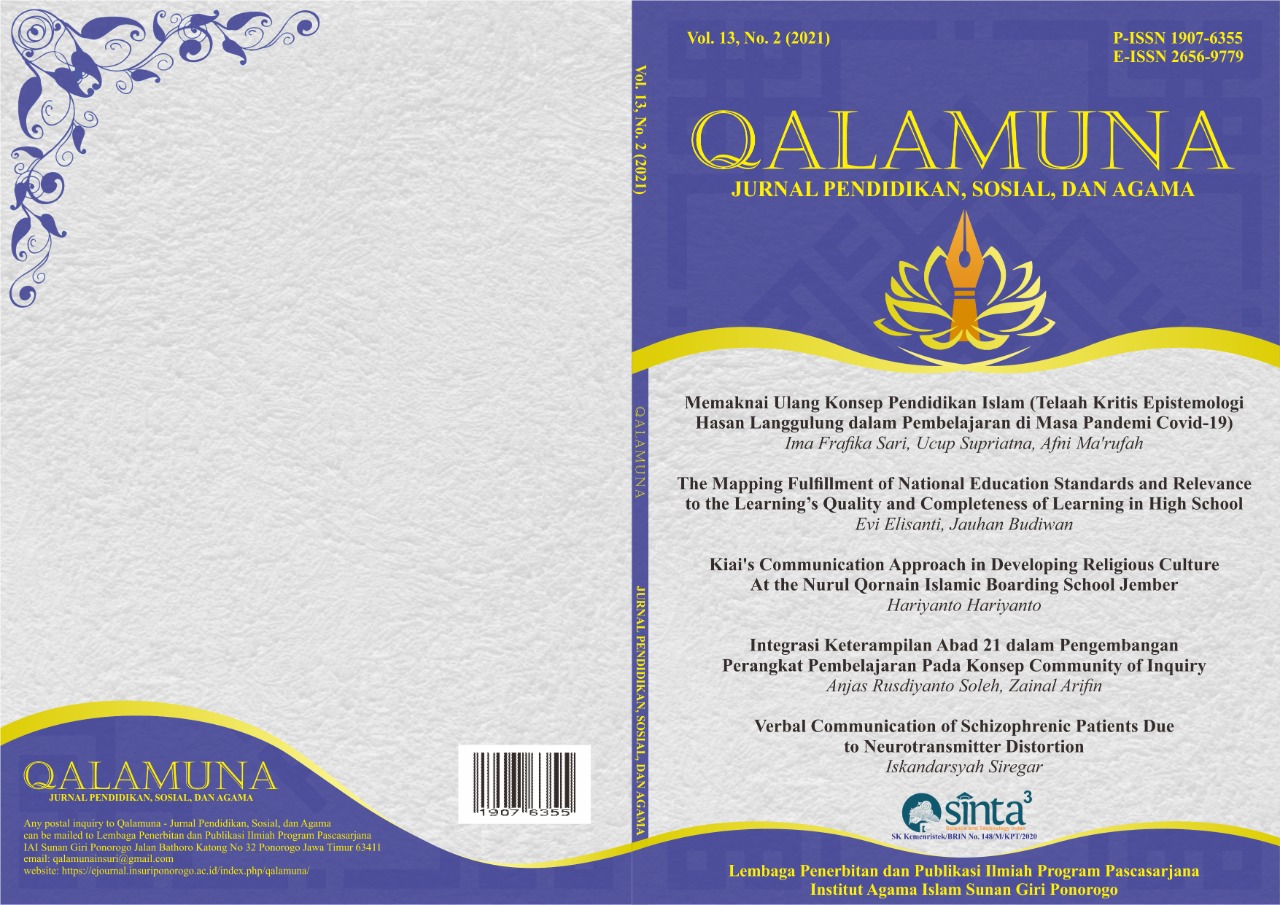 How to Cite
Arif, M., Rahmayanti, J. D., & Rahmawati, F. D. (2021). Penanaman Karakter Peduli Sosial Pada Siswa Sekolah Dasar. QALAMUNA: Jurnal Pendidikan, Sosial, Dan Agama, 13(2), 289-308. https://doi.org/10.37680/qalamuna.v13i2.802
Copyright (c) 2021 Muhamad Arif, Jesica Dwi Rahmayanti, Fitri Diah Rahmawati
This work is licensed under a Creative Commons Attribution-ShareAlike 4.0 International License.

Authors who submit manuscript retain its copyright and grant publisher right of first publication licensed under a Creative Commons Attribution-ShareAlike 4.0 International License (CC BY-SA 4.0) that allows others to access (search, read, download, and cite), share (copy and redistribute the material in any medium or format) and adapt (remix, transform, and build upon any material) the work for any lawful purpose, even commercially with an acknowledgement of the work's authorship and initial publication in Qalamuna: Jurnal Pendidikan, Sosial, dan Agama.

Abstract views: 3647 , PDF downloads: 4834