The Mapping Fulfillment of National Education Standards and Relevance to the Learning's Quality and Completeness of Learning in High School
Evi Elisanti

Universitas Duta Bangsa Surakarta

Jauhan Budiwan

Institut Agama Islam (IAI) Sunan Giri Ponorogo
Keywords:
Profile, national education standards, learning quality, learning completeness
Abstract
This study aims to determine the profile of the fulfillment of national education standards and the results of national exams as well as learning media and the learning process in one of the senior high schools in the city of Kediri. The method used in this research is a survey method. Data collection techniques used were observation, questionnaires, and interviews. The results showed that the profile of the fulfillment of 8 National Education Standards in one of the public high schools in Kediri City with the highest gap in the standard process component of 2.38%, the standard of facilities and infrastructure of 1.43%, the standard of assessment of 1.43%, the standard of the content is 1.42% and the standard of education and teaching staff is 0.48%. The national exam score in one of the senior high schools in Kediri has an average of 5.14. Classroom learning activities are going well but not optimal with an average value of 79%. The value of fulfillment in the student's book, the value obtained is 63% and the value of deficiency is 37%. The value of fulfillment in the teacher's handbook obtained a value of 75% and a deficiency value of 25%. The results of national exams, media, and learning process activities provide information that can be used as a basis for conducting research activity.
Downloads
Download data is not yet available.
References
Akbar, S., Panuntun, A., & Asikin, M. (2021). Kemapuan Berpikir Kreatif Ditinjau Dari Self Regulated Learning dengan Pendekatan Open-Ended Pada Model Pembelajaran Creative Problem Solving. Qalamuna - Jurnal Pendidikan, Sosial, Dan Agama, 13(1), 11–22. https://doi.org/10.37680/qalamuna.v13i1.847
Anwar, H. N., & Sohail, M. M. (2014). Assessing the Learning Level of Students through Bloom ' s Taxonomy in Higher Education in Punjab. Journal of Educational and Social Research, 4(3), 83–88. https://doi.org/10.5901/jesr.2014.v4n3p83
Darling-hammond, L., Flook, L., Cook-harvey, C., Barron, B., Flook, L., Cook-harvey, C., … Barron, B. (2020). Implications for educational practice of the science of learning and development. Applied Developmental Science, 24(2), 97–140. https://doi.org/10.1080/10888691.2018.1537791
Elisanti, E., Sajidan, S., & Prayitno, B. A. (2018). THE EFFECTIVENESS OF INQUIRY LESSON-BASED IMMUNITY SYSTEM MODULE TO EMPOWER THE STUDENTS'CRITICAL THINKING SKILL. EDUSAINS, 10(1), 97-112.
Froyd, J., & Simpson, N. (2000). Student-Centered Learning Addressing Faculty Questions about Student- centered Learning What is meant by Student-centered Learning ( SCL )?, (1997).
Malikah, N., & Widhiasti, L. D. (2019). Penerapan Metode Kartu Make And Match terhadap Hasil Belajar Matematika pada Materi Bangun Ruang. Qalamuna - Jurnal Pendidikan, Sosial, Dan Agama, 11(2), 45–59.
McColskey, Wendy & O'Sullivan,Rita. 2000. How to Assess Student Performance in Science: Going Beyond Multiple-Choice Tests. North Carolina: University Of North Carolina
Sasmito, A., Elisanti, E., Susilowati, S., Yuliati, Y., & Sajidan, S. (2015). Profil Ketuntasan Belajar Biologi SMA Negeri di Kabupaten Magetan, Relevansinya dengan Profil Pemenuhan Standar Nasional Pendidikan dan Kegiatan Pembelajaran. In Prosiding SNPS (Seminar Nasional Pendidikan Sains) (Vol. 2, pp. 632-640).
Shaarawy, H. Y. (2014). The Effect of Journal Writing on Students ' Cognitive Critical Thinking Skills A Quasi-Experimental Research on an English as a Foreign Language ( EFL ) Undergraduate Classroom in Egypt, 3(4), 120–128. https://doi.org/10.5430/ijhe.v3n4p120
Škoda, J., Doulík, P., & Bílek, M. (2015). LEARNING STYLE AS A FACTOR INFLUENCING THE INQUIRY-BASED SCIENCE EDUCATION AT LOWER, 588–601.
Soeprayitno, & Rahayu, P. Y. (2019). International Journal of Active Learning The Influence of Knowledge Management Towards Motivation Teaching in Boarding Schools. International Journal of Active Learning, 4(2), 114–125.
Sukiman (2012). Pengembangan Media Pembelajran. Yogjakarta: Pedajogja
Turiman, Punia; Omar, Jizah; Osman, Kamisah; dan Daud, Adzliana, Mohd.2012. Fostering the 21th Century Skills through Scientific Literacy and 640 | Pengembangan Model dan Perangkat Pembelajaran untuk Meningkatkan Kemampuan Berpikir Tingkat Tinggi Science Process Skills. Procedia – Social and Behavioral Sciences 59 (2012) 110-116

Taut, S., & Rakoczy, K. (2016). Observing instructional quality in the context of school evaluation. Learning and Instruction, 46, 45–60. https://doi.org/10.1016/j.learninstruc.2016.08.003
Uerz, D., Volman, M., & Kral, M. (2018). Teacher educators' competences in fostering student teachers' proficiency in teaching and learning with technology: An overview of relevant research literature. Teaching and Teacher Education, 70, 12–23. https://doi.org/10.1016/j.tate.2017.11.005
Wiens, P. D., Locasale-crouch, J., Cash, A. H., & Escudero, F. R. (2020). Preservice Teachers ' Skills to Identify Effective Teaching Interactions : Does It Relate to Their Ability to Implement Them ? Journal of Teacher Education 1, 1–15. https://doi.org/10.1177/0022487120910692
Wong, C., Chen, C., & Osman, K. (2017). Cultivating Marginalized Children ' s Scientific Literacy in Facing the Challenges of the 21st Century, 3(1), 167–177.
Zhou, Q., Huang, Q., & Tian, H. (2013). Developing Students ' Critical Thinking Skills by Task-Based Learning in Chemistry Experiment Teaching, 4(12), 40–45.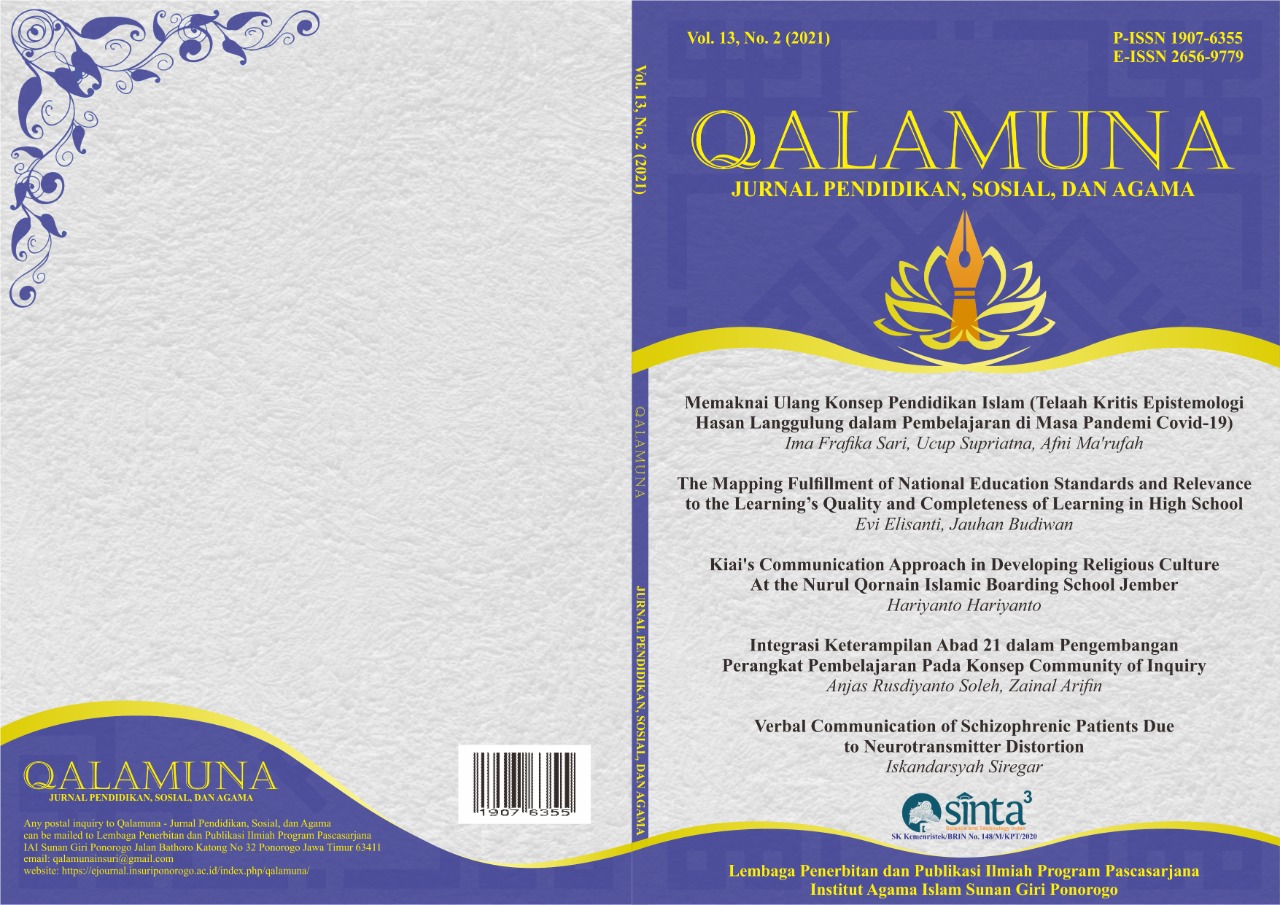 How to Cite
Elisanti, E., & Budiwan, J. (2021). The Mapping Fulfillment of National Education Standards and Relevance to the Learning's Quality and Completeness of Learning in High School. QALAMUNA: Jurnal Pendidikan, Sosial, Dan Agama, 13(2), 381-396. https://doi.org/10.37680/qalamuna.v13i2.910
Copyright (c) 2021 Evi Elisanti, Jauhan Budiwan
This work is licensed under a Creative Commons Attribution-ShareAlike 4.0 International License.

Authors who submit manuscript retain its copyright and grant publisher right of first publication licensed under a Creative Commons Attribution-ShareAlike 4.0 International License (CC BY-SA 4.0) that allows others to access (search, read, download, and cite), share (copy and redistribute the material in any medium or format) and adapt (remix, transform, and build upon any material) the work for any lawful purpose, even commercially with an acknowledgement of the work's authorship and initial publication in Qalamuna: Jurnal Pendidikan, Sosial, dan Agama.

Abstract views: 646 , PDF downloads: 524