Peningkatan Minat Guru Pada Perencanaan Penelitian Tindakan Kelas Berkarakter Pembelajaran Abad-21
Waluyo Waluyo

Universitas Sebelas Maret, Surakarta

Sukatiman Sukatiman

Universitas Sebelas Maret, Surakarta
Keywords:
Keywords: Classroom Action Research (CAR) training; pedagogic competence; increased learning outcomes.
Abstract
There are approximately 20% of the teachers of SMKN I Jenar who have non-educational backgrounds (Pure Science), and more than 30% of young teachers have not received PPG training. One of the impacts of weak basic pedagogic competencies will affect the success of education so that it is necessary to deepen Classroom Action Research (CAR). This service aims to provide a deepening of teacher knowledge about Classroom Action Research (CAR) to improve their learning. The implementation method is carried out by deepening the Classroom Action Research (CAR), and guiding the making of Classroom Action Research (CAR) proposals. The implementation of the service is carried out by several PTB study lecturers, in the context of UNS Anniversary with the UNS Teaching program Indonesia. Expected targets: The Teachers can design 70% CAR in the material they teach.
Downloads
Download data is not yet available.
References
Akbar, S., Panuntun, A., & Asikin, M. (2021). Kemapuan Berpikir Kreatif Ditinjau Dari Self Regulated Learning dengan Pendekatan Open-Ended Pada Model Pembelajaran Creative Problem Solving. Qalamuna - Jurnal Pendidikan, Sosial, Dan Agama, 13(1), 11–22. https://doi.org/10.37680/qalamuna.v13i1.847
Archambault, L., & Crippen, K. (2009). Examining TPACK among K-12 online distance educators in the United States. Contemporary Issues in Technology and Teacher Education, 9(1), 71–88. https://doi.org/10.1080/0158791022000009213

Asvin, M., & Rohman, A. (2018). Kompetensi Pengawas PAI dan Efektivitas Kepemimpinan Kepala Madrasah dalam Mengembangkan Profesionalisme Guru Madrasah Tsanawiyah di Kabupaten Ponorogo. Qalamuna-Jurnal Pendidikan, Sosial, Dan Agama, 10(2), 69–89.
Chairunnisa, C., & Khuluqo, I. El. (2020). Pemberdayaan Guru Melalui Pelatihan Penelitian Tindakan Kelas. Jurnal PKM: Pengabdian Kepada Masyarakat, 03(01), 22–30.
Dihamri, Haimah, & Srifitriani, A. (2018). Pelatihan penelitian tindakan kelas (PTK) bagi guru sd negeri di kecamatan sukaraja kabupaten seluma. Jurnal Pengabdian Masyarakat Borneo, 2(1), 60–66.
Elisanti, E., Sajidan, S., & Prayitno, B. A. (2018). THE EFFECTIVENESS OF INQUIRY LESSON-BASED IMMUNITY SYSTEM MODULE TO EMPOWER THE STUDENTS'CRITICAL THINKING SKILL. EDUSAINS, 10(1), 97-112.
Koehler, M. J., Mishra, P., & Cain, W. (2017). What is Technological Pedagogical Content Knowledge (TPACK)? Journal of Education, 193(3), 13–19. https://doi.org/10.1177/002205741319300303

McLeod, S., & Richardson, J. W. (2014). School administrators and K-12 online and blended learning. Handbook of Research on K-12 Online and Blended Learning. https://doi.org/10.1017/CBO9781107415324.004

Permendikbud No. 103 Tahun. (2014). Pembelajaran Pada Pendidikan Dasar Dan Pendidikan Menengah.

Pol, J. E. van de. (2012). Scaffolding in teacher-student interaction: exploring, measuring, promoting and evaluating scaffolding.
Undang-Undang No 14 tahun 2005, 48 .

Purwanto, Y. P. B., Masykuri, M., & Elisanti, E. (2019, June). Analysis of science students critical thinking skill in junior high school. In Journal of Physics: Conference Series (Vol. 1233, No. 1, p. 012086). IOP Publishing.
Sukatiman, S., Roemintoyo, R., Chundakus, H., Akhyar, M., Sutikno, S., & Suwarno, S. (2020). Kolaborasi guru-dosen dalam penelitian tindakan kelas untuk meningkatkan hasil belajar siswa. Scaffolding: Jurnal Pendidikan Islam dan Multikulturalisme, 2(02), 82-92.
Yusuf, Z., & Mardiana, D. (2020). Manajemen Berbasis Sekolah sebagai Landasan Kepala Sekolah dalam Peningkatan Mutu Pendidikan Agama Islam. Qalamuna - Jurnal Pendidikan, Sosial, Dan Agama, 12(1), 71–78.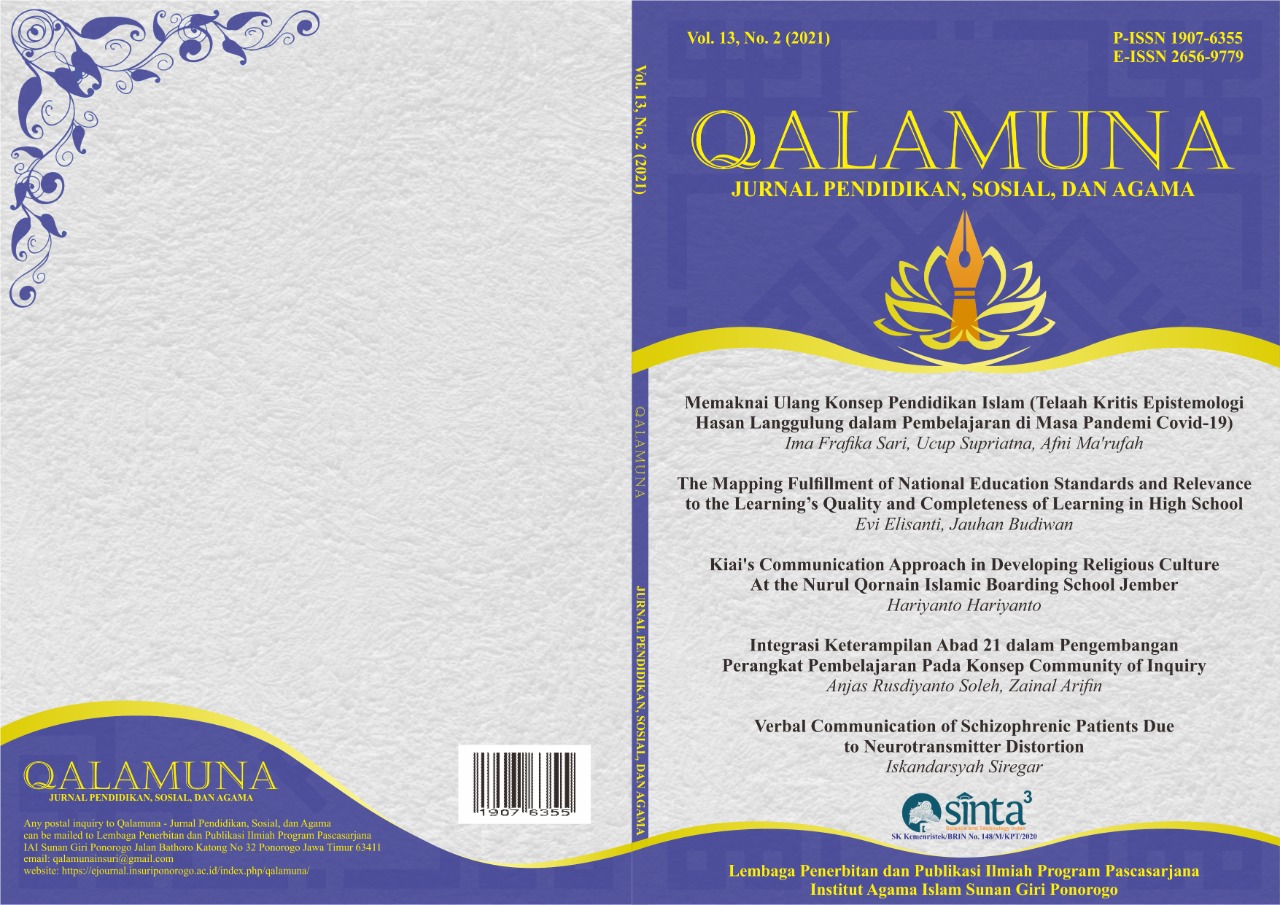 How to Cite
Waluyo, W., & Sukatiman, S. (2021). Peningkatan Minat Guru Pada Perencanaan Penelitian Tindakan Kelas Berkarakter Pembelajaran Abad-21. QALAMUNA: Jurnal Pendidikan, Sosial, Dan Agama, 13(2), 359-380. https://doi.org/10.37680/qalamuna.v13i2.961
Copyright (c) 2021 Waluyo Waluyo, Sukatiman Sukatiman
This work is licensed under a Creative Commons Attribution-ShareAlike 4.0 International License.

Authors who submit manuscript retain its copyright and grant publisher right of first publication licensed under a Creative Commons Attribution-ShareAlike 4.0 International License (CC BY-SA 4.0) that allows others to access (search, read, download, and cite), share (copy and redistribute the material in any medium or format) and adapt (remix, transform, and build upon any material) the work for any lawful purpose, even commercially with an acknowledgement of the work's authorship and initial publication in Qalamuna: Jurnal Pendidikan, Sosial, dan Agama.

Abstract views: 1078 , PDF downloads: 1077