KRITIK DIKOTOMI TASAWUF SUNNI DAN TASAWUF FALSAFI AHMAD SIRHINDI
Muhammad Arif

Peneliti The al-Falah Institute Yogyakarta
Keywords:
tasawuf, sunni, falsafi, ahmad sirhindi.
Abstract
Though the coming of some tasawuf schools is unavoidable, the dichotomy of these schools namely sunni and falsafi is somehow too far. This dichotomy is at its turn will declare that tasawuf sunni is in the correct path of shari'a, while tasawuf falsafi is not. One of the ambitious sufi's Imam who made this dichotomy popular is Ahmad Sirhindi. The systematic critic of Ahmad Sirhindi towards tasawuf falsafi gives big impact in the future to the spreading of this binary view. Therefore, to review this problematic classification of tasawuf, the reinterpretation of Ahmad Sirhindi's argument is needed. This article will explain the dichotomy of tasawuf based on the view of Ahmad Sirhindi and the critical comments on this idea.
Downloads
Download data is not yet available.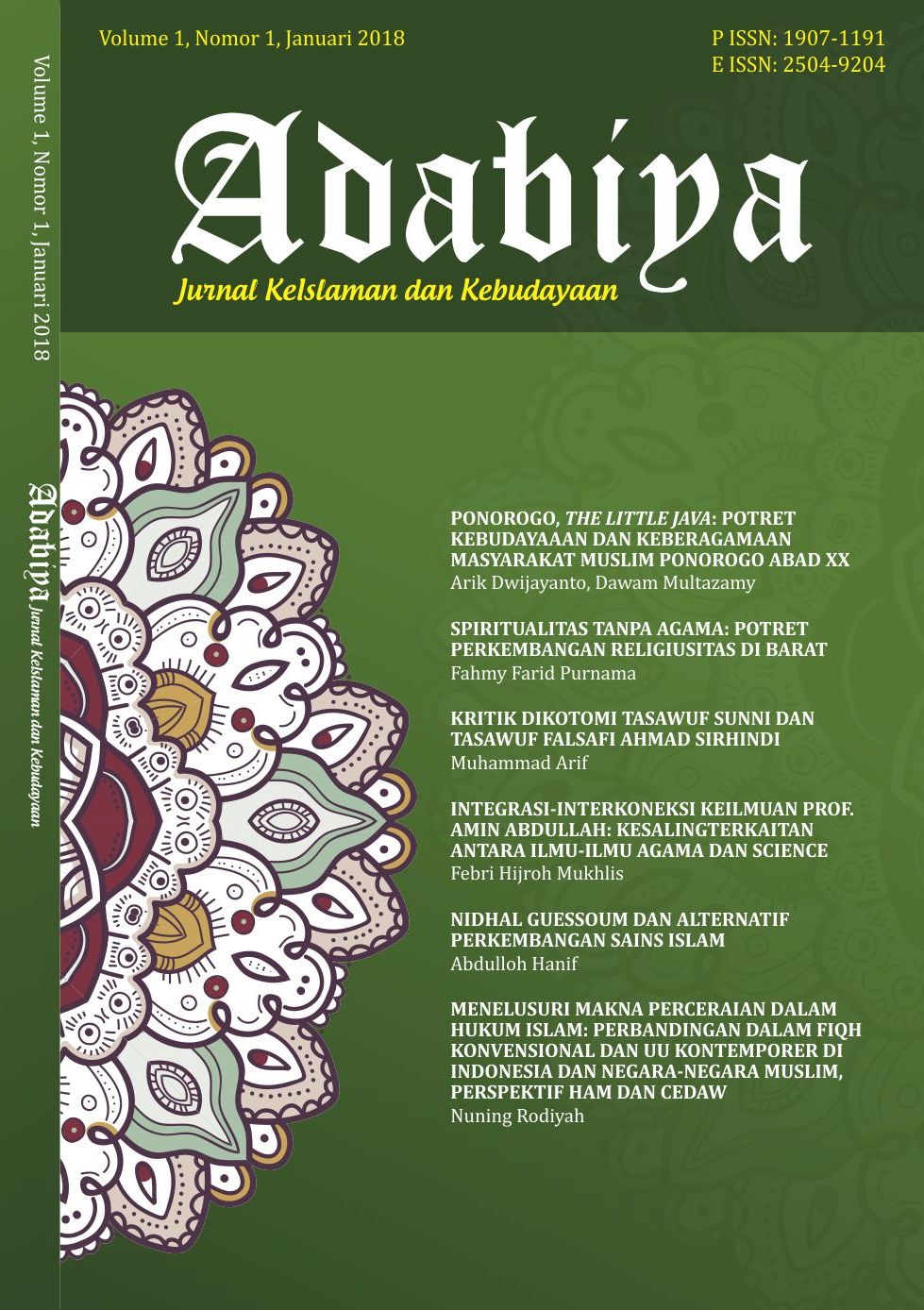 How to Cite

Arif, M. (2018). KRITIK DIKOTOMI TASAWUF SUNNI DAN TASAWUF FALSAFI AHMAD SIRHINDI. Al-Adabiya: Jurnal Kebudayaan Dan Keagamaan, 13(01), 58-77. https://doi.org/10.37680/adabiya.v13i01.4

The author(s) retain/s the copyright and grant/s Al-Adabiya: Jurnal Kebudayaan dan Keagamaan the first publication rights licensed under the Creative Commons Attribution-ShareAlike 4.0 International License (CC BY-SA 4.0) which allows others to access (search, read, download and quote), share (copy and redistribute the material in any media or format) and adapt (mix, modify and develop) works for legitimate purposes, even commercially, with recognition of the authorship of the work and its initial publication in this journal.

Abstract views: 426 , PDF downloads: 0