Penerapan Metode SWOT dalam Peningkatan Kapasitas Multisektoral Masyarakat Desa Lifofa Kabupaten Tidore Kepulauan
Muhammad Sakti Garwan

IAIN Ternate
Keywords:
Pengabdian, Pendidikan, Sosial, Kesehatan, Keagamaan, Desa Lifofa
Abstract
This paper describes the community service activities with cross-scientific and sectoral approaches using the SWOT method at certain times and regions, with the aim of providing several aspects, including education, social, religious, and health. Through this community service program it is expected that students can optimize a family or household in building their personality into a prosperous, independent, religious family that is able to face the challenges of a better future.
Keywords: SWOT Method, Education, Social, Health, Religion, Lifofa Village
 Abstrak:
Tulisan ini mendesripsikan tentang kegiatan pengabdian kepada masyarakat dengan pendekatan lintas keilmuan dan sektoral pada waktu dan daerah tertentu menggunakan metode SWOT, dengan tujuan memberikan beberapa aspek, diantaranya pendidikan, sosial, keagamaan, dan kesehatan. Melalui program pengabdian ini pemberdayaan masyarakat ini diharapkan mahasiswa bisa mengoptimalisasikan suatu keluarga dalam membangun kepribadiannya menjadi keluarga yang sejahtera, mandiri, agamis yang mampu menghadapi tantangan masa depan yang lebih baik.
Kata Kunci: Metode SWOT, Pendidikan, Sosial, Kesehatan, Keagamaan, Desa Lifofa
Downloads
Download data is not yet available.
References
Afrilita, Nur, (2013) Analisis SWOT dalam Menentukan Strategi Pemasaran Sepeda Motor Pada PT. Samekarindo Indah di Samaranda.
Bambang Supomo dan Nur Indriantoro, (2002), Metodologi Penelitian Bisnis, Cetakan Kedua, Yogyakara; Penerbit BFEE UGM
Data Primer 2018
Direktorat Pembinaan Penelitian dan Pemberdayaan Masyarakat, (2007), Pengetahuan dasar KKN. Universitas Indonesia, Jakarta
Freddy Rangkuti, (2003). Analisis SWOT Teknik Membedah Kasus Bisnis, Jakarta. Gramedia Pustaka Utama
K. Hunger, (2003), Industrial Dyes: Chemistry, Properties, Applications, Wiley-VCH, Weinheim, Cambridge.
Kantor Desa Lifofa, (2015), Laporan Profil Desa Tingkat Desa dan Kelurahan
LP2M IAIN Ternate, (2017), Buku Panduan Kuliah Kerja Integratif, IAIN Ternate.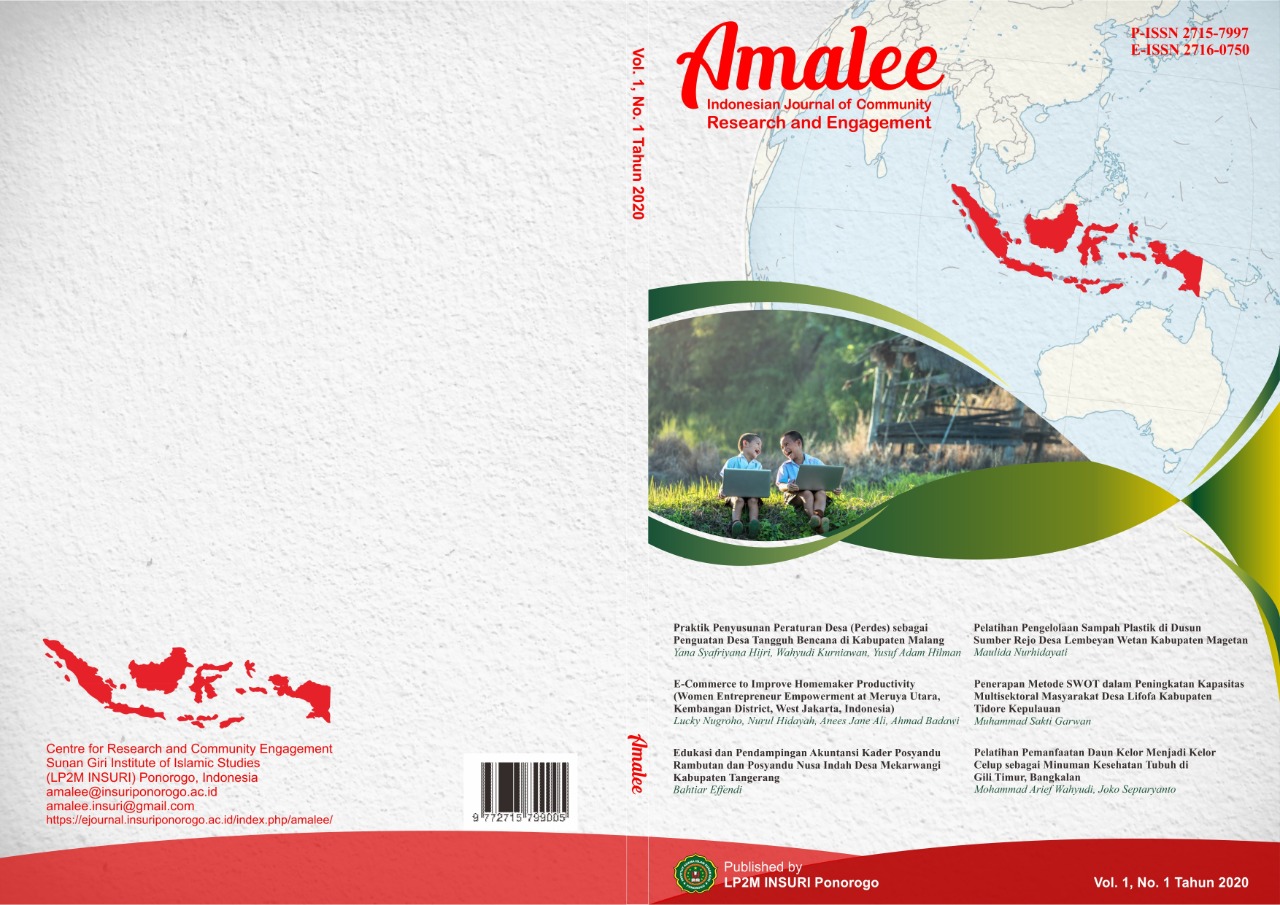 How to Cite

Garwan, M. (2020). Penerapan Metode SWOT dalam Peningkatan Kapasitas Multisektoral Masyarakat Desa Lifofa Kabupaten Tidore Kepulauan. Amalee: Indonesian Journal of Community Research and Engagement, 1(1), 69-86. https://doi.org/10.37680/amalee.v1i01.157

Authors who submit manuscript retain its copyright and grant Amalee right of first publication licensed under a Creative Commons Attribution-ShareAlike 4.0 International License (CC BY-SA 4.0) that allows others to access (search, read, download, and cite), share (copy and redistribute the material in any medium or format) and adapt (remix, transform, and build upon any material) the work for any lawful purpose, even commercially with an acknowledgement of the work's authorship and initial publication in Amalee: Indonesian Journal of Community Research and Engagement.

Abstract views: 76 , PDF (Bahasa Indonesia) downloads: 58