Pemberdayaan Ekonomi Pemuda Melalui Budidaya Jamur Tiram di Dusun Sidowayah, Kecamatan Jambon, Kabupaten Ponorogo
Fuad Fitriawan

Institut Agama Islam Sunan Giri (INSURI) Ponorogo

Dawam Multazamy Rohmatulloh

Institut Agama Islam Sunan Giri (INSURI) Ponorogo

Asfahani Asfahani

Institut Agama Islam Sunan Giri (INSURI) Ponorogo

Risa Alfiyah Ulfa

Institut Agama Islam Sunan Giri (INSURI) Ponorogo
Keywords:
Sidowayah, Youth, Mushroom Cultivation
Abstract
Sidowayah is a hamlet located in Sidoharjo Village, Jambon District. Sidowayah is known as an idiot village, even though actually there are only a few people having mental limitations. On the other hand, Sidowayah is also an area that has advantages both in natural and human resources. The productive age of the Sidowayah community has been on the rise lately, the most prominent is the existence of youth where they have the determination to advance the hamlet, one of them in the economic field. Mushroom cultivation is a long-term plan for them, and therefore better mushroom cultivation training done by university side as proposer plays an important role in realizing these ideals. The training was intended as an initial provision before starting a business. The impact of the training is expected to be able to provide provisions and motivation for young people to start a mushroom cultivation business. In addition, it is expected that the existence of mushroom cultivation can increase assets and the economy of the community of Sidowayah.
Keywords: Sidowayah, youth, mushroom cultivation
Abstrak
Sidowayah adalah sebuah dusun yang terletak di Desa Sidoharjo, Kabupaten Jambon. Sidowayah dikenal sebagai desa idiot, meskipun sebenarnya hanya ada beberapa orang yang memiliki keterbatasan mental. Di sisi lain, Sidowayah juga merupakan daerah yang memiliki keunggulan baik dalam sumber daya alam maupun manusia. Usia produktif masyarakat Sidowayah telah meningkat akhir-akhir ini, yang paling menonjol adalah keberadaan kaum muda di mana mereka memiliki tekad untuk memajukan dusun, salah satunya di bidang ekonomi. Budidaya jamur adalah rencana jangka panjang bagi mereka, dan oleh karena itu pelatihan budidaya jamur yang lebih baik, yang dilakukan oleh pihak universitas sebagai pengusul program pengabdian kepada masyarakat, memainkan peran penting dalam mewujudkan cita-cita ini. Pelatihan ini dimaksudkan sebagai inisiatif awal sebelum memulai bisnis. Dampak pelatihan ini diharapkan mampu memberikan bekal dan motivasi bagi generasi muda untuk memulai usaha budidaya jamur. Selain itu, diharapkan adanya budidaya jamur dapat meningkatkan aset dan ekonomi masyarakat Sidowayah.
Kata kunci: Sidowayah, pemuda, budidaya jamur
Downloads
Download data is not yet available.
References
Barrett, A. (2013). Asset-Based Community Development: A Theological Reflection, Birmingham: Vicar Of Hodge Hill Church.
Badan Pusat Statistik Kabupaten Ponorogo. (2018). Statistik Daerah Kabupaten Ponorogo 2018. Ponorogo: Azka Putra Pratama
Dureau, C. (2013), Pembaru dan Kekuatan Lokal untuk Pembangunan, Australian Community Development and Civil Society Strengthening Scheme (ACCESS) Tahap II, hal. 96-97.
Fitriawan, F. (2015). "Kearifan Lokal Masyarakat Kampung Idiot dalam Upaya Mengembalikan Daerah Aliran Sungai dan Sumber Mata Air Dukuh Sidowayah Desa Sidoharjo Kecamatan Jambon kabupaten Ponorogo". QALAMUNA - Jurnal Pendidikan, Sosial, dan Agama Vol 7 No 1.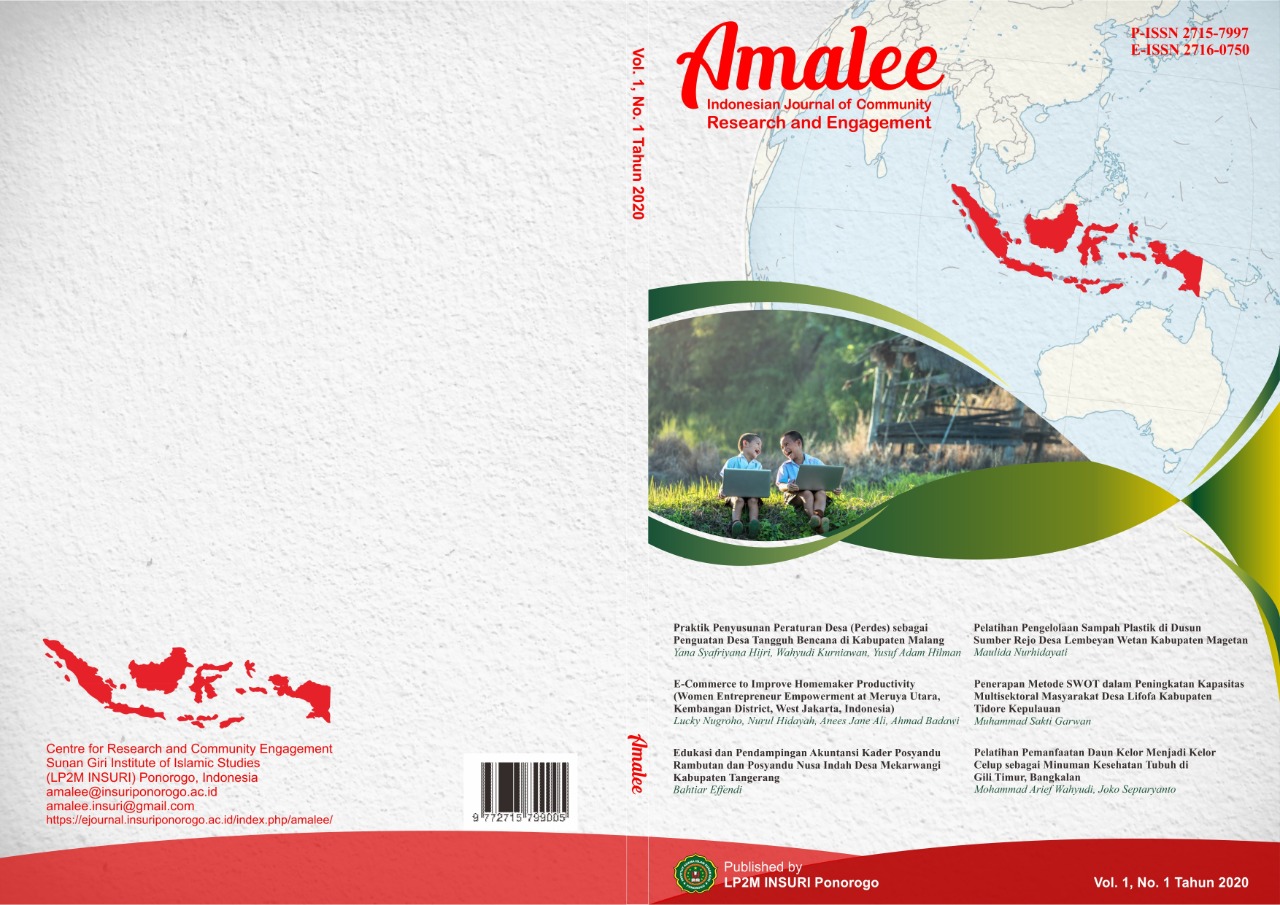 How to Cite

Fitriawan, F., Rohmatulloh, D., Asfahani, A., & Ulfa, R. (2020). Pemberdayaan Ekonomi Pemuda Melalui Budidaya Jamur Tiram di Dusun Sidowayah, Kecamatan Jambon, Kabupaten Ponorogo. Amalee: Indonesian Journal of Community Research and Engagement, 1(1), 47-58. https://doi.org/10.37680/amalee.v1i01.187

Authors who submit manuscript retain its copyright and grant Amalee right of first publication licensed under a Creative Commons Attribution-ShareAlike 4.0 International License (CC BY-SA 4.0) that allows others to access (search, read, download, and cite), share (copy and redistribute the material in any medium or format) and adapt (remix, transform, and build upon any material) the work for any lawful purpose, even commercially with an acknowledgement of the work's authorship and initial publication in Amalee: Indonesian Journal of Community Research and Engagement.

Abstract views: 146 , PDF (Bahasa Indonesia) downloads: 121