Pendidikan Karakter di Sekolah Menengah Pertama (SMP): Teori, Metodologi dan Implementasi
Muhamad Asvin Abdur Rohman

Institut Agama Islam Sunan Giri (INSURI) Ponorogo
Keywords:
Character Education, Theory, Methodology, Implementation, Middle School
Abstract
Character is the values ​​of human behavior related to God Almighty, self, fellow human beings, the environment, and nationality which are manifested in thoughts, attitudes, feelings, words, and actions based on religious norms, law, manners, culture , and customs.
In an effort to improve the suitability and quality of character education, the Ministry of National Education developed the grand design of character education for each pathway, level, and type of education unit. Grand design becomes a conceptual reference and operational development, implementation, and assessment at every level and level of education. Character configurations in the context of the totality of psychological and socio-cultural processes are grouped in: Spiritual and emotional development, intellectual development, physical and kinesthetic development, and physical and kinetic development, and physical and emotional development. Creativity development). The development and implementation of character education needs to be done by referring to the grand design. Character education can be integrated in learning in each subject. Learning material related to norms or values ​​in each subject needs to be developed, made explicit, and related to the context of everyday life. Thus, learning character values ​​is not only at the cognitive level, but touches on internalization, and real practice in the lives of everyday students in society.
Downloads
Download data is not yet available.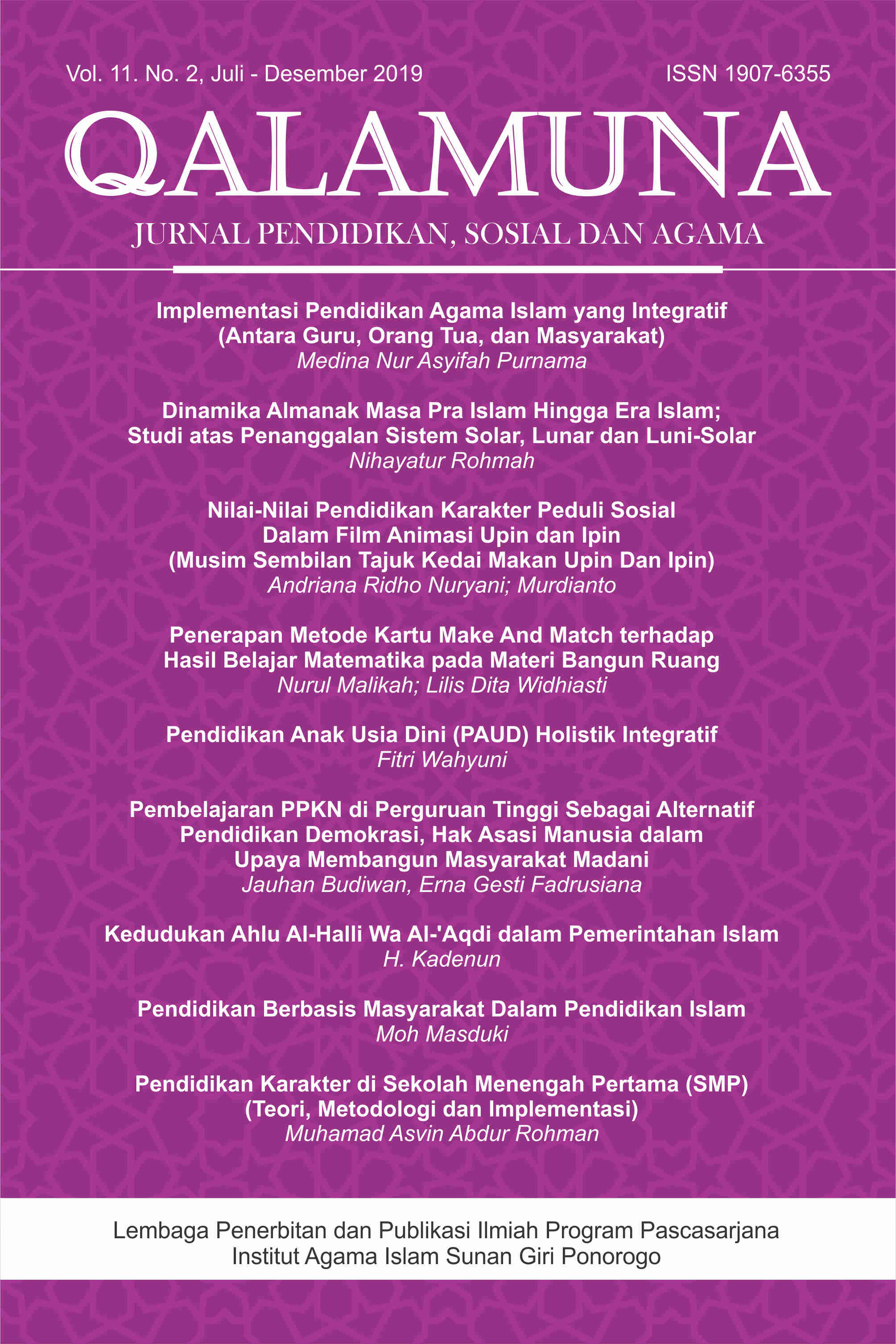 How to Cite

Abdur Rohman, M. (2019). Pendidikan Karakter di Sekolah Menengah Pertama (SMP): Teori, Metodologi dan Implementasi. QALAMUNA: Jurnal Pendidikan, Sosial, Dan Agama, 11(2), 265-286. https://doi.org/10.5281/zenodo.3559290

Authors who submit manuscript retain its copyright and grant publisher right of first publication licensed under a Creative Commons Attribution-ShareAlike 4.0 International License (CC BY-SA 4.0) that allows others to access (search, read, download, and cite), share (copy and redistribute the material in any medium or format) and adapt (remix, transform, and build upon any material) the work for any lawful purpose, even commercially with an acknowledgement of the work's authorship and initial publication in Qalamuna: Jurnal Pendidikan, Sosial, dan Agama.

Abstract views: 0 , PDF downloads: 0