MANAJEMEN PENDIDIKAN DALAM KONSTELASI PROGRESIVISME (Telaah Filsafat Pendidikan John Dewey)
Ucup Supriatna

STAI Al-Haudl Ketapang, Kalimantan Barat
Keywords:
Progressivism; John Dewey; Education
Abstract
This study aims to generalize the education management system in the constellation of John Dewey's philosophy of progressivism. As a qualitative-descriptive research, this research was conducted using library research. Research data obtained through primary and secondary literature on the philosophy of progressivism John Dewey. The data collection technique is done by documentation. Researchers document the educational thinking of John Dewey's progressivism, then describe it methodologically. Data analysis was carried out by data reduction, data presentation, and data analysis. The researcher reduces John Dewey's educational thought of progressivism, presents it systematically, then analyzes this thought in the education management system. The results showed; First, humans as educational human resources must be given roles and tasks according to their talents and interests. Humans are agents of change in education. Second, education has a forward and progressive orientation. This is a form of criticism of the scholastic education management system. Progressive education can be realized through a progressive curriculum reconstruction. Third, school educational institutions are miniatures of life in society. Therefore, schools need to be in symbiosis with the community in order to realize educational goals. Fourth, humans who learn have academic freedom. In the sense that humans can learn whatever they want to develop their potential and skills. These four things are the spark of progressive educational thinking according to John Dewey. Then these four things can be realized through progressive education management.
Downloads
Download data is not yet available.
References
Arifin, N. (2021). Pemikiran Pendidikan John Dewey. As-Syar'i: Jurnal Bimbingan & Konseling Keluarga, 2(2), 204–219. https://doi.org/10.47467/assyari.v2i2.128
Atabik, A., Wasliman, I., Sauri, S., & Rostini, D. (2019). MANAJEMEN PENDIDIKAN KARAKTER DI SEKOLAH DALAM LINGKUNGAN PONDOK PESANTREN UNTUK MEMBINA AKHLAKUL KARIMAH. Nusantara Education Review, 2(3), 239–248.
Audi, R. (2015). The Cambridge Dictionary of Philosophy. Cambridge University Press. https://books.google.co.id/books?id=OfoNngEACAAJ
Dewey, J. (1997a). Democracy And Education. Free Press. https://books.google.co.id/books?id=OGIhNz4YJmkC
Dewey, J. (1997b). Experience And Education. Free Press. https://books.google.co.id/books?id=UWbuAAAAMAAJ
Dewey, J., Boydston, J. A., & McDermott, J. J. (2008). The Later Works of John Dewey, 1925-1953: Essays, Reviews, Trotsky Inquiry, Miscellany, and Liberalism and Social Action. Southern Illinois University Press. https://books.google.co.id/books?id=pb0N4SgQGLQC
Faiz, A., & Kurniawaty, I. (2020). Konsep Merdeka Belajar Pendidikan Indonesia Dalam Perspektif Filsafat Progresivisme. Konstruktivisme: Jurnal Pendidikan Dan Pembelajaran, 12(2), 155–164.
Gunawan, I., & Benty, D. D. N. (2017). Manajemen Pendidikan: Suatu Pengantar Praktik.
Howlett, J. (2013). Progressive Education: A Critical Introduction. Bloomsbury Publishing. https://books.google.co.id/books?id=uXhvAAAAQBAJ
Islam, G. M. G. M. P. (n.d.). MANAJEMEN PENDIDIKAN DALAM PERSPEKTIF PROGRESIVISME DAN ISLAM.
Knight, G. R. (1998). Issues & Alternatives in Educational Philosophy. Andrews University Press. https://books.google.co.id/books?id=htIlAQAAIAAJ
McDonald, H. P. (2012). John Dewey and Environmental Philosophy. State University of New York Press. https://books.google.co.id/books?id=OzUMrO4xwRMC
Mualifah, I. (2016). PROGRESIVISME JOHN DEWEY DAN PENDIDIKAN PARTISIPATIF PERSPEKTIF PENDIDIKAN ISLAM. Jurnal Pendidikan Agama Islam (Journal of Islamic Education Studies), 1(1), 101. https://doi.org/10.15642/jpai.2013.1.1.101-121
Mulyasa, E. (2004). Manajemen berbasis sekolah: konsep, strategi dan implementasi.
Musyarapah, M. (2017). The Role of Progressive Philosophy in the Curriculum Based on John Dewey's Theory. Al-Hayat: Journal of Islamic Education, 1(1), 32–39.
Ruslan, R. (2018). Perspektif Aliran Filsafat Progresivisme Tentang Perkembangan Peserta Didik. JISIP (Jurnal Ilmu Sosial Dan Pendidikan), 2(2). https://doi.org/http://dx.doi.org/10.36312/jisip.v2i2.372
Sirojudin, D., & Ashoumi, H. (2020). Aksiologi Ilmu Pengetahuan Manajemen Pendidikan Islam. Al-Idaroh: Jurnal Studi Manajemen Pendidikan Islam, 4(2), 182–195.
Society, J. D., & Dewey, J. (1943). Yearbook of the John Dewey Society (Issue v. 6). D. Appleton-Century Company, Incorporated. https://books.google.co.id/books?id=BlvQHstyg_0C
Sudarmiani, B. (n.d.). MANAJEMEN PENDIDIKAN. Penerbit Andi. https://books.google.co.id/books?id=crZ-DwAAQBAJ
Tiles, J. E., & Tiles, J. E. (1992). John Dewey. Routledge. https://books.google.co.id/books?id=M8bR2D6U9cEC
Wahyudin, U. R., & Permana, H. (2020). Manajemen Pendidikan (Teori Dan Praktik Dalam Penyelenggaraan Sistem Pendidikan Nasional). Deepublish. https://books.google.co.id/books?id=qIv9DwAAQBAJ
Wikipedia, B. I. (2021). BiografI John Dewey. Wikipedia Bahasa Indonesia. https://id.wikipedia.org/wiki/John_Dewey
Wulandari, T. (2020). TEORI PROGRESIVISME JOHN DEWEY DAN PENDIDIKAN PARTISIPATIF DALAM PENDIDIKAN ISLAM. At-Tarbawi: Jurnal Kajian Kependidikan Islam, 5(1). https://doi.org/10.22515/attarbawi.v5i1.2221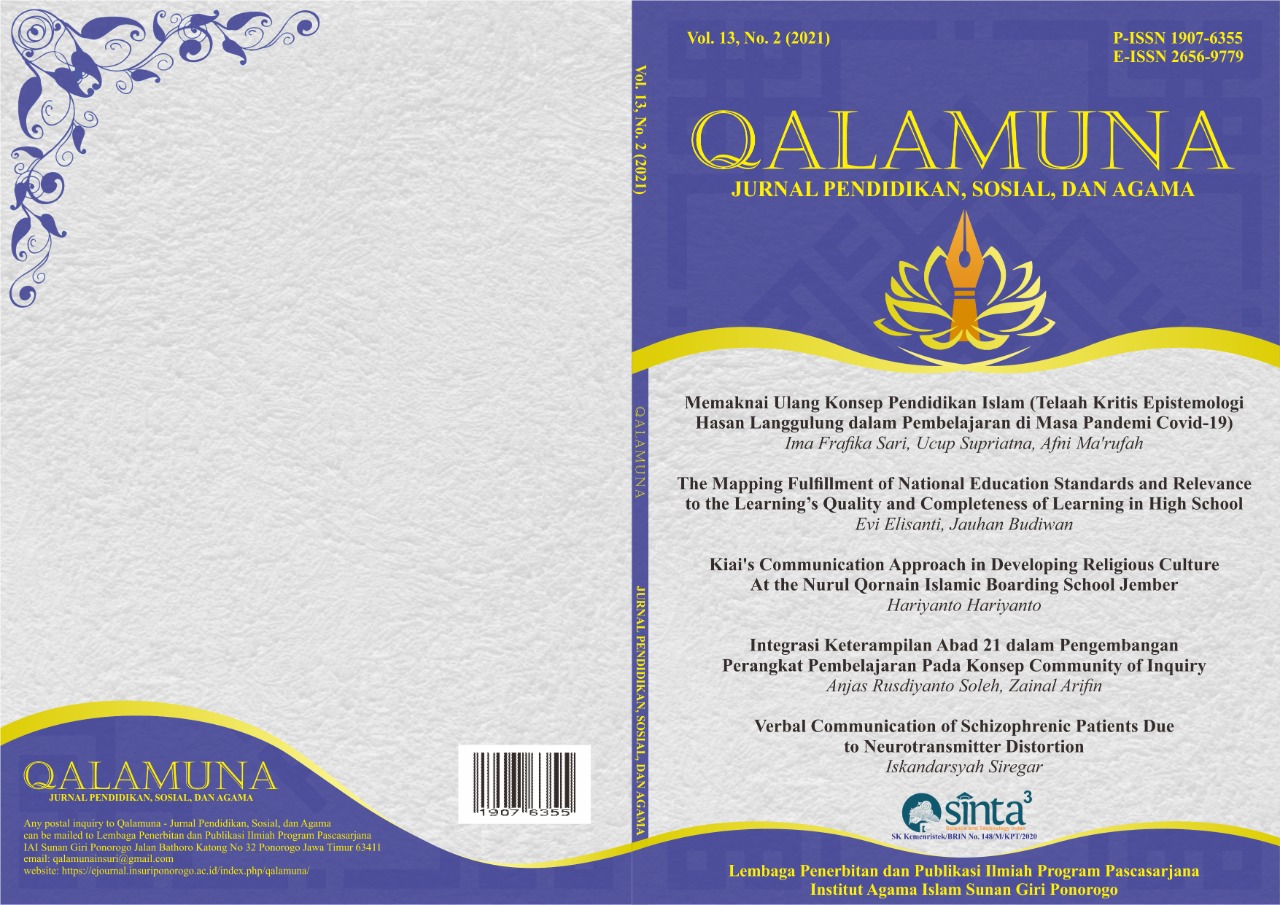 How to Cite
Supriatna, U. (2021). MANAJEMEN PENDIDIKAN DALAM KONSTELASI PROGRESIVISME (Telaah Filsafat Pendidikan John Dewey). QALAMUNA: Jurnal Pendidikan, Sosial, Dan Agama, 13(2), 337-348. https://doi.org/10.37680/qalamuna.v13i2.964
Copyright (c) 2021 Ucup Supriatna
This work is licensed under a Creative Commons Attribution-ShareAlike 4.0 International License.

Authors who submit manuscript retain its copyright and grant publisher right of first publication licensed under a Creative Commons Attribution-ShareAlike 4.0 International License (CC BY-SA 4.0) that allows others to access (search, read, download, and cite), share (copy and redistribute the material in any medium or format) and adapt (remix, transform, and build upon any material) the work for any lawful purpose, even commercially with an acknowledgement of the work's authorship and initial publication in Qalamuna: Jurnal Pendidikan, Sosial, dan Agama.

Abstract views: 1619 , PDF downloads: 1615