Pergumulan Kalam Dan Falsafah "Yang Tak Kunjung Usai": Sebuah Bacaan Kritis Pemikiran Muhammad Abid Al-Jabiri
Febri Hijroh Mukhlis

Institut Agama Islam Sunan Giri (INSURI) Ponorogo
Keywords:
Kalam, Philosophy, social, humanities, cultural.
Abstract
Islamic theology and philosophy have dynamically encountered. Based on historical trace, they have built a fundamental scientific perspective. Nowadays, they have to continue interacting in critical and contributive way for the future civilization development. They cannot opposite each other and have to be in common ground in scientific methodological framework. They have now an important role in responding new issues in social, humanities, and also cultural.
Downloads
Download data is not yet available.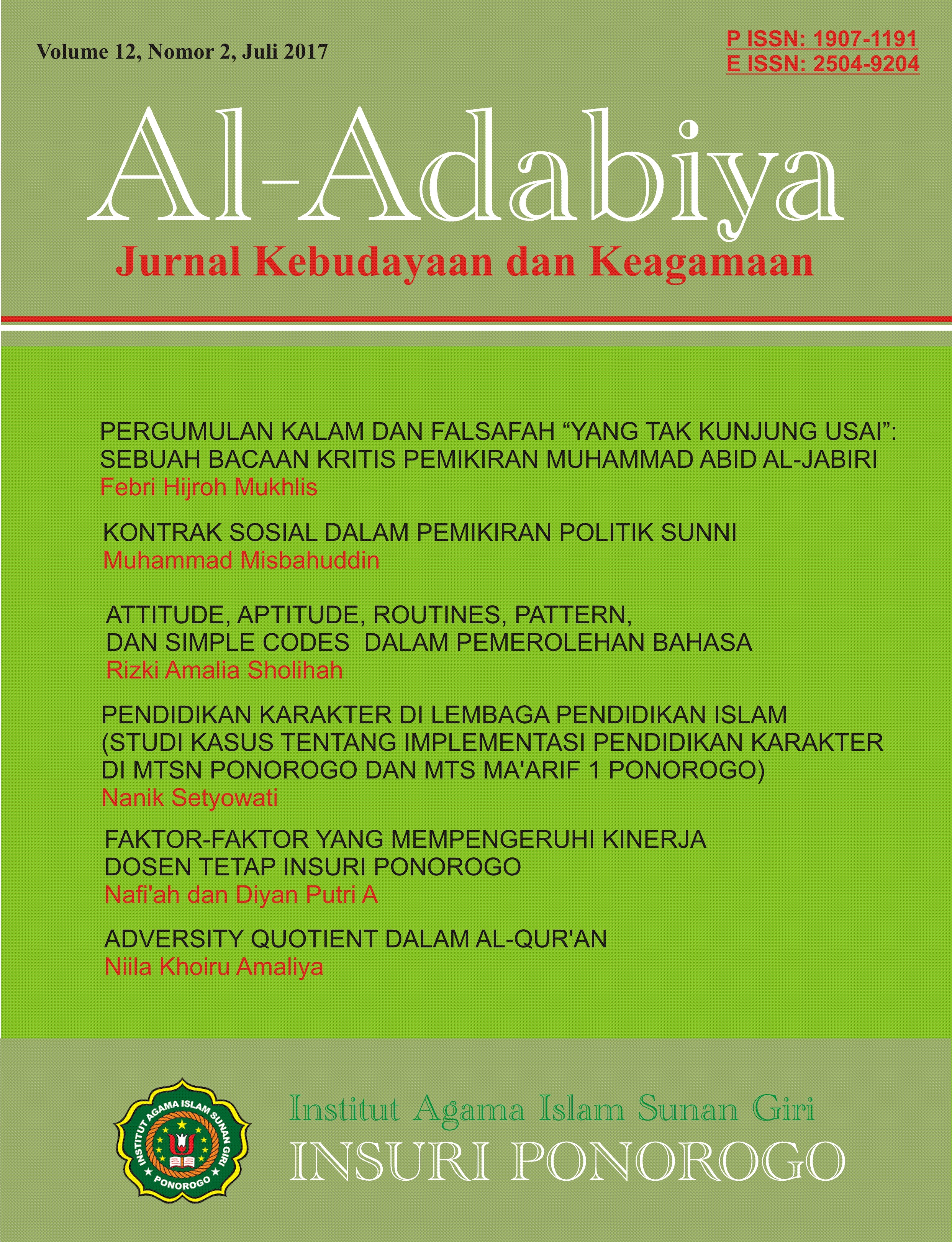 How to Cite

Mukhlis, F. (2018). Pergumulan Kalam Dan Falsafah "Yang Tak Kunjung Usai": Sebuah Bacaan Kritis Pemikiran Muhammad Abid Al-Jabiri. Al-Adabiya: Jurnal Kebudayaan Dan Keagamaan, 12(2), 140-155. https://doi.org/10.37680/adabiya.v12i2.11

The author(s) retain/s the copyright and grant/s Al-Adabiya: Jurnal Kebudayaan dan Keagamaan the first publication rights licensed under the Creative Commons Attribution-ShareAlike 4.0 International License (CC BY-SA 4.0) which allows others to access (search, read, download and quote), share (copy and redistribute the material in any media or format) and adapt (mix, modify and develop) works for legitimate purposes, even commercially, with recognition of the authorship of the work and its initial publication in this journal.

Abstract views: 680 , pdf downloads: 754