INTEGRASI-INTERKONEKSI KEILMUAN PROF. AMIN ABDULLAH: KESALINGTERKAITAN ANTARA ILMU-ILMU AGAMA DAN SCIENCE
Febri Hijroh Mukhlis

Institut Agama Islam Sunan Giri (Insuri) Ponorogo
Keywords:
Islam, science, civilization, modern
Abstract
Islam and science have such a historical bonding. Both of them are an important part in the dynamics of global civilization. Today, when humanities' problem is going more complex, Islam cannot speak with only a face or with a mono scientific discipline. Islamic scholarship should interact to developing modern sciences. In this modern era, people have to think multidisciplinary, not linear. Amin Abdullah's idea on integrative-interconnective paradigm is an excellent effort in developing religious thought and sciences altogether. His idea has an important point in suggesting that all scientific disciplines should interact each other, to respond the dynamics of civilization that continuously growing.
Downloads
Download data is not yet available.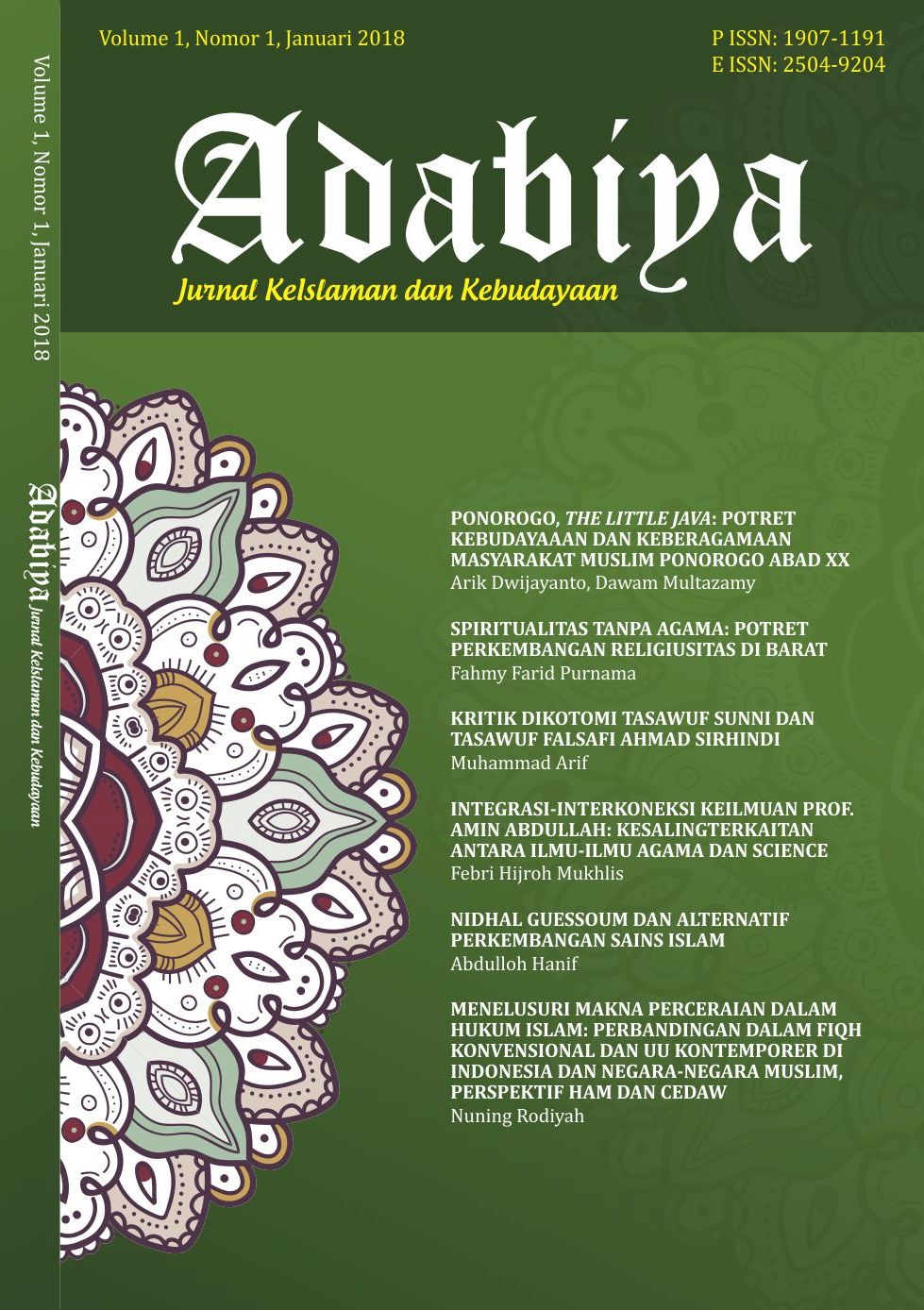 How to Cite

Mukhlis, F. (2018). INTEGRASI-INTERKONEKSI KEILMUAN PROF. AMIN ABDULLAH: KESALINGTERKAITAN ANTARA ILMU-ILMU AGAMA DAN SCIENCE. Al-Adabiya: Jurnal Kebudayaan Dan Keagamaan, 13(01), 78-101. https://doi.org/10.37680/adabiya.v13i01.5

The author(s) retain/s the copyright and grant/s Al-Adabiya: Jurnal Kebudayaan dan Keagamaan the first publication rights licensed under the Creative Commons Attribution-ShareAlike 4.0 International License (CC BY-SA 4.0) which allows others to access (search, read, download and quote), share (copy and redistribute the material in any media or format) and adapt (mix, modify and develop) works for legitimate purposes, even commercially, with recognition of the authorship of the work and its initial publication in this journal.

Abstract views: 1713 , PDF downloads: 0