Pendidikan Islam sebagai Fondasi Pendidikan Karakter
Abdah Munfaridatus Sholihah

Fakultas Tarbiyah IAI Sunan Giri Ponorogo

Windy Zakiya Maulida

Pascasarjana IAI Sunan Giri Ponorogo
Keywords:
Islamic education, character education
Abstract
Education in Indonesia is faced with the problem of low morals, in particular among teenagers, such as brawls between students, promiscuity, drugs, and a lack of respect for teachers. In the field of education, the cultivation of students' character needs to receive great attention. Strengthening character education in the present context is very relevant to overcome the moral crisis that is happening in this country. This condition of moral decadence indicates that the inculcation of religious teachings and character values obtained in school has not been entirely successful because they have not shown significant results on changes in student behavior in their lives. Character education in Islam is in principle based on two main sources of Islamic teachings, namely the Qur'an and Hadith. Thus the parameter of good and bad in a person's character has a certain standard according to the Qur'an and Hadith. As the basis of Islamic education, the Qur'an and Al-Hadith are references to seek, create, and develop paradigms, concepts, principles, theories, and techniques of Islamic education, even in every educational effort. Because it is sourced from the two main teachings of Islam, Islamic education is called the foundation for character education.
Keywords: Islamic education, character education
Abstrak
Pendidikan di Indonesia dihadapkan pada masalah rendahnya akhlak terutama di kalangan remaja, misalnya adanya tawuran antar pelajar, pergaulan bebas, narkoba, serta kurangnya sikap hormat kepada guru. Dalam bidang pendidikan, penanaman karakter terhadap peserta didik perlu mendapat perhatian besar. Penguatan pendidikan karakter dalam konteks kekinian sangat relevan untuk menanggulangi krisis moral yang sedang melanda di negara ini. Kondisi dekadensi moral ini menandakan bahwa penanaman nilai agama dan nilai karakter yang didapatkan di bangku sekolah belum sepenuhnya berhasil karena belum menampakkan hasil yang signifikan terhadap perubahan perilaku peserta didik dalam kehidupannya. Pendidikan karakter dalam Islam pada prinsipnya didasarkan pada dua sumber pokok ajaran Islam, yaitu Al-Qur'an dan Hadis. Dengan demikian, parameter baik dan buruk dalam karakter seseorang memiliki standar tertentu menurut Al-Qur'an dan Hadis. Sebagai dasar pendidikan Islam, Al-Qur'an dan Hadis dalah rujukan untuk mencari, membuat, dan mengembangkan paradigma, konsep, prinsip, teori, dan teknik pendidikan Islam, termasuk juga dalam setiap upaya pendidikan. Karena bersumber dari Al-Qur'an dan Hadis yang merupakan pokok ajaran Islam, maka pendidikan Islam disebut sebagai fondasi bagi pendidikan karakter.
Kata kunci: pendidikan Islam, pendidikan karakter
Downloads
Download data is not yet available.
References
Abdur Rohman, M. (2019). Pendidikan Karakter di Sekolah Menengah Pertama (SMP): Teori, Metodologi dan Implementasi. QALAMUNA: Jurnal Pendidikan, Sosial, Dan Agama, 11(2), 265-286. https://doi.org/10.5281/zenodo.3559290
Akhdiyat. (2007). Ilmu Pendidikan Islam. Bandung: Insan Mandiri.
Baharudin, K. (2007). Filsafat Pendidikan Islam. Yogyakarta: Pustaka Pelajar.
Basri, H. (2014). Filsafat Pendidikan Islam. Bandung: Pustaka Setia.
Basuki & Ulum, M. (2007). Pengantar Pendidikan Islam.Ponorogo: STAIN Po Press.
Marzuki. (2017). Pendidikan Karakter Islam. Jakarta: Amzah.
Murdianto. (2019). Keefektifan Metode Diskusi Dilema Moral Untuk Meningkatkan Penalaran Moral Peserta Didik Mamnu Ponorogo. Scaffolding : Jurnal Pendidikan Islam dan Multikulturalisme, 1(01), 1-15. https://ejournal.insuriponorogo.ac.id/index.php/scaffolding/article/view/38
Ramayulis. (2006). Ilmu Pendidikan Islam. Jakarta: Kalam Mulia.
Setyowati, N. (2018). Pendidikan Karakter Di Lembaga Pendidikan Islam (Studi Kasus Tentang Implementasi Pendidikan Karakter Di Mtsn Ponorogo Dan Mts Ma'arif 1 Ponorogo). Al-Adabiya: Jurnal Kebudayaan Dan Keagamaan, 12(2), 185-207. https://doi.org/10.37680/adabiya.v12i2.14
Tafsir, A. (2010). Ilmu Pendidikan dalam Perspektif Islam.Bandung:Remaja Rosdakarya.
Zubaedi. (2011). Desain Pendidikan Karakter: Konsepsi dan Aplikasinya dalam Lembaga Pendidikan. Jakarta: Kencana Prenada Media Group.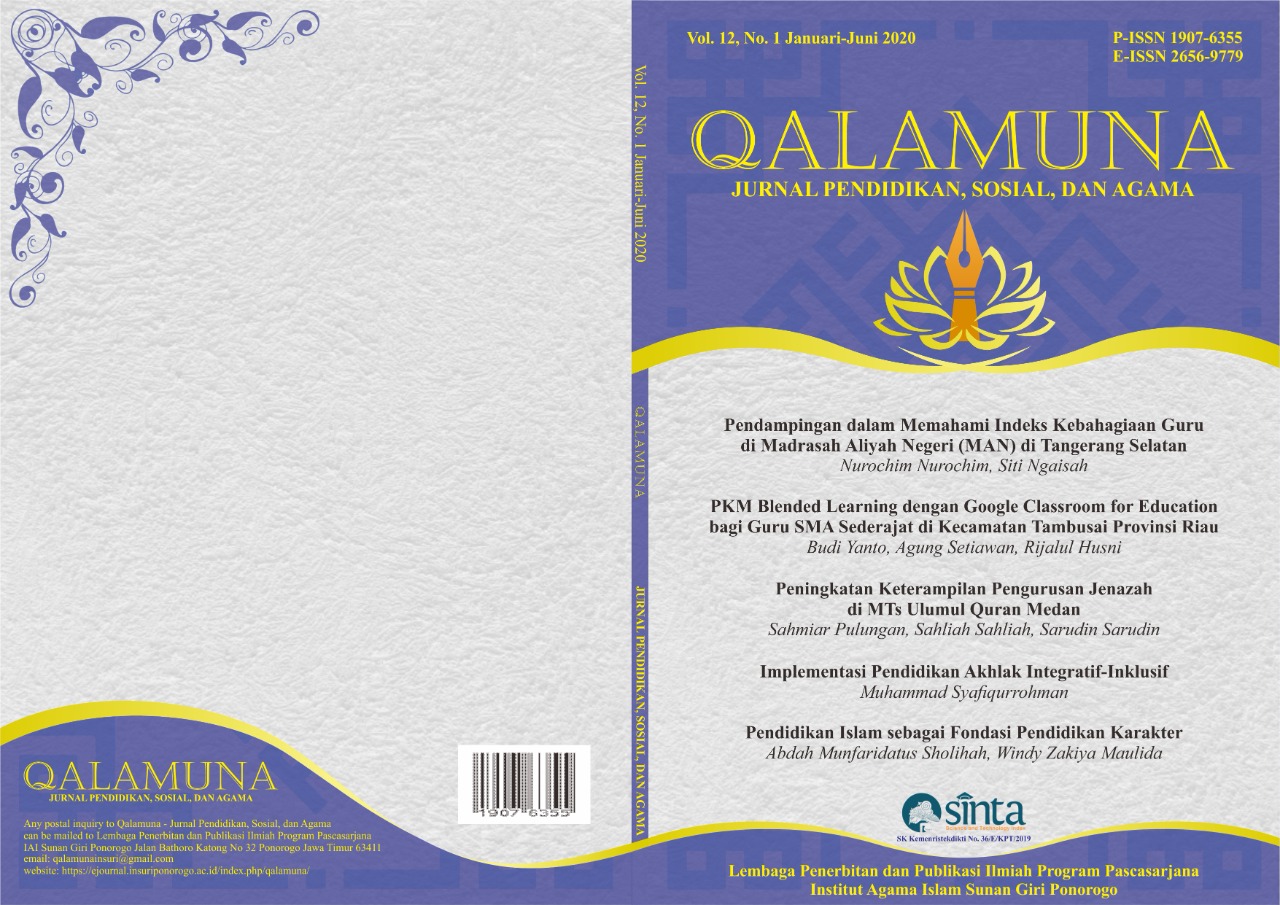 How to Cite

Sholihah, A., & Maulida, W. (2020). Pendidikan Islam sebagai Fondasi Pendidikan Karakter. QALAMUNA: Jurnal Pendidikan, Sosial, Dan Agama, 12(1), 49-58. https://doi.org/10.37680/qalamuna.v12i01.214

Authors who submit manuscript retain its copyright and grant publisher right of first publication licensed under a Creative Commons Attribution-ShareAlike 4.0 International License (CC BY-SA 4.0) that allows others to access (search, read, download, and cite), share (copy and redistribute the material in any medium or format) and adapt (remix, transform, and build upon any material) the work for any lawful purpose, even commercially with an acknowledgement of the work's authorship and initial publication in Qalamuna: Jurnal Pendidikan, Sosial, dan Agama.

Abstract views: 135 , PDF (Bahasa Indonesia) downloads: 288