Analisa Pemenuhan Hak Masyarakat Berkebutuhan Khusus di Kabupaten Ponorogo
Iqbal Akbar Imamudin

Universitas Muhammadiyah Ponorogo

Ardhana Januar Mahardhani

1Universitas Muhammadiyah Ponorogo

Hadi Cahyono

1Universitas Muhammadiyah Ponorogo
Keywords:
Pemerintah Desa, Hak Disabilitas, Tunagrahita
Abstract
The focus of this research is on the role of the village government in guaranteeing and fulfilling the disability rights needs of people with mental retardation. This study uses qualitative methods, research data obtained through the methods of observation, interviews, and documentation as well as data analysis techniques that researchers use in this study is using an interactive model. This research was conducted in Karangpatihan Village, Balong District, Ponorogo Regency which has 97 mentally retarded persons in 2020. The results of this study indicate that the Karangpatihan Village government has given rights to mentally retarded persons with twenty-two types of rights in accordance with Law number 8 of 2016 on Persons with Disabilities. Furthermore, in its implementation, the Karangpatihan Village Government also collaborates through the triple helix concept, namely between academics, business, and the third government, synergizing with each other to provide the best services for people with disabilities.
Downloads
Download data is not yet available.
References
Andriana, L. (2017). Kesejahteraan Sosial Tunagrahita di Ponorogo. Inklusi, 4(1), 25. https://doi.org/10.14421/ijds.040102

Anugrawati, D. N., & Pradana, G. W. (2021). PEMBERDAYAAN MASYARAKAT DALAM MENINGKATKAN PENDAPATAN MASYARAKAT TUNAGRAHITA MELALUI PROGRAM RUMAH HARAPAN (STUDI KASUS DI DESA KARANGPATIHAN KECAMATAN BALONG KABUPATEN PONOROGO). Publika, 135–144. https://doi.org/10.26740/PUBLIKA.V9N1.P135-144

Dewi, D. S. K. (2016). Model Pemberdayaan Masyarakat Tunagrahita di Kampung Idiot Kabupaten Ponorogo. Otoritas : Jurnal Ilmu Pemerintahan, 6(1), 21–27. https://doi.org/10.26618/OJIP.V6I1.35

Gafara, C., Riyono, B., & Setiyawati, D. (2017). Peran Karang Taruna Dalam Pemberdayaan Penyandang Disabilitas Di Desa Karangpatihan, Kabupaten Ponorogo Dan Implikasinya Terhadap Ketahanan Ekonomi Keluarga. Jurnal Ketahanan Nasional, 23(1), 37–48. https://doi.org/10.22146/JKN.18295

Hasanah, D. R. N. (2020). Analisis Model Pemberdayaan Masyarakat Pada Warga Tunagrahita Di Desa Karangpatihan, Kecamatan Balong, Kabupaten Ponorogo. IAIN Ponorogo.

Ismandari, F. (2019). Situasi Disabilitas. Pusat Data Dan Informasi Kementrian Kesehatan RI, 1–10.

Kusumawati, A., & Adi, A. S. (2020). Tanggapan Penyadang Tunagrahita Ringan Atas Pemenuhan Hak Politik Dalam Pilkades 2019 ( Studi Desa Karangpatihan Kecamatan Balong Kabupaten Ponorogo ). Kajian Moral Dan Kewarganegaraan, 08(02), 544–558.

Nasution, H. A., & Marwandianto, M. (2019). Memilih dan Dipilih, Hak Politik Penyandang Disabilitas dalam Kontestasi Pemilihan Umum: Studi Daerah Istimewa Yogyakarta. Jurnal HAM, 10(2), 161–178. https://doi.org/10.30641/HAM.2019.10.161-178

Ramanda, A. N. (2008). Dinamika penerimaan ibu terhadap anak tuna grahita. Universitas Islam Negri Syarif Hidayatulloh.

Rulianingsih, S., & Suyanto, T. (2018). Strategi Kepala Desa Dalam Memberdayakan Masyarakat Tunagrahita Untuk Membangun Good Citizenship Di Kampung Idiot Desa Karangpatihan Kecamatan Balong Kabupaten Ponorogo. Kajian Moral Dan Kewarganegaraan, 6(3), 1046–1060. https://jurnalmahasiswa.unesa.ac.id/index.php/jurnal-pendidikan-kewarganegaraa/article/view/26147

Safira, N. I., & Roseta, C. I. (2021). MODEL KEWIRAUSAHAAN SOSIAL PADA KOMUNITAS MUSLIM RUMAH HARAPAN KARANGPATIHAN BANGKIT. KABILAH : Journal of Social Community, 6(1), 26–43. https://doi.org/10.35127/KBL.V6I1.4411

Susanto, H. H. (2021). Pemberdayaan Ekonomi Masyarakat di Kampung Idiot Karangpatihan Balong Ponorogo. JoIE: Journal of Islamic Economics, 1(1), 2021. https://jurnal.iainponorogo.ac.id/index.php/joie/article/view/3080

Widajati, S., & Purnama, A. (2020). Implementasi Rehabilitasi Sosial bagi Tuna Grahita di Balai Besar Rehabilitasi Sosial Bina Grahita (B2rsbg) Kartini Temanggung. Media Informasi Penelitian …, 255–266.

Wulandari, R., Anjasari, H., Wulandari, N. D., Jayanti, M. N., & Gunarhadi, G. (2019). PEMBERDAYAAN WARGA KETERBELAKANGAN MENTAL DI DESA KARANGPATIHAN PONOROGO MELALUI FRUTABLE GREDEN. Jurnal Pemberdayaan Masyarakat Universitas Al Azhar Indonesia, 1(2), 78–83. https://doi.org/10.36722/JPM.V1I2.342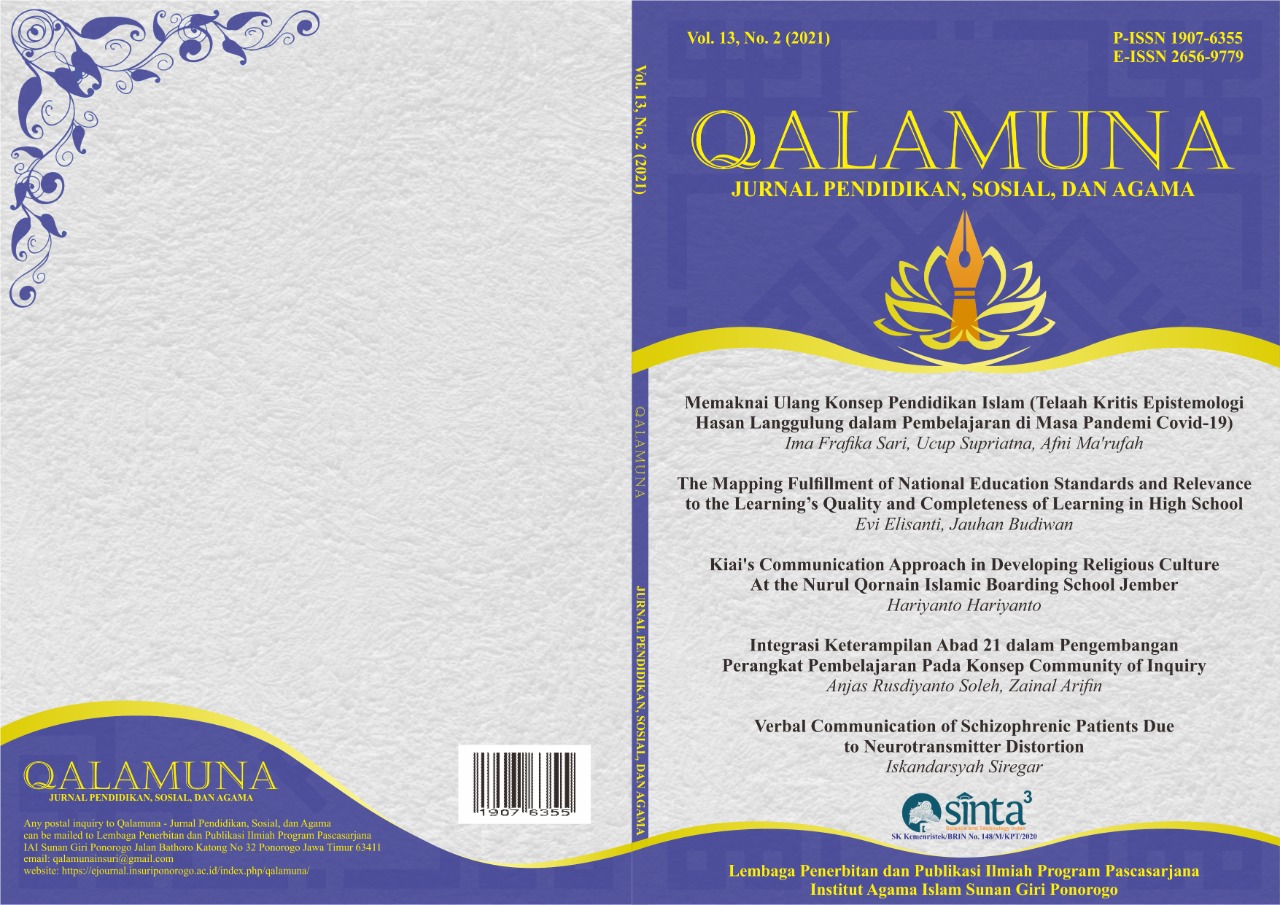 How to Cite
Imamudin, I., Mahardhani, A. J., & Cahyono, H. (2021). Analisa Pemenuhan Hak Masyarakat Berkebutuhan Khusus di Kabupaten Ponorogo. QALAMUNA: Jurnal Pendidikan, Sosial, Dan Agama, 13(2), 617-632. https://doi.org/10.37680/qalamuna.v13i2.965
Copyright (c) 2021 Iqbal Akbar Imamudin, Ardhana Januar Mahardhani, Hadi Cahyono
This work is licensed under a Creative Commons Attribution-ShareAlike 4.0 International License.

Authors who submit manuscript retain its copyright and grant publisher right of first publication licensed under a Creative Commons Attribution-ShareAlike 4.0 International License (CC BY-SA 4.0) that allows others to access (search, read, download, and cite), share (copy and redistribute the material in any medium or format) and adapt (remix, transform, and build upon any material) the work for any lawful purpose, even commercially with an acknowledgement of the work's authorship and initial publication in Qalamuna: Jurnal Pendidikan, Sosial, dan Agama.

Abstract views: 657 , PDF downloads: 657