NILAI – NILAI PENDIDIKAN KARAKTER DALAM KESENIAN REYOG PONOROGO
Keywords:
Values; Character Education; Reyog Art
Abstract
Reyog nowadays is merely seen by the public only as an art of entertainment and beauty, even though researchers believe that many values can be taken from the traditional art. As the generation of future who are obliged to maintain and preserve it, they must begin to see and understand this art from various perspectives. From the results of the study found that the values of character education in Reyog Ponorogo in terms of the symbolic meanings are Religiousity, symbols that show the value of religious characters one of which, Reyog is taken from Arabic (Riyyuq). Tolerance, Reyog gamelan which is based on pelog and slendro illustrates the difference situation. When it is played with a sense of tolerance, it can walk in harmony and go well together. Discipline and hard work, contained in the story of the figure Prabu Kelono Sewandono and his patih Pujangganong who have the spirit of discipline and hard work in running the government of the Kingdom of Bantarangin. Creativity, as Patih Pujangganong is creative as evidenced by the creation of Reyog art from his effort. The spirit of nationalism and love of the motherland, Reyog figures such as Warok, Pujangganong, Jathilan, etc who always acted faithfully to the kingdom and the king, showed a symbol of the spirit of nationalism and love of the motherland. Responsibility, Kelono Sewandono as a king has responsibility for the kingdom he dreams of. Thus, it can be concluded that the art of Reyog Ponorogo is very relevant to the objectives of Islamic Education.
Downloads
Download data is not yet available.
References
Ahmad. Implementasi Akhlak Qur'ani. Bandung : PT Telekomunikasi Indonesia. 2002.
Ainusysyam, Fadlil Yuni. Pendidikan Akhlak. Jakarta: PT Imtima. Cet. III. 2009.
Arifin, H. M. Filsafat Pendidikan Islam. Jakarta: Bumi Aksara. 1987.
Arismantoro. Tinjauan Berbagai Aspek "Character Building" Bagaimana Mendidik Anak Berkarakter. Yogyakarta: Tiara Wacana. 2008.
Athiyyatillah. Nilai-nilai Pendidikan Islam dalam Ibadah Solat. skripsi, Fakultas Tarbiyah. UIN Malang. 2009.
Depag RI. al-Qur'an dan Terjemahannya. Semarang: Asy Syifa'. 1998.
Effendi, Mukhlison. Ilmu Pendidikan. Ponorogo: STAIN Ponorogo Press. 2008
Hasbullah. Dasar-Dasar Ilmu Pendidikan. Jakarta: Raja Grafindo Persada. 1999.
Hawwa, Said. Tazkiyatun Nafs Intisari Ihya Ulumuddin (terj. Tim Kuwais). Jakarta : Darus Salam. 2005. Hidayatullah, M. Furqon. Pendidikan Karakter Membangun Peradaban Bangsa. Surakarta: Yuma Pressindo. 2010.
http://id.wikipedia.org/wiki/Reyog_%28Ponorogo%29, Diakses, 5 januari 2014.
http://id.wikipedia.org/wiki/Seni, diakses 15 juli 2014.
Irhamni. Pengembangan Pendidikan Budaya Dan Karakter Bangsa. Ponorogo: Depag Ponorogo. 2011.
Jalaludin. Teologi Pendidikan.cet III. Jakarta: PT Raja Grafindo Persada. 2003.
Khan, Yahya. Pendidikan Karakter Berbasis Potensi Diri, Mendongkrak Kualitas Pendidikan. Yogyakarta: Pelangi Publishing. 2010.
Koesoema A, Doni. Pendidikan Karakter, Strategi Mendidik Anak Di Zaman Global. Jakarta: Grasindo. 2007.
Maryani. Metode Penelitian Kebudayaan. Jakarta: Bumi Aksara. 2005.
Mudyaharjo, Redja. Pengantar Pendidikan Sebuah Studi Awal Tentang Dasar-dasar Pendidikan Pada Umumnya Dan Pendidikan Di Indonesia. Jakarta: Raja Grafindo Persada. 2001.
Muhadjir, Noeng. Ilmu Pendidikan dan Perubahan Sosial. Yogyakarta: Rake Sarasin. 2000.
Mulyana, Rohmat. Mengartikulasikan Pendidikan Islam. Bandung: IKAPI. 2004.
Nata, Abuddin. Pemikiran Para Tokoh Pendidikan Islam. Jakarta: PT Raja Grafindo Persada. 2000.
Pemerintah Kabupaten Daerah Tingkat II Ponorogo. Pedoman Dasar Kesenian Reog Ponorogo Dalam Pentas Budaya Bangsa. Ponorogo: PEMKAB Ponorogo. 1996.
Purwadarminta, W.JS. Kamus Umum Bahasa Indonesia. Jakarta: Balai Pustaka. 1999.
Ramayulis. Ilmu Pendidikan Islam cet VII. Jakarta: Kalam Mulia. 2002.
Rusn, Abidin Ibnu. Pemikiran Al-Ghazali tentang Pendidikan.Yogyakarta: Pustaka Pelajar. 1998.
Setiadi, Elly M. Ilmu Sosial dan Budaya Dasar. Jakarta: Kencana. 2006.
Sulhan, Najib. Pendidikan Berbasis Karakter,Sinergi Antara Sekolah dan Rumah dalam Membentuk Karakter Anak. Surabaya: Jepe Press. 2010.
Thoha, Chabib. Kapita Selekta Pendidikan Islam. Yogyakarta: Pustaka Pelajar. 1996.
Ulwan, Abdullah Nashih. Pedoman Pendidikan Anak dalam Islam. Semarang: CV Asyifa. 1988.
Wahyu, Ramdani. Ilmu Budaya Dasar. Bandung: Pustaka Setia. 2008.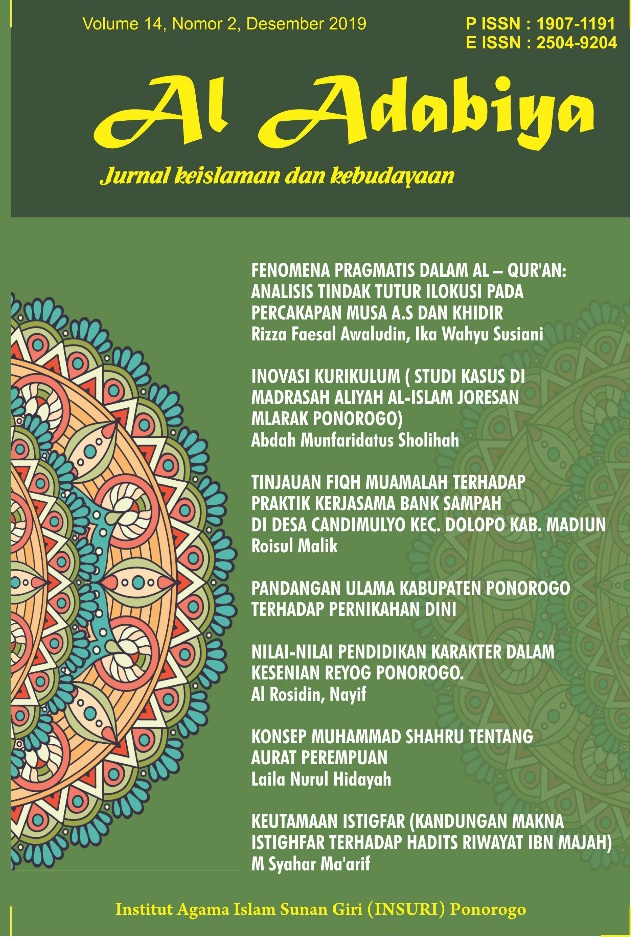 How to Cite

Al Rosidin, N. (2020). NILAI – NILAI PENDIDIKAN KARAKTER DALAM KESENIAN REYOG PONOROGO. Al-Adabiya: Jurnal Kebudayaan Dan Keagamaan, 14(02), 195-215. https://doi.org/10.37680/adabiya.v14i02.210

The author(s) retain/s the copyright and grant/s Al-Adabiya: Jurnal Kebudayaan dan Keagamaan the first publication rights licensed under the Creative Commons Attribution-ShareAlike 4.0 International License (CC BY-SA 4.0) which allows others to access (search, read, download and quote), share (copy and redistribute the material in any media or format) and adapt (mix, modify and develop) works for legitimate purposes, even commercially, with recognition of the authorship of the work and its initial publication in this journal.

Abstract views: 817 , pdf downloads: 1005